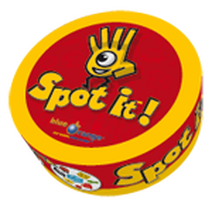 Spot It! is a visual perception card game in which players race to find the one matching picture between one card and another. The pictures can be different sizes.
The cards are round and feature an assortment of colorful images of items like insects, plants, symbols, and smiley faces. Every card is unique, and has only one picture in common with each card in the deck. The game is very portable and includes a deck of 55 cards in a round, tin container that is the same size as the cards.
Information taken off My First Games website
[youtube http://www.youtube.com/watch?v=6eFM_NzqoLo&w=560&h=315]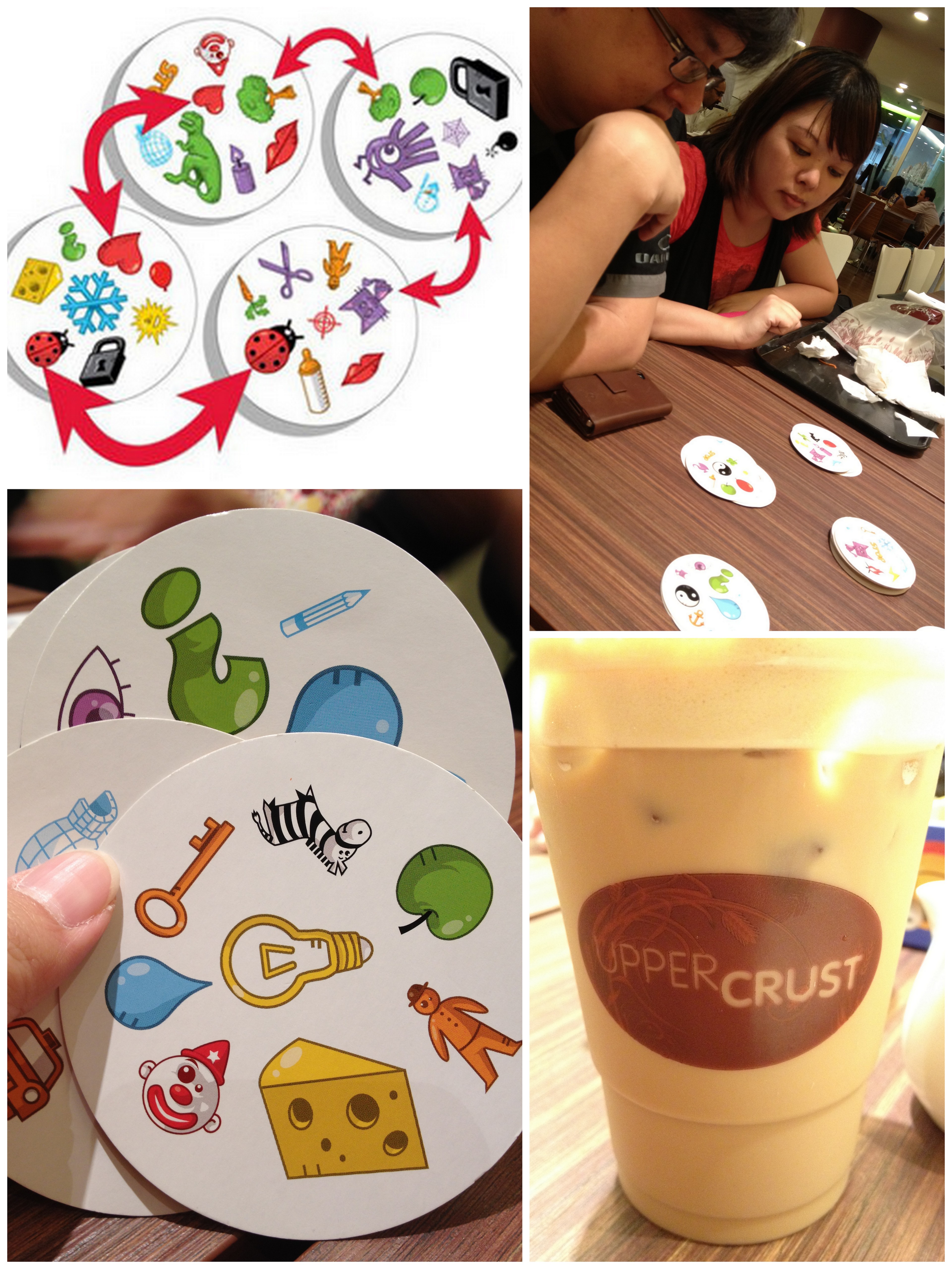 We met Pamela from My First Games at Upper Crust and played a few rounds before we went home with the games. The latte was mine. I needed caffeine to concentrate. Oi, we're playing games leh, need to concentrate one! According to Pamela and the rules, there are a few ways to play the game:
The Tower: +1 point per card collected / +5 points to the player who has collected the most cards
The Well: +10 points to the first player to run out of cards / -20 points to the last player
Hot Potato: -5 points per round lost
The Poisoned Gift: +20 points to the player who has collected the fewest cards / +10 points to the player who finished in second
I'm ashamed to say I was the ultimate loser of the afternoon. I'm not very observant nor do I react very fast. I'm quite pathetic at games that involves speed and concentration. Don't judge me but I like simple games like Puzzle Bobble. Instant gratification mah…
Despite the fact that I was the ultimate loser, I really did enjoy the game. It's almost like Snap but a lot more challenging and definately more fun because there are 8 symbols on each card and only 1 symbol will exist between 2 cards. We were thinking "Really??" then flipped most of the cards over to find the matching symbols. Ya, they weren't kidding. I was thinking this will make an excellent drinking game for the adults, yah? YAH? Add a bit more speed, fewer cards, higher stakes, BAM! Perfect party game!
Later that night, Daddy and I tried to play the game with Xan but all he wanted to do was to distribute all the cards to Daddy and me then move on to another game. Well, the recommended age was 5 years and above but Xan is only 3+. Oh well, at least we tried.
In a nutshell, this is a fun, simple and compact game you can take anywhere.
Go to My First Games and take a look at their full range of awesome games they have available.