A night of girlish fun plus 3 Style Essence Workshop Giveaway
When it comes to skincare and makeup, it's all Cantonese to me. Meaning I know enough to get by but not motivated enough to want to learn more. My makeup style hasn't changed very much over the years except now I draw my eyebrows. Ya, up until I was about 21, I walked around with almost non existent, au naturel eyebrows and thought I looked okay. Don't ask me why I never thought of drawing my eyebrows because I also dunno. Dunno never mind leh. Whenever I saw pictures of myself I always wondered why my face always looked so sparse, like something was missing. Stupid right? I also wonder why none of my ex boyfriends ever pointed it out to me. Sigh. So anyway. Here are what I use on a typical day.
My makeup tools are:
1. "Foundation" $2 Daiso concealer
2. Eyebrows and eyeshadow – In2it eyebrow/eyeshadow. Most likely expired for years.
3. Eyeliner – Maybelline Masterliner
4. Tweezers for the eyebrows
When I want to feel fancy, I have a Maybelline Volum Express mascara which I had bought maybeeeeee 2 years ago, last used 2 years ago. A good friend of mine shared a tip with me. she said on days when she felt too lazy to put on makeup, she would at least crimp her lashes because it helps to 'open' her eyes and it makes her look a little more alert. It's true you know, I used to do it but I don't even remember where I threw my eyelash curlers anymore.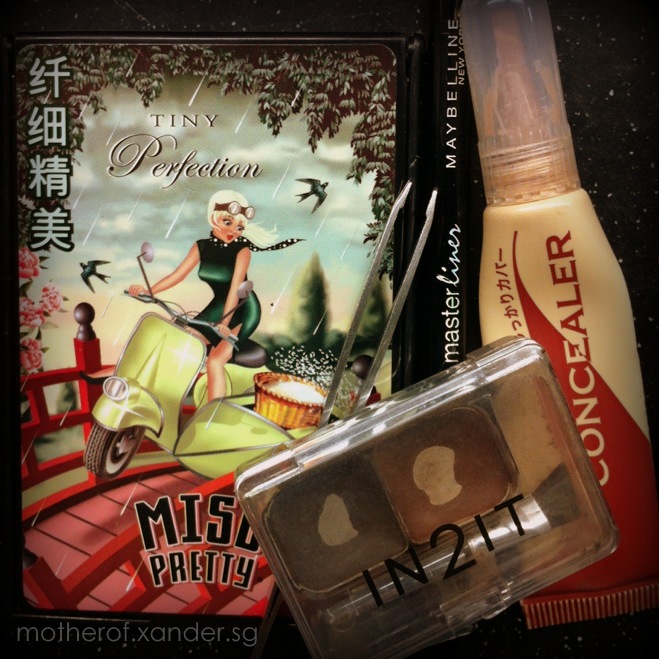 Inside my makeup pouch, I have other very random things. I don't remember why the blue Zebra permanent marker is in there but it's certainly not for makeup.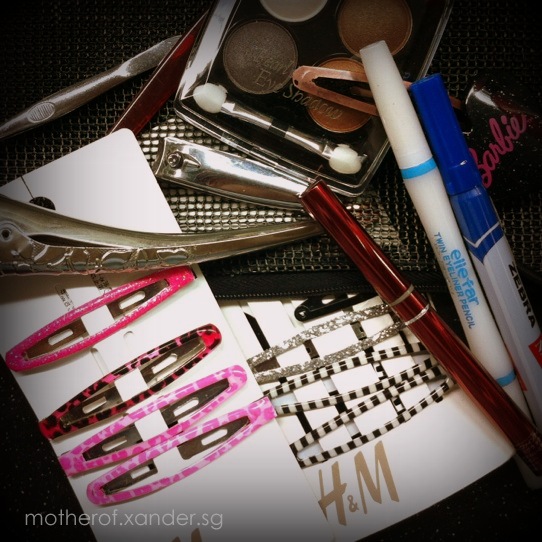 And then this is my "daily skin care routine".
Skincare tools:
1. Facial wash – Shokubutsu facial wash
2. Makeup remover/moisturizer – Johnson and Johnson's baby oil
So you see, I am pretty low maintenance. That's a really nice way of saying I'm a lazy girl. I just want my face clean fast and cheap. I'm hopeless and I need help. That is until I attended Style Essence's self makeover workshop recently.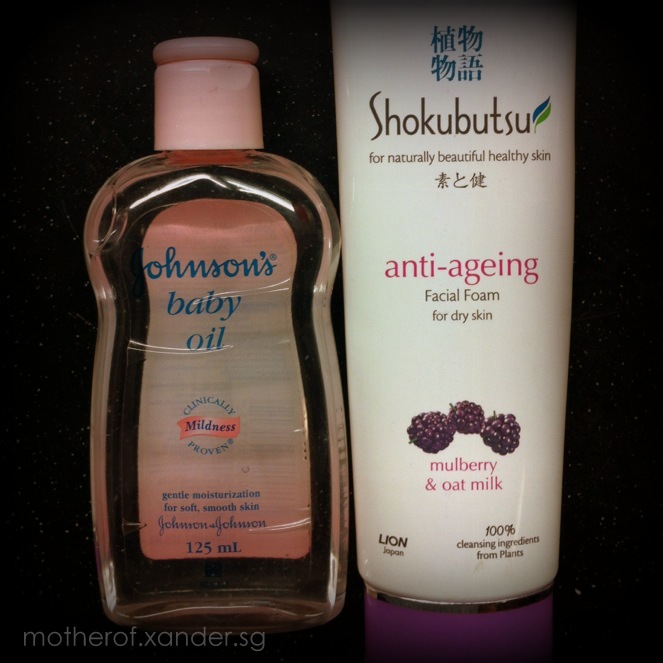 Singapore Mom Bloggers (SMB) which I am a member of, is celebrating our 1st birthday this year and part of the celebration included the exclusive, "just for SMB members only", self makeup and styling workshop conducted by Style Essence. The vivacious Florinda (also a member of SMB) shared very useful tips on colour analysis, styling, makeup and skincare . Yeah!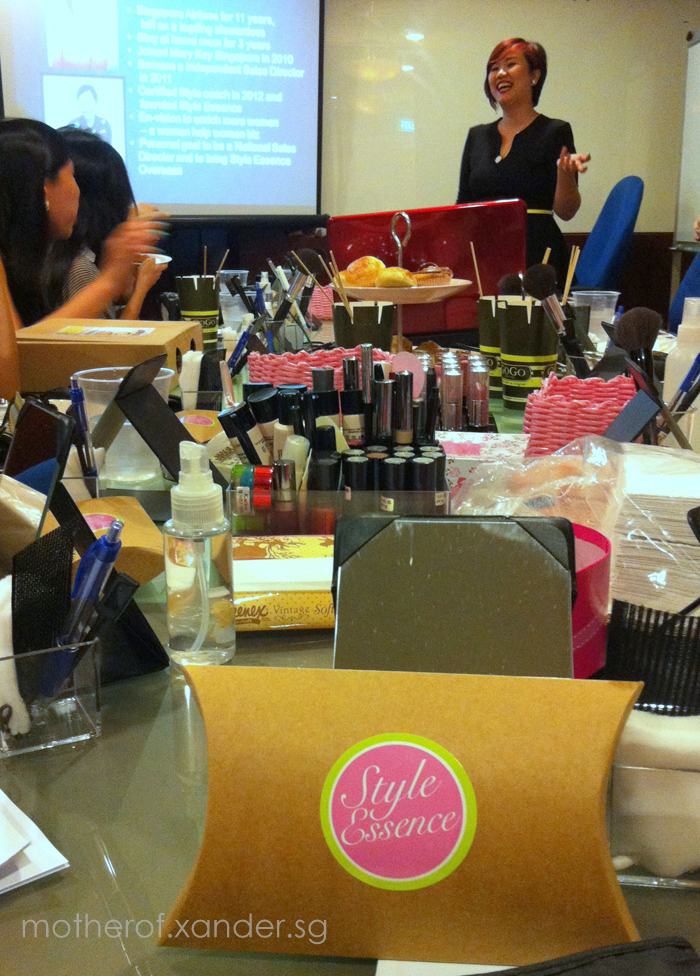 She used the color wheel to illustrated how colors can compliment each other and with that in mind, we can use this theory when we shop for clothes and accessories that best suit our skin tones.
Florinda then did a very simple demonstration to find out which skin tone each of us belongs to with the help of a black and brown scarves. What do you think? Am I a Cool (black scarf) tone or Warm (brown scarf) tone?
As it turns out, I'm a Pear Shape not a Building Shape that I always thought I was. Phew! To draw attention away from my magnificent child bearing hips, Florinda suggested putting more emphasis around the neck and shoulder area. A nice shawl or necklace should do the trick but I think adding a few cup sizes won't hurt either, yah? *wink wink*
We were all given a guide, based on our body shape, of what styles will suit us best. Â This is especially handy for me who don't really like to go shopping because I never know what looks good on me.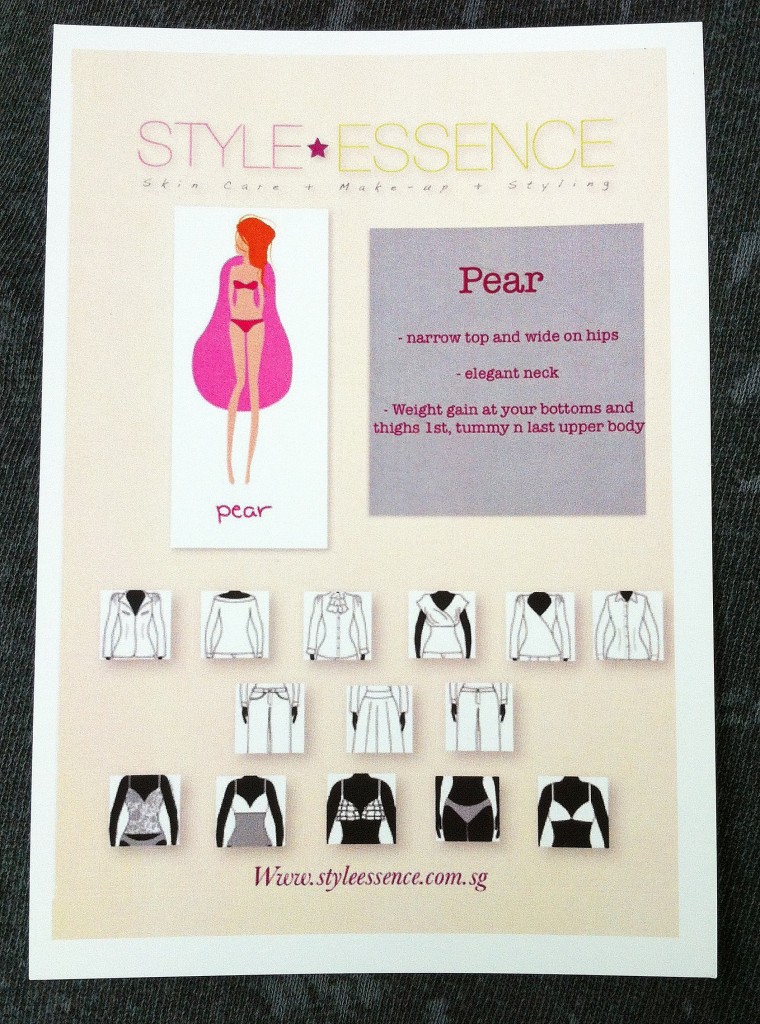 After the body and colour analysis, we started the skincare routine using Mary Kay's Botanical Effects Skin Care range. We were told we shouldn't smoosh our faces around like how we would when we wash our car. You should always dab the cleanser on your face first then use your 3rd and 4th fingers to rub (gently) in circular motions. Less friction creates less wrinkles lah.
Once we were done washing our faces, we applied the Botanical Mask on half of our faces. It deep cleans with very little effort and almost immediately after washing it off, I could see the difference between the 2 sides of my face. The pampered side really did feel and look fresher. Whee!
See my non existent eyebrows? No? There, I told you it's non existent already mah.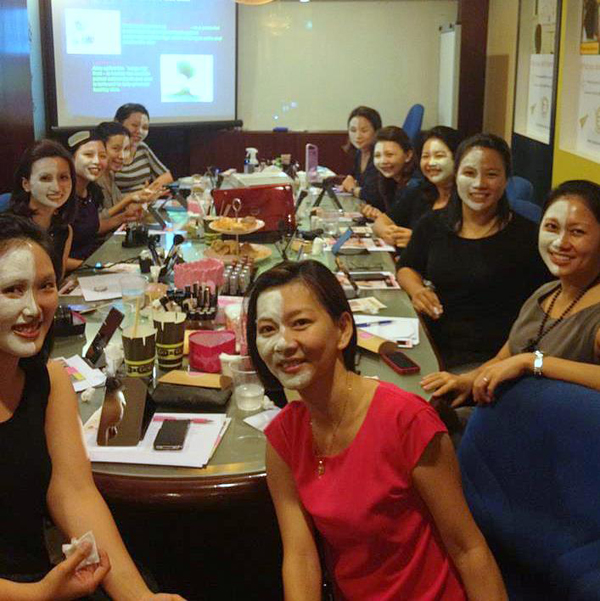 Now that our faces were clean, it's time for makeup! Florinda and Bernadette had prepared a wide range of colours, lipsticks and brushes of all shapes and sizes for us to experiment. For someone who only use brown, seeing so many colours on 1 plate was a little unnerving for me. Since we were all there to learn something new and do something different for a change, I went straight for the purple eye shadow. *shudder*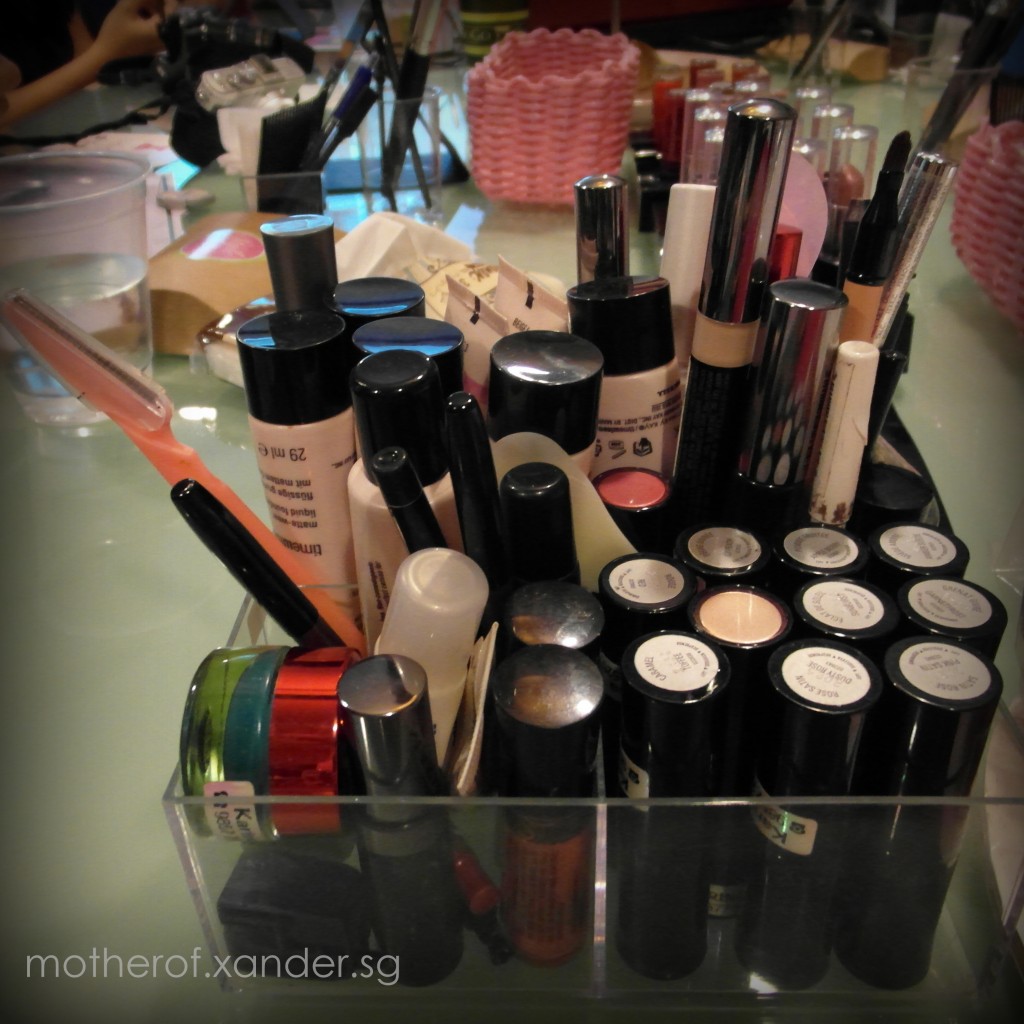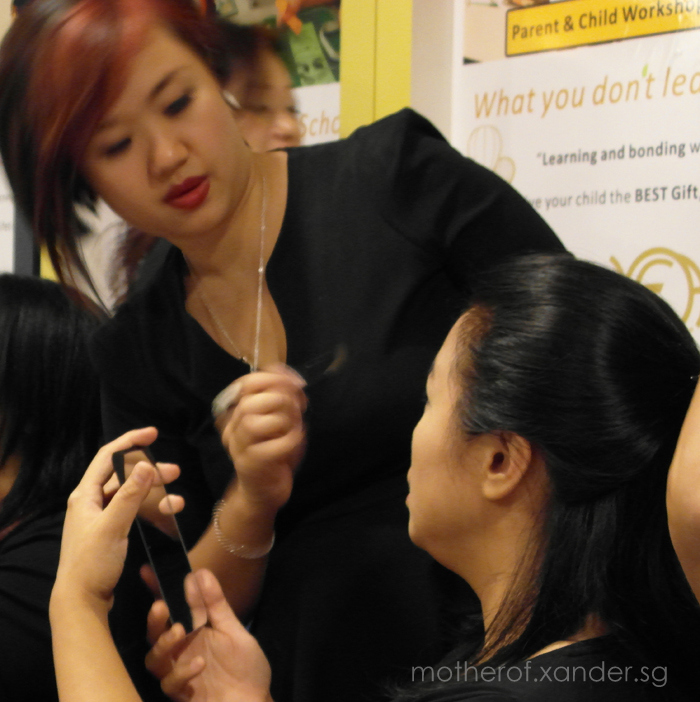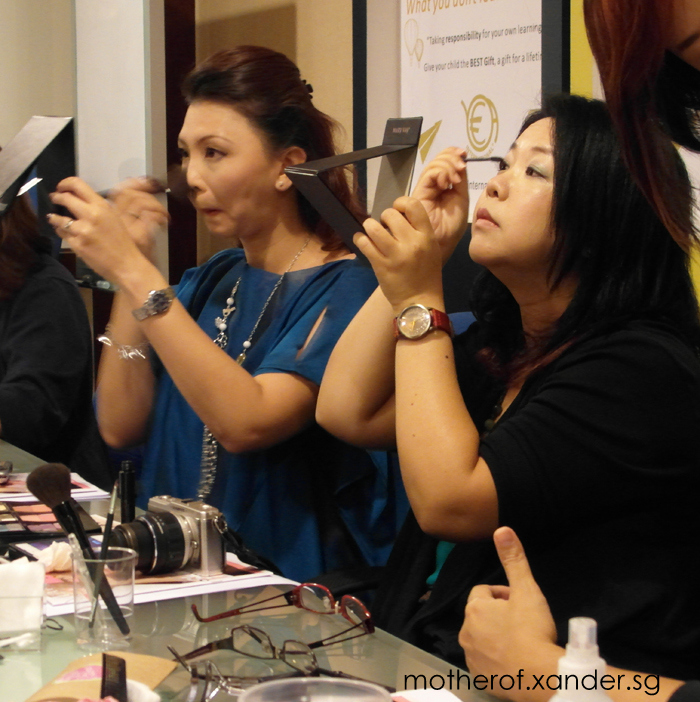 Here's how I looked before and after. Never mind that I look bloated, I have colour on my face! Not so Auntie anymore hor? *giggle*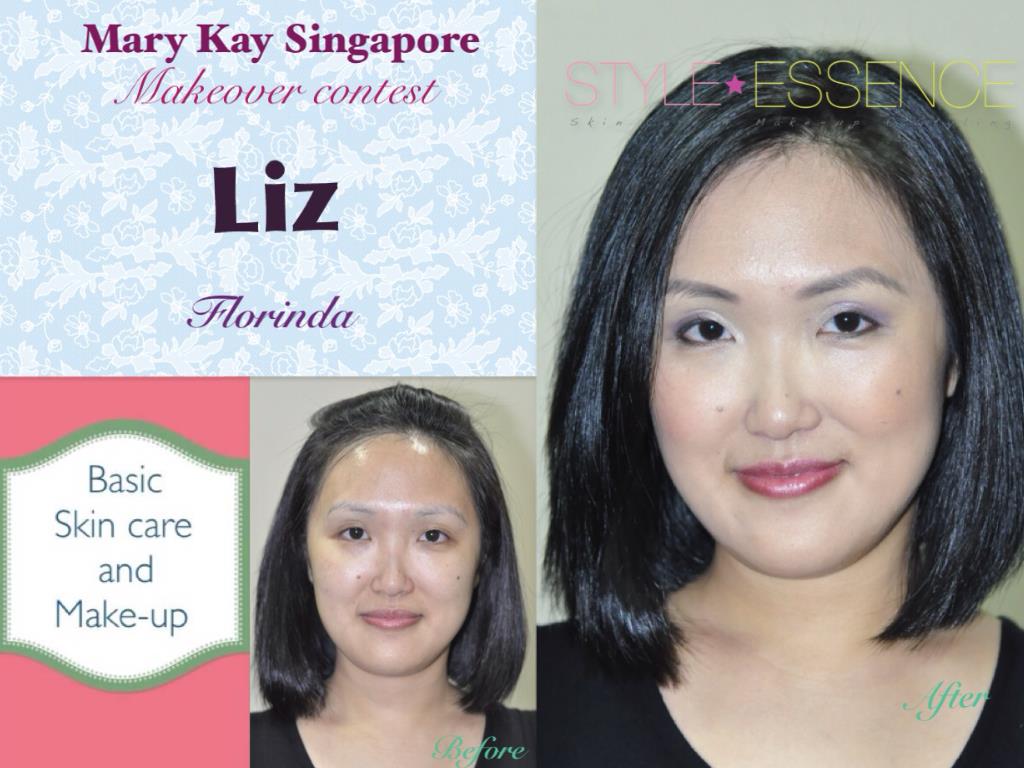 What's a celebration without a group photo? Here are the crazy participants from left to right.
Top row: Bernadette, Susan, Sandra, Regina, Adeline, Madeline.
Bottom row: Jiahui, Estella, me, Pamela, Adora, PC and Florinda
Thank you Flo and Bern for the entertaining workshop! I haven't had this much fun in a workshop like, forever!
Here's the fun part!
Style Essence is giving 3 of my readers a free makeover workshop worth $150 each!
How to win? Just use the simple Rafflecopter form below and you are on your way!
Giveaway ends at midnight on 19 April 2013 and winners will be announced here on the same day. I'm not going to keep y'all in suspense for too long this time 🙂
Winners will be selected randomly and Style Essence will contact the winners directly
Faster faster enter! Good luck!
a Rafflecopter giveaway
Disclaimer: We were invited to attend this workshop and received no compensation for this post. All opinions are entirely my own.
UPDATED (19 April 2013)
Congratulations ladies!! You have each won a free makeover workshop worth $150 by Style Essence! Don't worry, Florinda and her team will take very good care of ya! They will be in touch with you via email soon.
Thank you everybody for supporting this giveaway!