Let's make… Hokkaido Chiffon Cakes!
Some weeks back I had the opportunity to learn how to make Hokkaido Chiffon Cakes with the bloggers from Singapore Mom Bloggers (SMB) from the nice ladies from Munch Ministry. The baking class (hosted and conducted by Munch Ministry) was one of the several activities lined up for SMB's 1st birthday celebration this year. The first was a self makeover workshop where a bunch of us vainpots well deserving mummies got to learn how to take care of our skin and wear the right styles for our body shapes. Being the typical greedy girl, I wanted to find out what was a Hokkaido Chiffon cake and did it taste good as it looked.
The class was held at Civil Service Club at Tessensohn Road and I really like the location because it was big, bright and they use KITCHENAID MIXERS! Have I told you I really love KitchenAid mixers? I really love the KitchenAid Mixers. Imagine my joy and drool when I realized I was surrounded by these beauties (didn't matter to me that it was not 100% clean on some areas). It felt like meeting that boy you've had a crush on for years finally face to face:Â Â I didn't know if I should hug it or kiss it or take photo with it. I kind of did it all.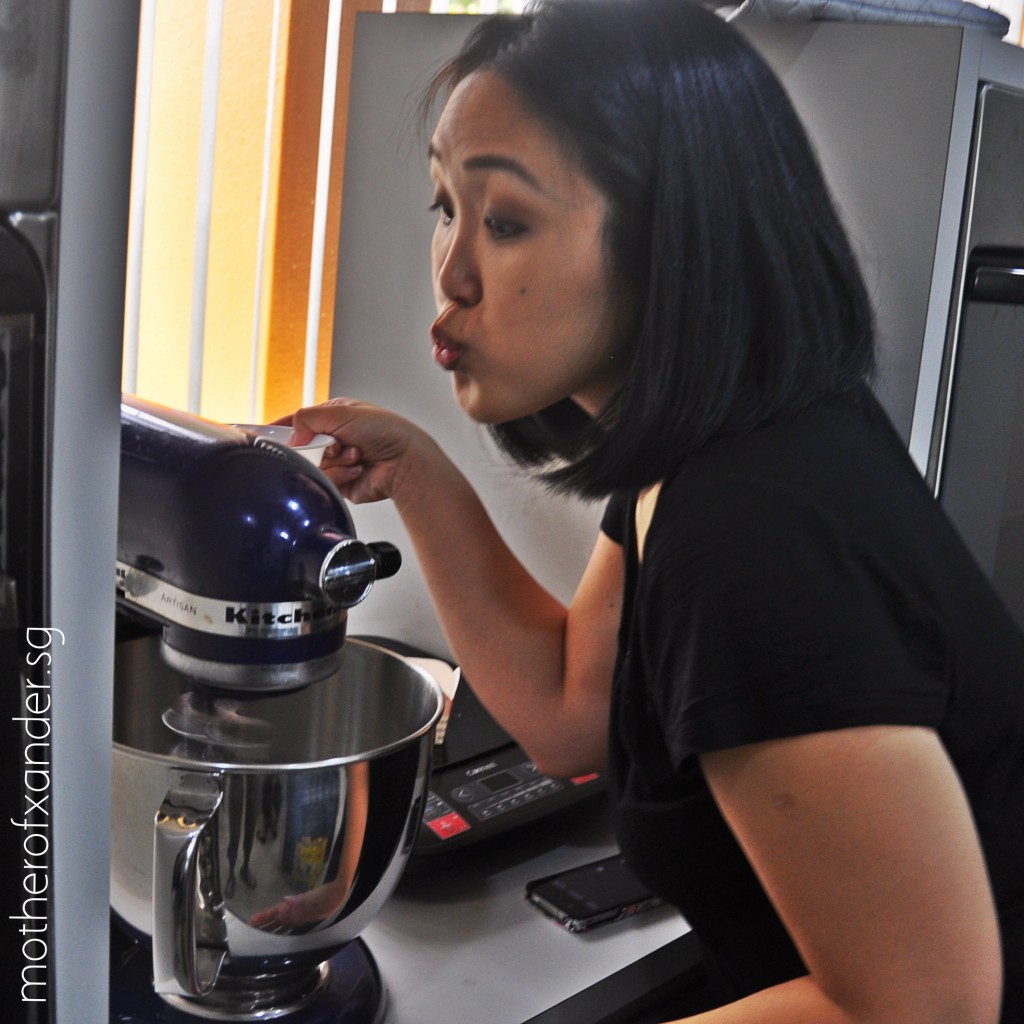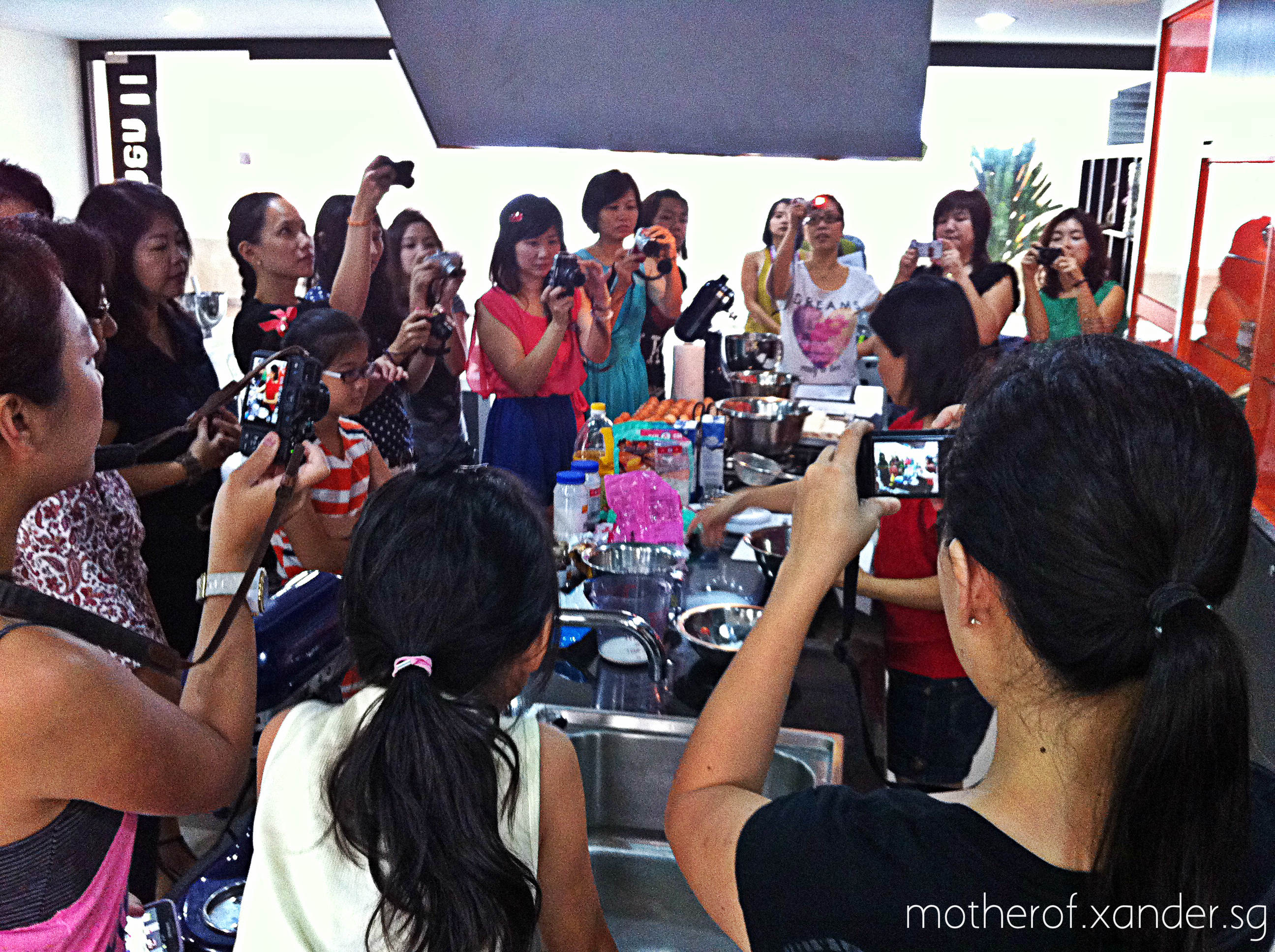 I think classes of any kind is always more fun when you are in the company of friends. A bigger bonus if these friends are as big a clown as you.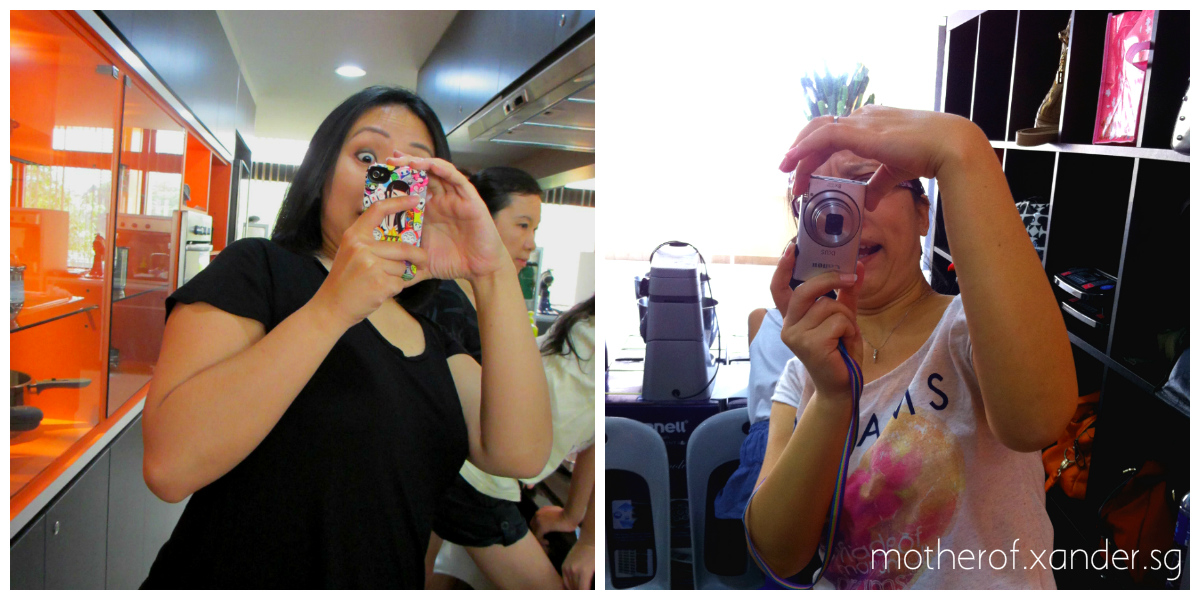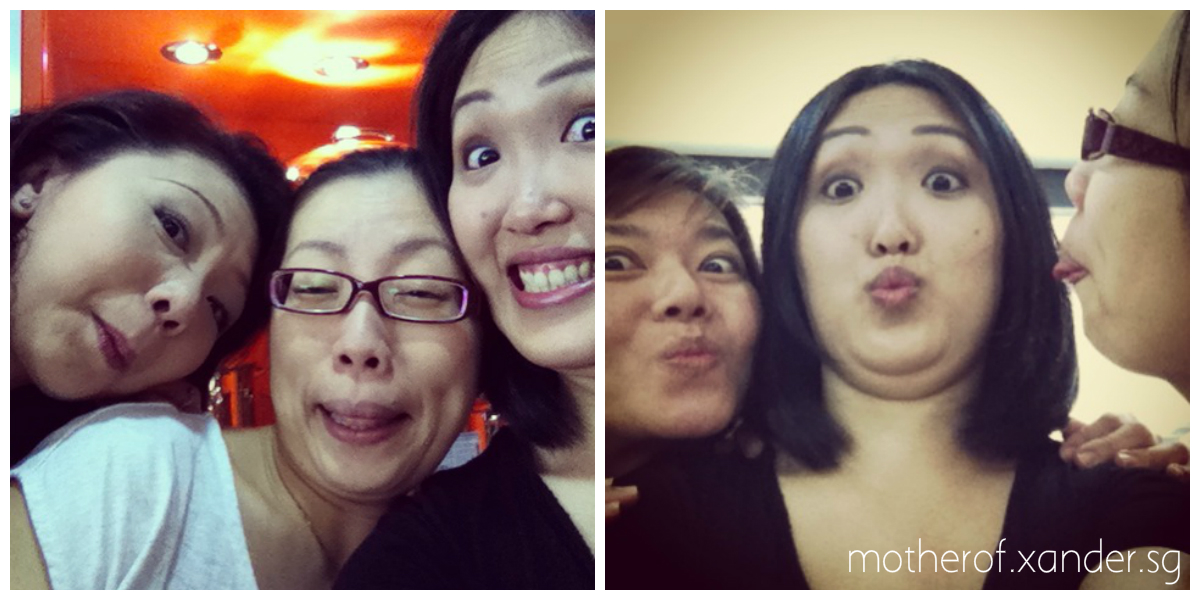 Ok ok. Enough with the pictures already. I got listen to the teachers lah. Maybe not 100% of the time but enough to bake a decent batch of cakes. Hehe!
The recipe of Hokkaido Chiffon Cake is readily available on the net and I'm sure you will be able to find one that suit you best.
Some of the valuable tips I got from Pauline and Louisa (the 2 lovely ladies from Munch Ministry) were:
Hokkaido Chiffon Cakes are NOT from Hokkaido, Japan. The original recipe called for Hokkaido milk which is smoother and richer than the normal milk we buy from the supermarket. For the class, we used regular milk at room temperature.
All ingredients must be at room temperature or else the cakes will not rise properly or have cracks on the surface. No wonder my cupcakes in the past always look so ugly and oozed all over the oven. Next time I show you pictures ok?
To use only vegetable oil or any oil that has no smell. Oils like olive oil have distinct smells that may interfere with the taste of the cakes.
Use cold water for this recipe. I forgot why. I was busy taking photos with the other girls. 😛
To make sure there is no oil or water in the container you are using when handling egg whites. I also forgot why. Just follow the instructions lah.
Once you have finished filling the cupcake containers with the cake mixture, you must knock the trays on the table to remove any air bubbles that may have been trapped inside. By doing so, you won't have enormous air bubbles and the cake can rise properly. I think.
Here we are in action. This is a relatively easy cake to make except the part where we needed to separate the yolks from the whites. It was quite a disastrous experience I tell you. You can buy the fanciest egg separating gadget available but nothing beats using your hands to wiggle the yolk in your palm while the whites ooze away through your finger tips. A bit messy yes but it is almost 100% fail proof and your hands get a bit moisturized by the eggs! Wah, this cake good for belly and skin wor, dun play play hor?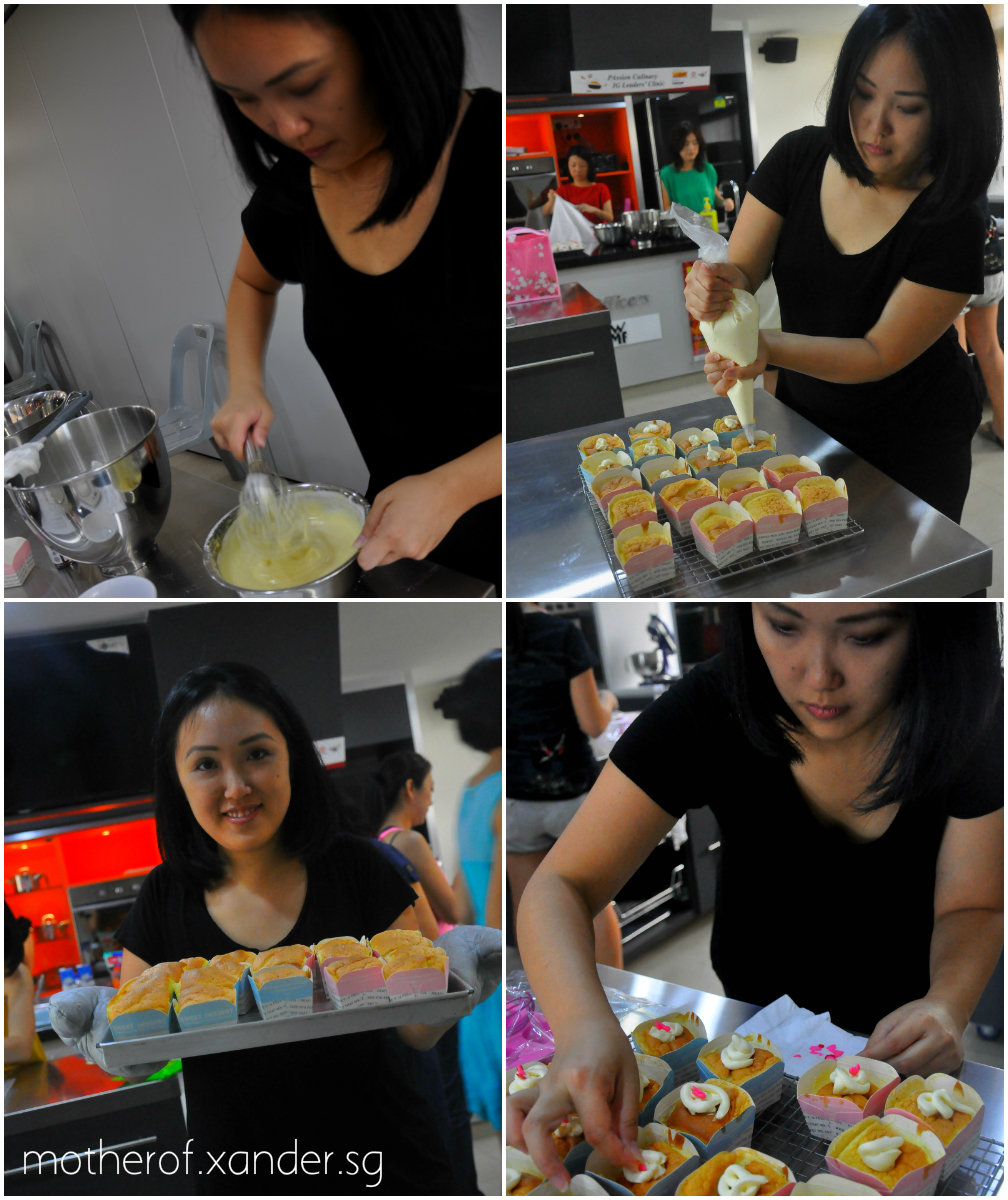 While waiting for the cakes to cool on the rack, you can get the frosting done in the meantime. Then ah, you fill it into a piping bag and then you STAB and SQUEEZE the wahbiangsoniceicaneatonitsown frosting into the cakes. Remember to squeeze a bit on the top to make it look nicer. You might want to use fresh fruits instead of sprinkles to jazz it up a bit, buelly nice either way.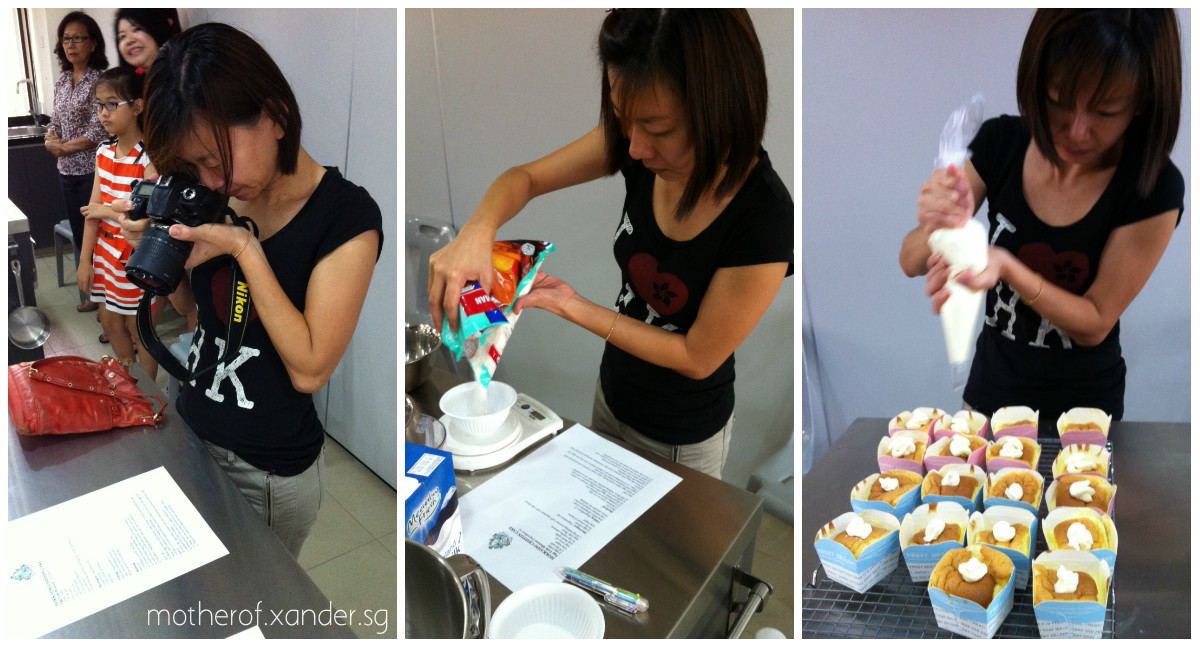 If you are on a diet, you can forget about it when you come face to face with these cakes. They are so light and delicate, you will have no problems inhaling them all in 1 sitting. For optimum taste, chill them first before serving them to your guests. The frosting machiam soft serve ice-cream I no bluff you.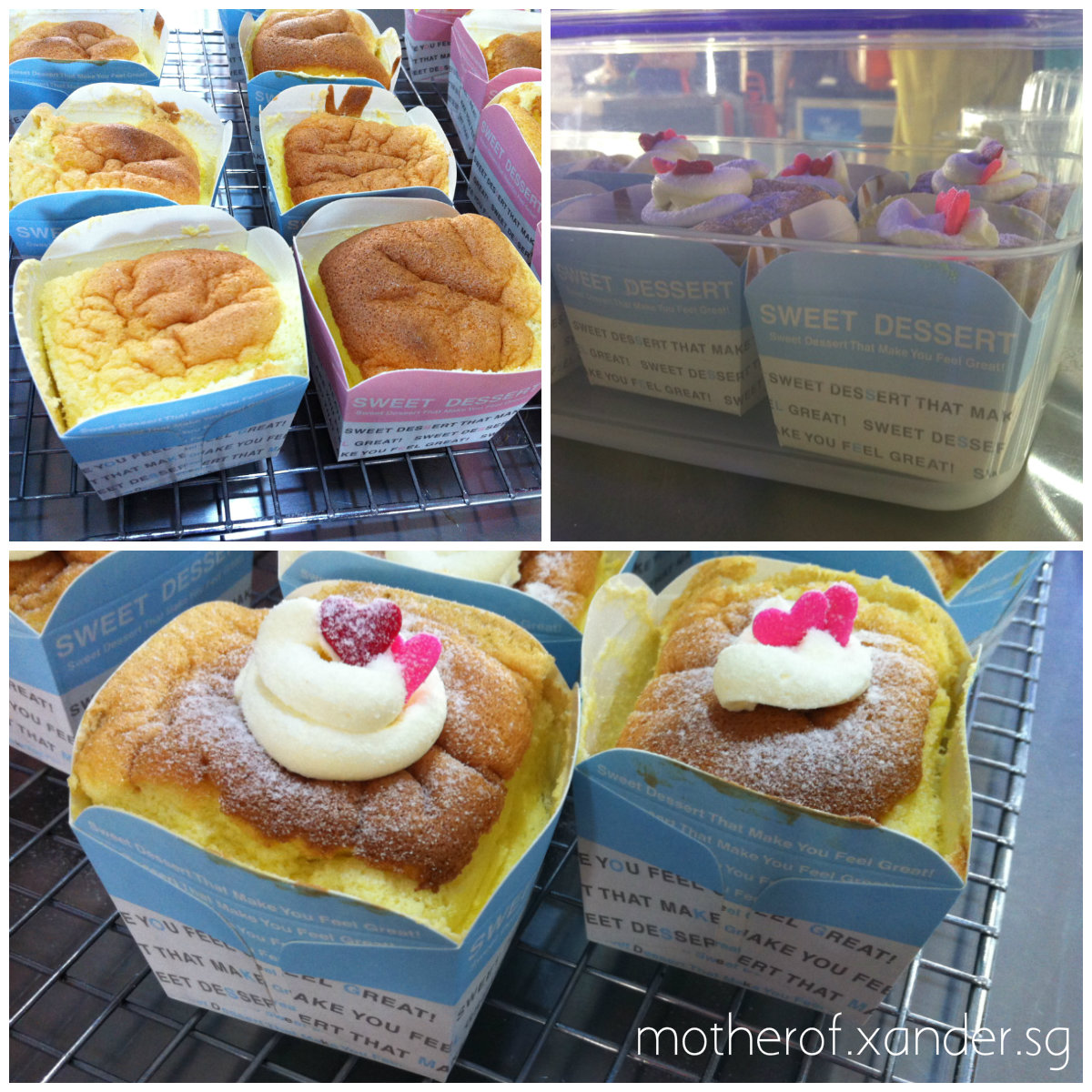 I need to thank Pauline and Louisa for hosting this class again. You made me look like a baking goddess to The Husband with these delicate cakes. Now I have one more recipe I can use to bribe him into doing more household chores for me. Haha!

Who is who?
Top row, left to right: Mabel, Ai, Delphine, Cherie, PC, Jennifer, me, Connie, Adeline, Klessis, Jiahui, Regina.
Bottom row, left to right: Estella, Louisa, Pauline, Jiahui's fabulous little assistant/kiddo, Rachel.
You can find Munch Ministry on Facebook and on the Web. Do Like their Facebook page for regular updates on classes, recipes and products.
Read their post on the 2 special classes just for us SMB members here!
Don't forget to read my partner's post about the class here! You must to read ok?
Linking with: