Say Cheese Singapore! (Review)
Sponsored Review
For as long as I can remember, my mum would always prepare my breakfast/lunch sandwiches in all sorts of weird and wonderful combinations that always include cheese. "Because cheese and milk are good for your bones!" my dear mother would drill into my head every morning. Decades later, she is still buying sliced cheese but this time she buys for my nephew who practically inhales them in seconds.
Recently, the nice folks from SCS sent us some cheeses to try. At first I thought, SCS got cheese meh? I have always used SCS butter (salted and unsalted) for baking and cooking so SCS to me was synonymous with butter. Did you know the homegrown dairy brand also produces cheese? Ah, now you know lah! They come in 4 tasty flavours like Original, Reduced Fat, Smoked BBQ and Black Pepper.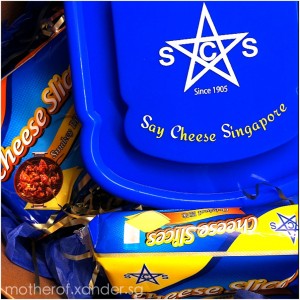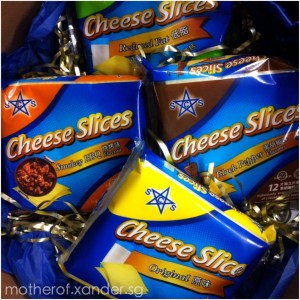 How do you usually eat your cheese?
We usually eat them plain…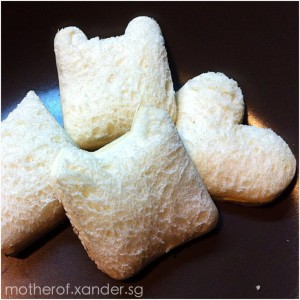 Make cheese sandwiches.
I'll make mini ones when I want to feel fancy or when Xan requests for them.
Make cheese chips.
This is a recipe I found online some time ago. Just tear the cheese up and nuke them in the microwave oven.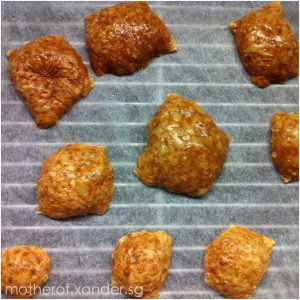 They didn't really turn out the way I was expecting them to because they were supposed to be flat, not puffy pillows. Nevertheless, they tasted pretty ok. Best with beer!
But my all time favourite way to eat cheese is to have it melted into my spicy instant ramen soup ! Just add a slice of cheese into the noodles after cooking and let it melt through. Once you try this, you will always want your ramen with cheese all the time. I no bluff you!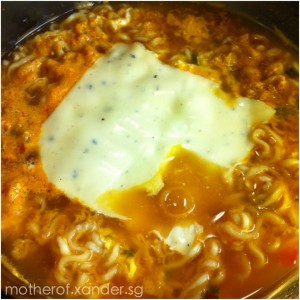 Do you have a weird and wonderful way of eating cheese too? Share leh!
About SCS
Home grown dairy brand SCS has recently launched a series of programs and roadshows to educate Singapore's young children on the health benefits of eating cheese through the aptly named "Say Cheese Singapore!" campaign. To date, SCS has reached out to some 54,000 schools kids via this exercise and some 5,500 young children at the recent Cold Storage Kids Run 2013 on 19 May, by conducting mobile sampling at the multi-generation event.
Disclaimer: We received products for user experience review purpose. No other monetary compensation has been received.