Today I told my son to be a quitter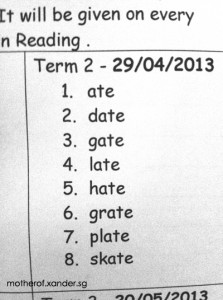 Xan is in K1 now and he has been having spelling tests at his preschool every Monday for a few months now. The teacher go through the list of words with the class the week before the test doing the usual writing practice.The list is usually between 6 to 10 words and they are words like brush, push, chair, etc. Not too tough, but I can understand if he mixes some of the 'e's and and the 'a's for words like men and man. We would also do some revision on our own to try to refresh his memory on Sundays at home.
This morning, I decided to spring a surprise test on him during our journey to his school. I got extremely frustrated when he couldn't remember anything we went through so I gave him a pat on the back and said "Be prepared to fail the test later. Heck, why don't you just not write anything at all during the test so then you will get to write and rewrite all the words all day long in school today?" He gave me a very sad look, shook his head slowly and said "I dowan". I continued "You remembered me threatening to keep the iPad and yet forgot all 6 of the words you learnt last night. You even gave up after giving me just the 1st letter. You should just fail the test, don't learn how to read and write anything. How are you going to survive P1 if you can't even read or write? Be a quitter then. Easy for you easy for me and I can save my money on your education for other things. You want to give up? Ok, I'll give up too." Silence for next 10 mins.
When I dropped him off at the school's main door and walked off to sign in the attendance book, I heard his teacher said "Oh dear, why are you so sad Xander? Where's Mummy?" He finally burst into tears much to his teacher's surprise. When I stepped back into view, he sobbed harder but not yet wailing. What did I then do? I handed him a tissue to wipe off his tears and told him sternly to stop crying. He nodded, grabbed his enormous bags, tried to hold back his tears, waved byebye to me while walking to his classroom with his teacher. I definately won the Parent of the Year award today.
How do you deal with a child who when faced with a difficult task decides to give up halfway? Or when he sees the other children already running so far ahead or have completed their assignment, he would feel defeated and will stop whatever he was doing because he doesn't see the point of completion anymore. He used to be so fearless and determined. Where did that boy go?
I wonder if he is picking this up from us his parents and if so, are we really doing it? I don't remember giving up so easily leh. His teacher know he has a tendancy to give up easily and has advised us to be more patient and gentle with him. I tried but my patience is running thin and I finally cracked this morning.
I don't want him to be a quitter and neither do I want to quit on him. How in the world do I motivate him then?
Sigh.