Shopping is easy with RedMart.com (Part 2 of 2)
(Sponsored Post)
Remember my previous post about why shopping with RedMart.com was so awesome? Shopping online is convenient and easy. Shopping for groceries online is a lifesaver for busy working parents like us. Let me explain.
My workplace is a little far from my son's school (about 1 hour of drive time in rush hour traffic) and by the time I pick my son up from school, it would be almost 7 pm or later if I have to stay a little later at the office. The little one will not hesitate to let you know he is completely delirious with hunger (he likes to give me the rolled back eyes + I'M DYING face) and we would have to hunt for food nearby or whizz home for a quick home cooked meal (if I feel up to it and have prepared the ingredients beforehand lah). Since he has to go to school the next day, we try to make it home by 9pm and bed by 10pm. TRY lah. Where got time go grocery shopping right?
So what is my solution? RedMart.com lah!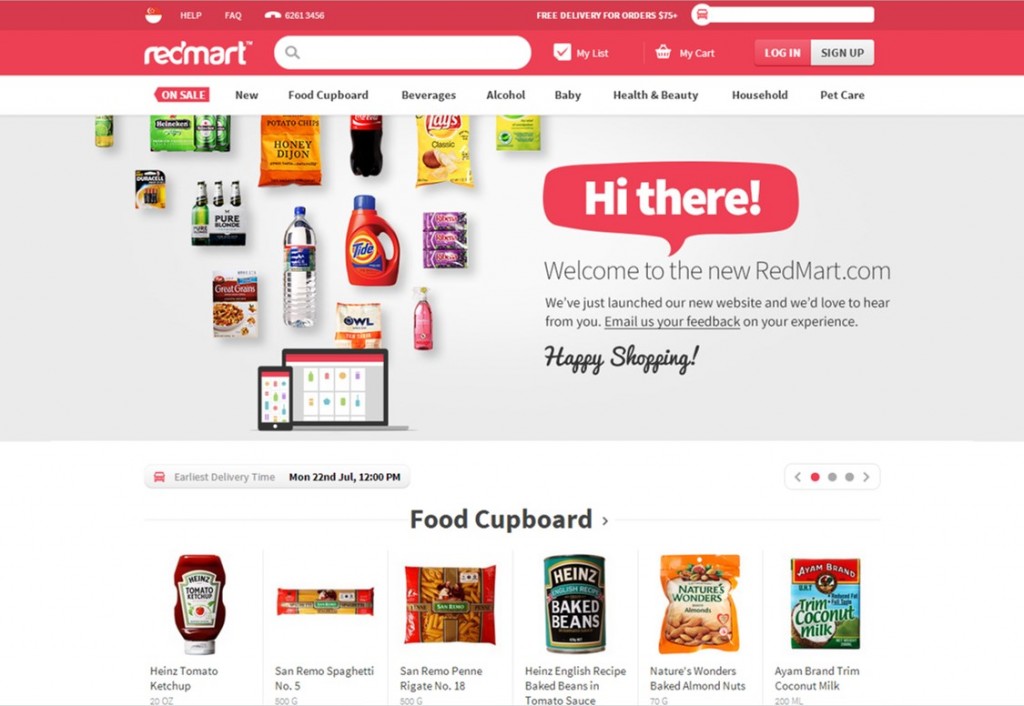 Like most online shopping sites, you need to create a user account first and I like it that on the RedMart.com site, I can add more than 1 delivery address under my account. That way, I can also opt to have my stuff delivered to my office during office hours. What? You think I was skiving during office hours doing shopping? NEVER! I am very dedicated to my work okay? I only take peeks at the site with their iPhone app in between documents lah.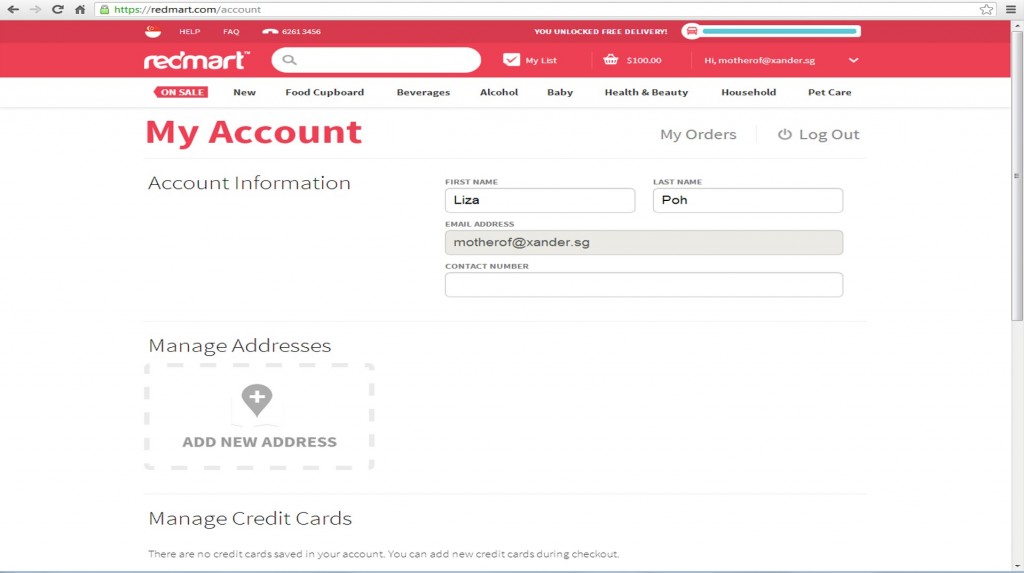 So! Now that you have created your account, it's time to explore the site! Other than the usual products they have on the main pages, do remember to check out the Just Arrived and On Sale Now for great deals.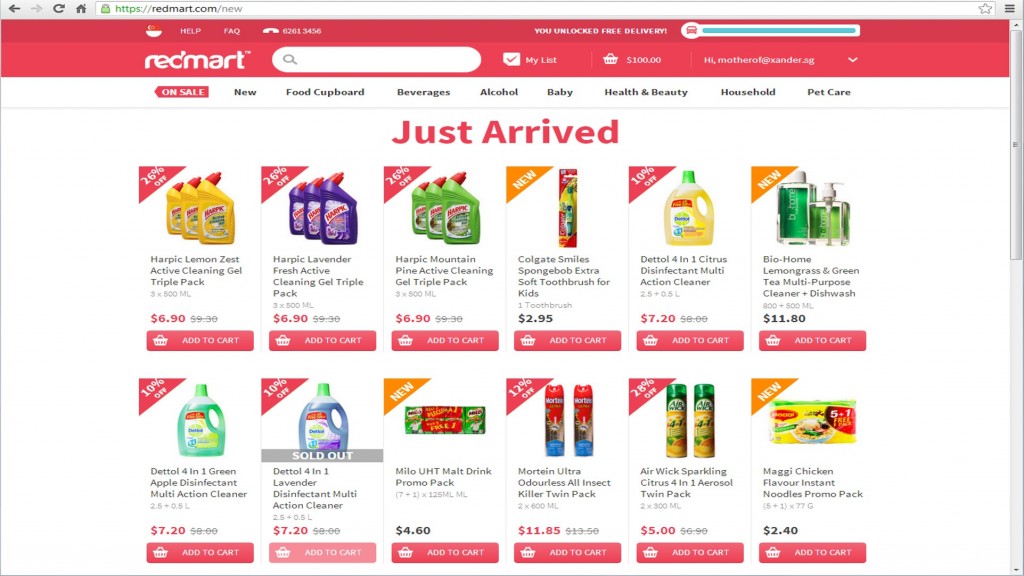 When you get to the On Sale Now page and realize the item you wanted is out of stock? No worries, just click on the Notify Me button and they will send you an email once the product is available again.
Ok, now that you have finished shopping, you can review the items and total cost in your cart and make sure everything is in order.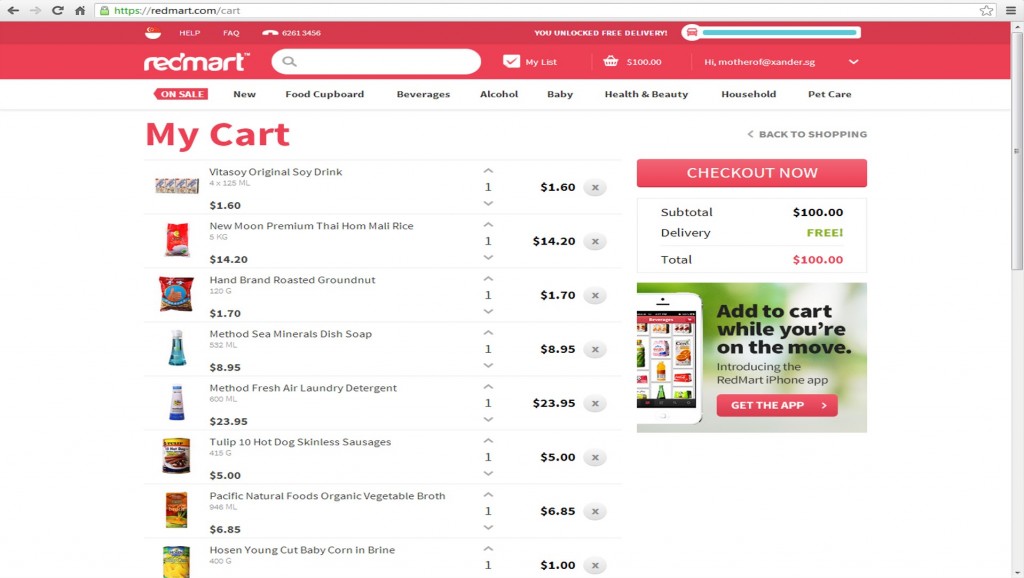 Next, select your 2 hour delivery time slot. As you can see, they offer time slots up to 10 pm for folks like me who don't reach home so early. This is a major life saver for me.
And then, YOU ARE DONE! *happy dance*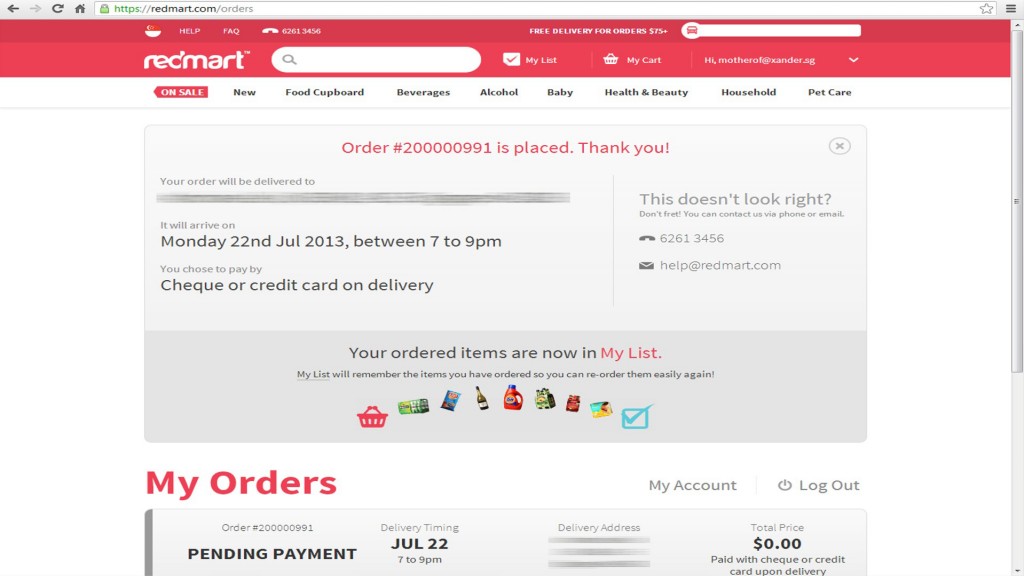 I have the lousiest memory for everything so having a copy of my last shopping list in the system that I can refer to for my next order is definately very useful for me.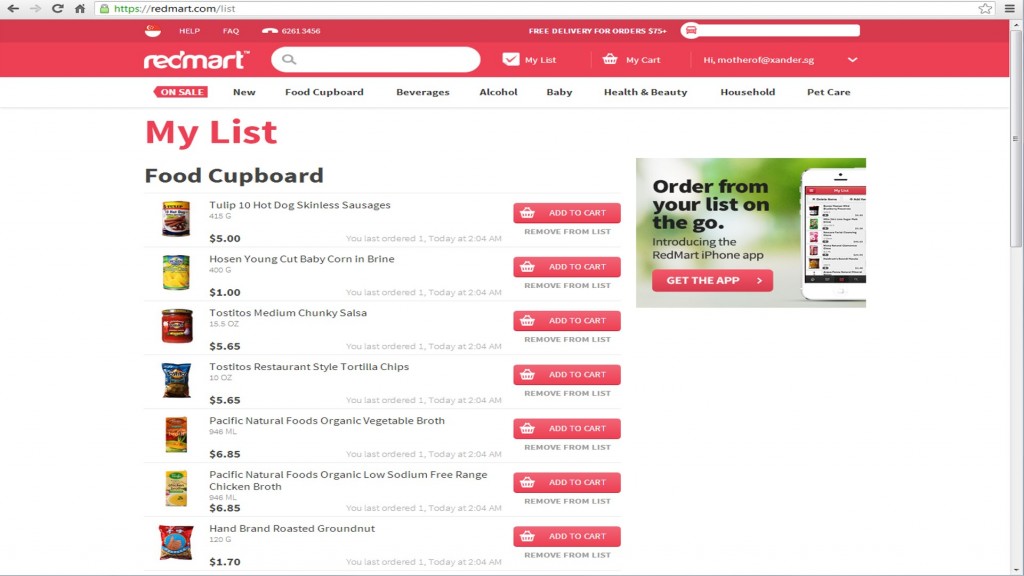 When I told Xan we had to rush home early that day because we were expecting a delivery, he was very VERY excited. You see, we don't get visitors so that door bell of ours is very sadly neglected and lonely. The only other people who ring it are the auntie who delivers Yakult to our place and Xander himself. Pardon us if you do visit us and get greeted by a super happy, bouncy and excited little boy at the door.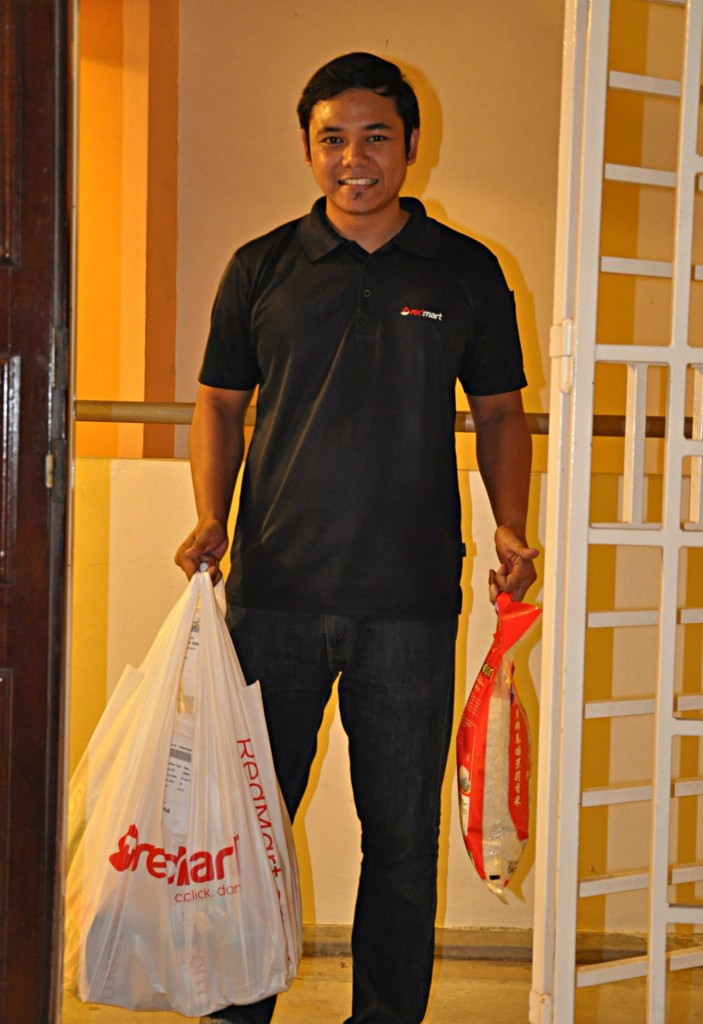 Ding dong! The delivery guy arrives with our shopping and a big sincere grin. I kinda made The Husband take a photo (ok, a few photoS) of the poor unsuspecting guy because I didn't want him to think I'm a weirdo auntie. Luckily for us, he shyly obliged.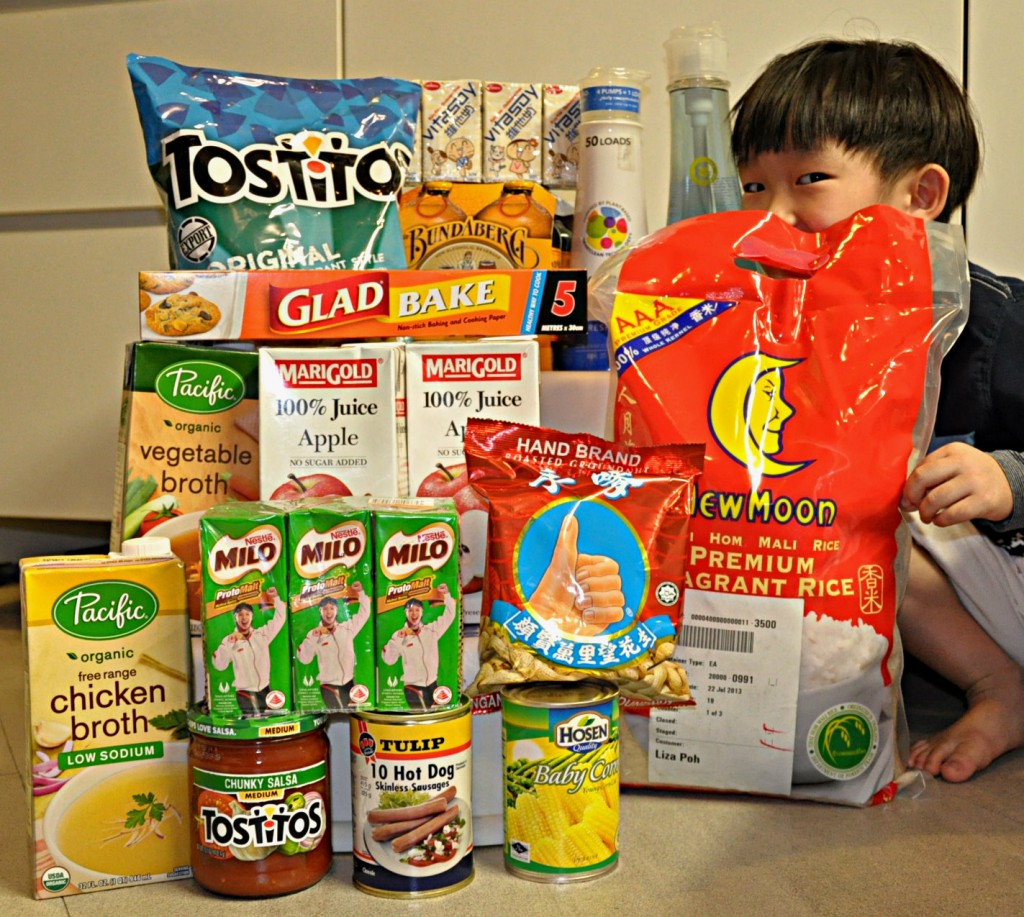 Finally, here's what we bought. Can you pretend not to see the processed food and focus on the nice packets of organic broths and the Method products at the back?
Especially for readers of Mother of Xander!!
RedMart.com is offering 10% discount off your first purchase.
How? Just enter the code rm_momxan before you check out your purchase.
September Special!
Free delivery for orders above $49 (usual amount is minimum $75) has been extended to 30 September 2013!! Please check their website for more details.
Disclaimer: I was compensated by RedMart.com for this post but all opinions and views are my own.