Let's play… Doctor for a Day!
I meant to write about our experience at the Doctor for a Day event in August but so much had happened in the months that followed so this post had been sitting in my Draft folder for a while. Better late than never right? *awkward silence* Heeheehee…
I read about the Doctor for a Day event that was to be held at Mount Elizabeth Novena Hospital on a couple of mom bloggers' sites who had attended earlier sessions with their children. They shared many photos as well as their experiences about the event. The more I read, the more intrigued I was by it. Really so fun meh? I thought "Aiyah too bad I missed it this year" I was going to make sure to sign up for next year's session. Lucky for me, Jean gave us the members of SMB a heads up about an available session and of course I grabbed it! Heng ah! Still have chance!
The kids got to experience some of the different tasks the different types of doctors had to go through daily at the Mount Elizabeth Novena Hospital. There was the pediatric doctor, general practitioner, heart surgeon, etc. Xander got to learn how to put on scrubs, practice good hygiene, change a poopy diaper on a traumatized looking doll, patch up an injured child and even cure a scary man doll of his cancer! Phuwah!
After 90 minutes of "intensive basic medical training" with the professional volunteers, all the kids graduated medical school with flying colours, a class photo, a certificate and even a pair of stethoscope! Proud mama looks on with tears from the corners of her eyes. My son! A doctor! *sobs*
As with most hopeful parents, I thought Xan would be inspired by the day's event and would want to become a doctor, a surgeon perhaps!! Doctor good leh! Next time when mummy and daddy are ill Dr Xander can take care of us for FREE! But alas, the little one maintained that his love was still with cooking. He wants to be a chef, not a doctor. Doctors have too much to do, too busy. Chef better. Ok lor. To be the next Heston Blumenthal isn't a bad idea too eh?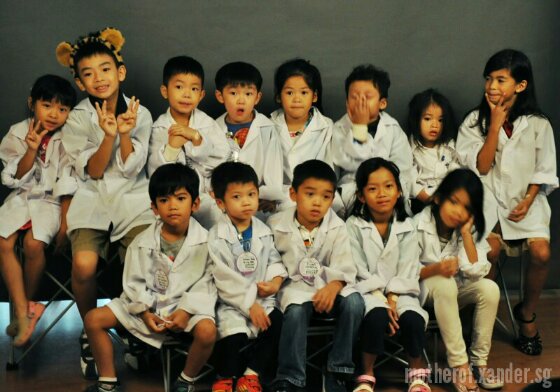 You can keep yourself updated with the latest events at the Mount Elizabeth Novena Hospital through their Facebook Page.