Saturday Social BBQ at Timbre @ Gillman
The Husband was invited to Timbre's 1st Saturday Social BBQ last month. When he told me we were all going to Timbre for a BBQ dinner, I was like Har? Timbre? Isn't Xan a bit young for the place? Do they even allow kids there? Did you misread the email or not?
Well, it's true. Timbre now hosts Saturday Social BBQ every 1st Saturday of the month. The event is geared at families with children and promises good food, good music and cool activities to entertain the little munchkins while you dig into your sirloin steak. Steak? Did someone say STEAK? Pardon my excitement. This hungry pregnant woman's current constant craving is for steak. The Husband didn't need to tell me more, I immediately marked the date off my calendar. Steak here we come!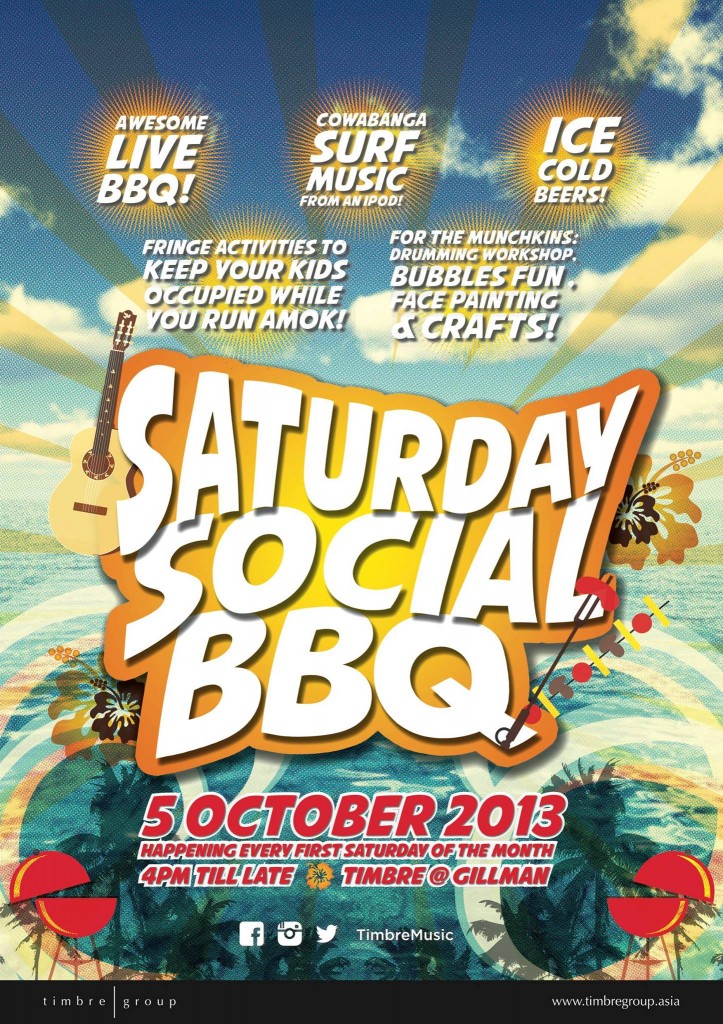 The menu came in the form of an iPad which you could order from directly instead of waving for the servers' attention. So high tech eh? They had something for everyone on the menu and the list of alcohol variety wasn't too shabby either. But then, please hor. If you drive, don't drink. If you drink, don't drive ah?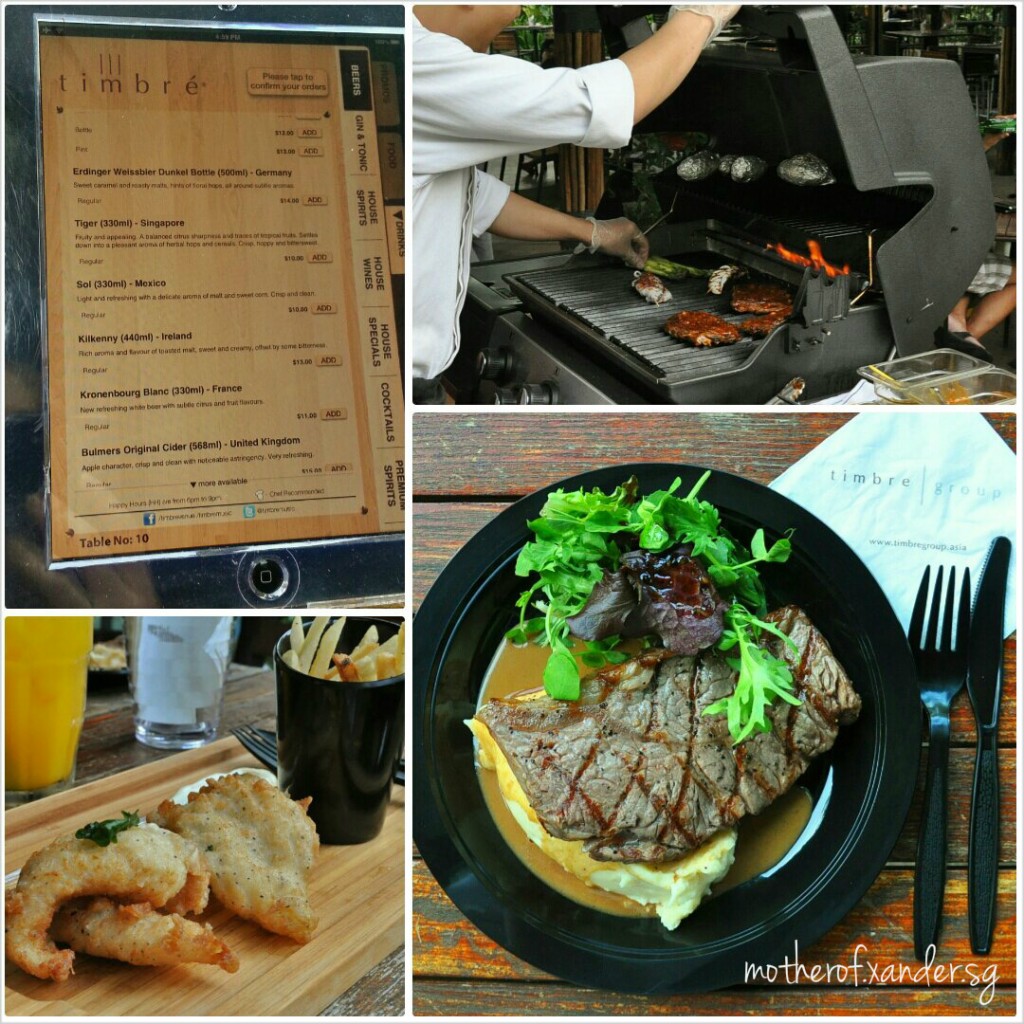 There were plenty of craft activities for the kids. Erm, if you want to join in also can lah. There were face painting, batik painting and mask making. For the teeny tiny tots, there were colouring activities and pots of bubbles for them to play as well.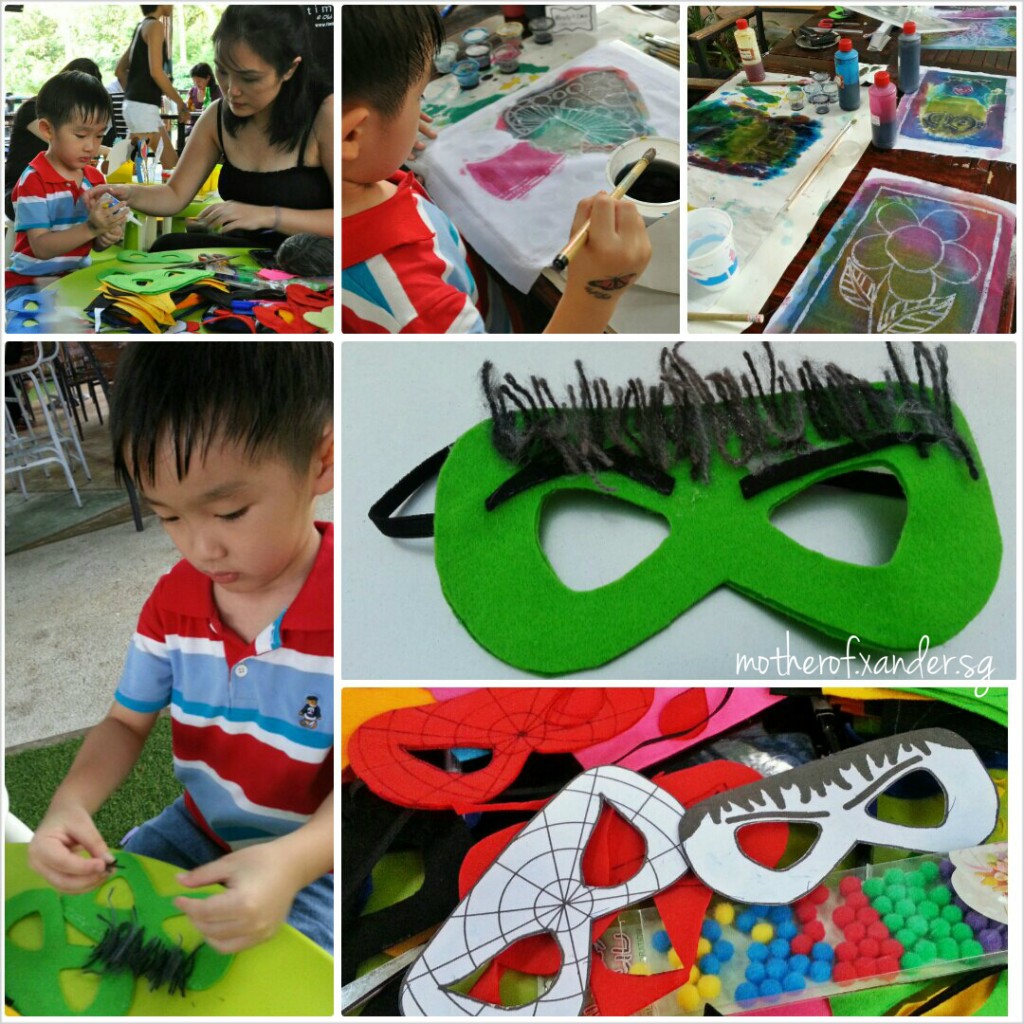 Other than the craft activities, the nice folks from Junior Academy of Music (JAM) brought along some percussion instruments for the kids to play with. They specialize in music classes for kids 5 to 12 years old.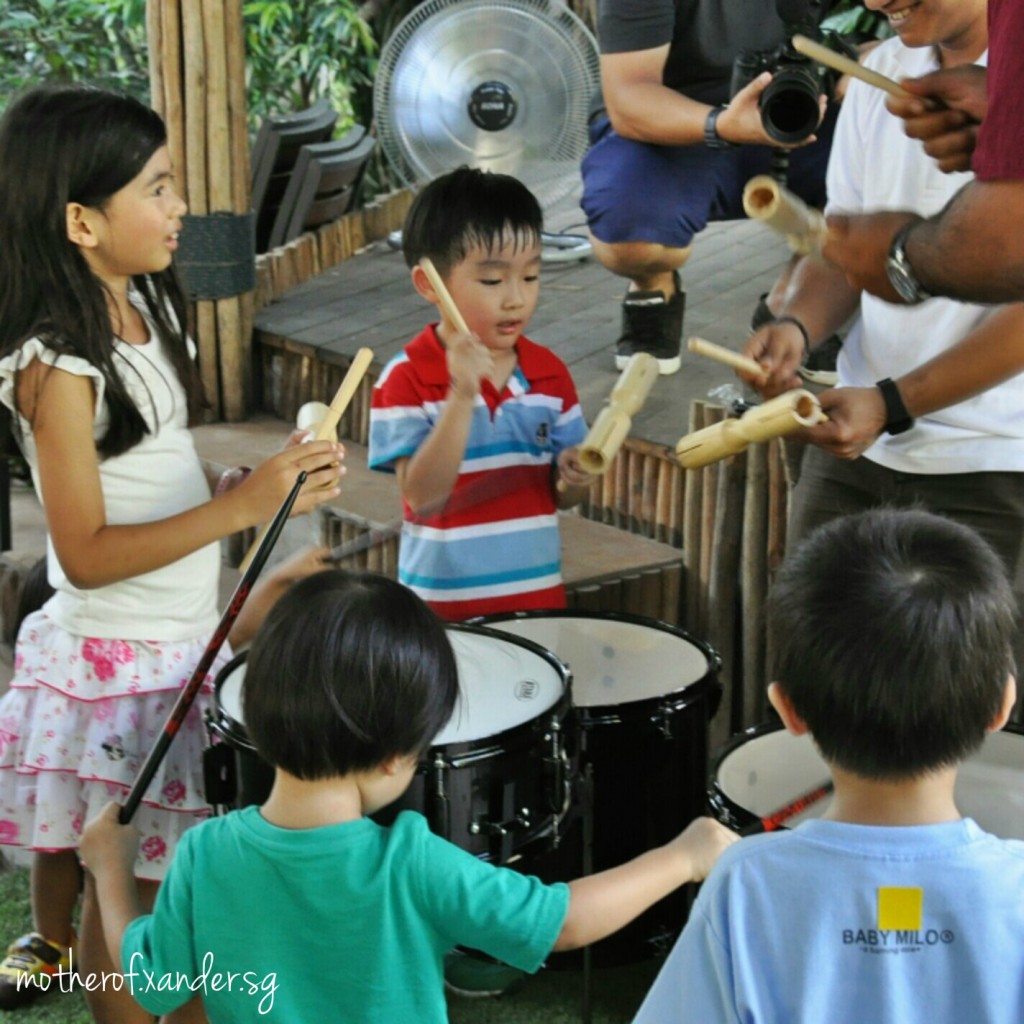 Unlike many al fresco restaurants in Singapore, there is a big open field right next to the dining area which the organizers set up little tents, tunnels and other toys for the kids to play with. After barely 10 minutes, Xan was a complete sweaty mess with grass and dirt all over him. Aiyoh! But he had a lot of fun playing with his new friends. So much fun until he didn't want his fish and chips (they were very very good by the way). See his picture below? Couldn't even sit still. Sigh!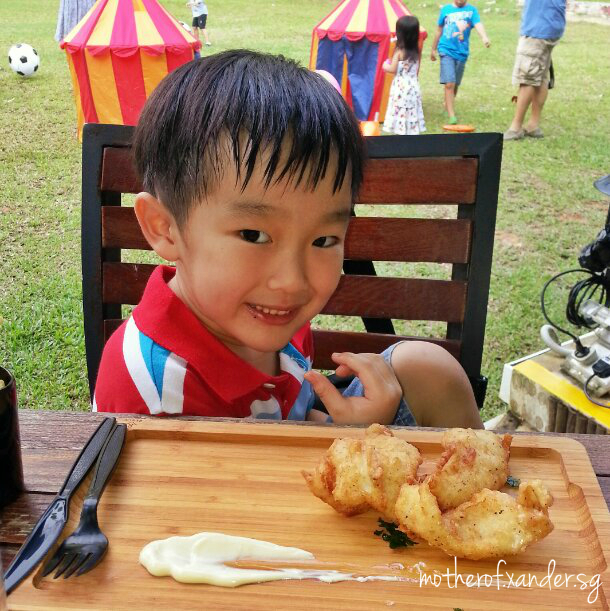 I do however have some concerns about the outdoor area. Being the city folks we are, the mozzies bothered me a bit. Note to all who would like to pay a visit there, bring your sprays, patches, whatever. I was a buffet spread for the mozzies. 🙁 I was also surprised to see the sides of the field not blocked off by anything. Beyond the edge of the field was a drop to nowhere and that posed a safety concern for me because we all know how kids play. When they get all excited, they will run without looking where they go. Scary. Needless to say, that day my heart stopped a few times while The Husband was playing frisbee with the kids. Maybe in future, the organizers should do something to it but in the meantime, exercise caution and please keep a close eye on your kids. When the dinner crowd picks up, the staff will be too busy to keep an eye on them for you.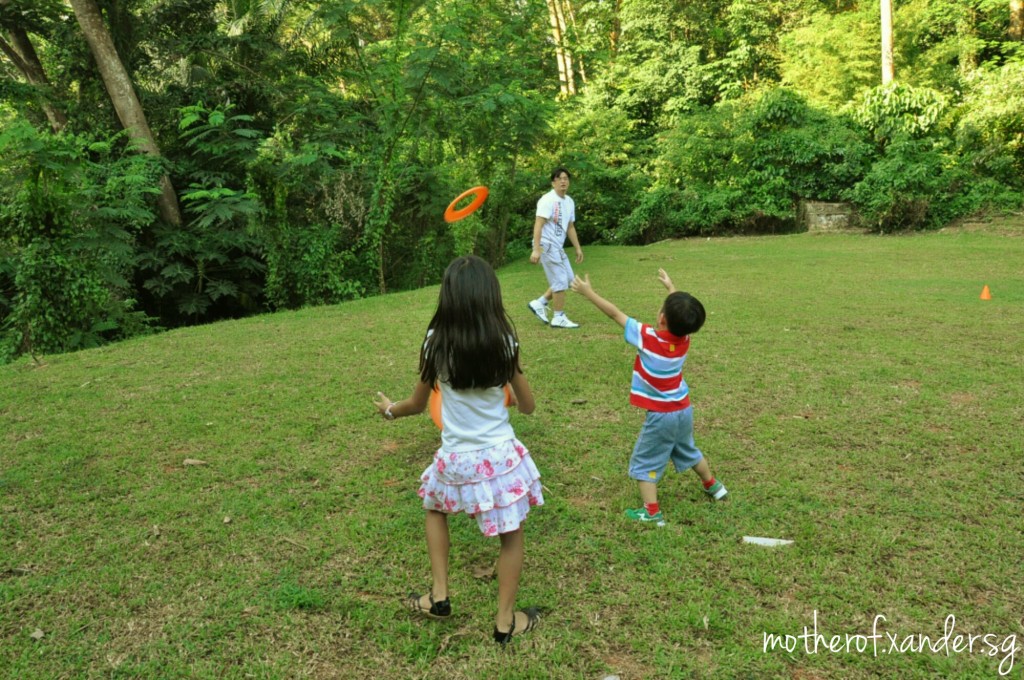 My verdict? I would go back for sure. The food was really good, I no bluff you. Just bring your mozzie gear and don't get too wasted on the beer if you intend to bring your kids along.
Here's a sample of what was offered in October.
– Baby back ribs with mash and caramelised onions
– Spicy Italian pork sausages with tomatoes & onions relish
– Portobello mushrooms with a cheesy crust
– Grilled sirloin steak with mash potato and thyme sauce
– Charred mediterranean marinated chicken with Tzatziki
– Spiced lamb leg with mash & brown sauce
– Grilled asparagus with melted cheese and tomatoes & onions relish
– Skewer of smoked paprika squid
– Japanese sweet potatoes
– Buttered sweet Japanese white corn
The next one is tomorrow, 2 November!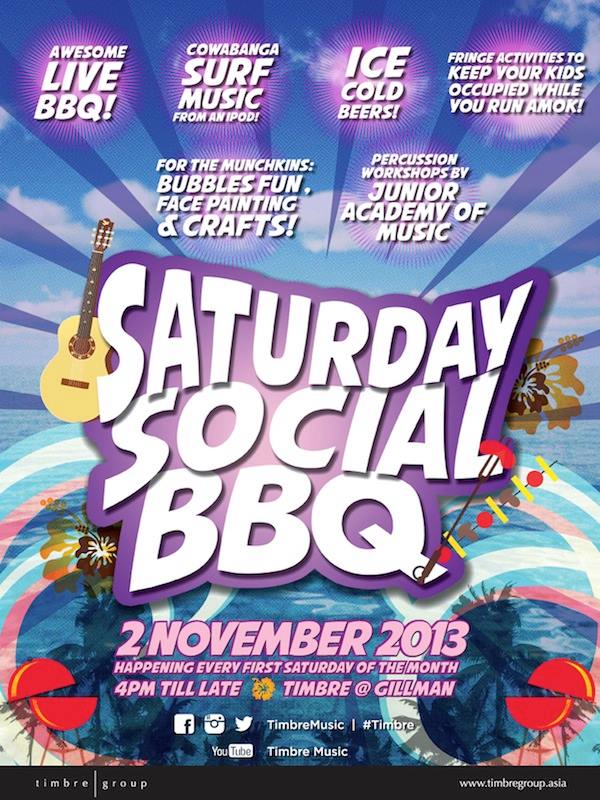 More details of the bbq:
1st Saturday of every month
Time: 4pm till late
Venue: Timbre @ Gillman
9A Lock Road Singapore 108926
Website: www.timbregroup.asia/timbresg/main.asp
Social: Facebook : www.facebook.com/timbrevenue
Linking with: