Let's go… Be a Dentist Day at the National Dental Centre
If not for a tip off by a friend, I would have never known about this event organized by the National Dental Centre of Singapore (NDCS) Paediatric Dentistry Department in conjunction with their NDCS Paediatric Dentistry Facebook page's 1st anniversary.
Xander has yet to visit a dentist at this point because like many parents, since we haven't had any problems with his teeth, we didn't think of bringing him to the dentist. My first thought when I saw this was that this would be a wonderful way to introduce to him what a dentist would do during a regular visit! Maybe by his appointment, he wouldn't be so scared of dentists like I did when I was a kid. I had initially registered Xander and his cousin to attend the event but at the last moment, my nephew couldn't make it so Mary (Simply Lambchops) and her son came to my rescue and took over his spot for the session. Thanks Mary!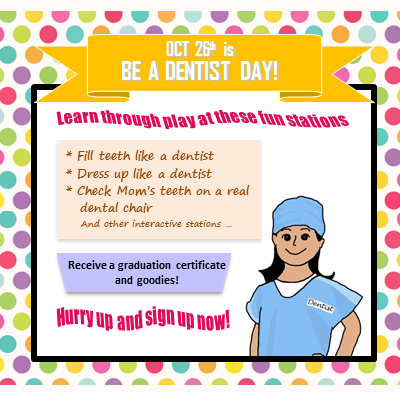 Similar to the Doctor for a Day event we attended in August, Be a Dentist Day also involves the children exploring several stations at the NDC where they were guided by the volunteers to try tasks like bending wires, filling cavities and how NOT to choke your mother to death whilst trying to inspect her mouth with a tiny mirror in her mouth. They also reminded the children what foods are bad or better for their teeth with some role play in their mock supermarket which was stocked with all sorts of food you would normally see in a real supermarket.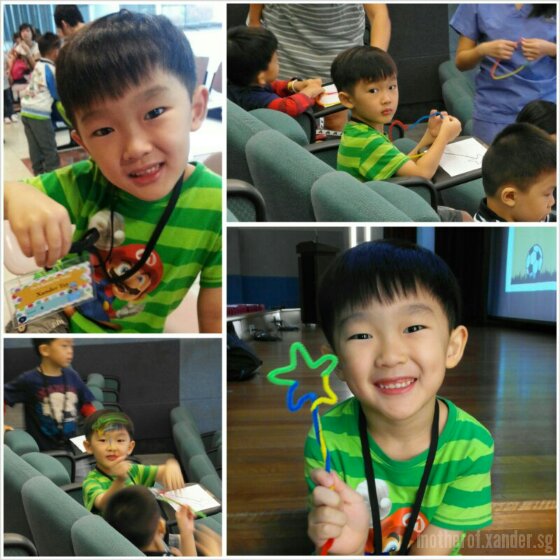 You know ah, I didn't understand what this particular station was about. Bend pipe cleaners for what ah? The young dentist didn't explain very clearly at the beginning. It was much later that Mary found out from them that this exercise was part of their training in forming braces. Ohhh….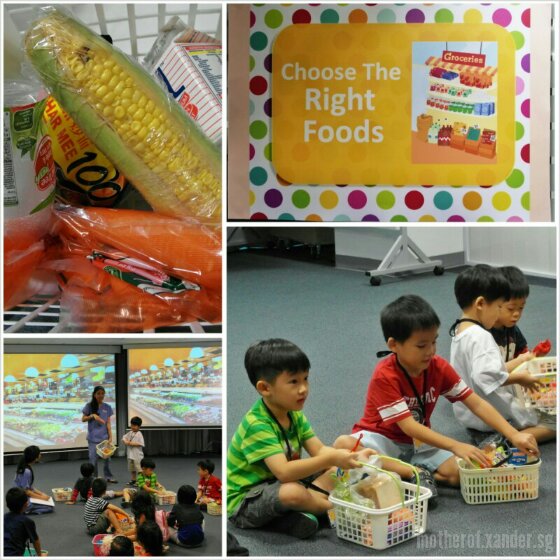 At this station, the children were asked to pick out food that they think is good for their teeth. Most of them just picked whatever they liked and at the end of the "shopping trip", they were taught why certain foods are better than others.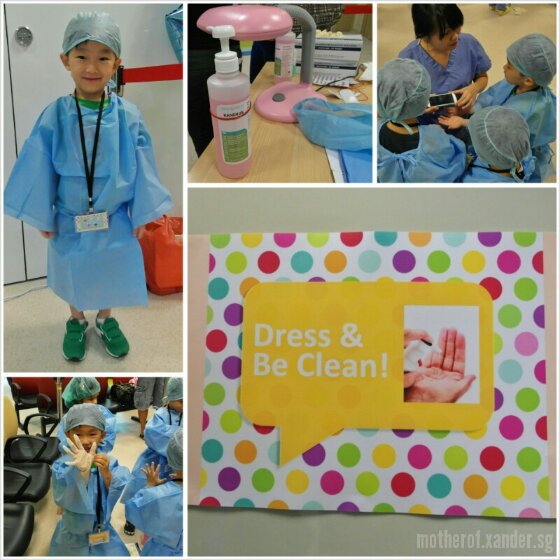 I thought the kids spent a little too much time at this station dressing up and cleaning hands. I wished the volunteers had asked the kids to demonstrate how they have been keeping themselves clean at home and at school so that whatever bad habits the kids had can be pointed out and discussed as part of the programme. Sometimes when mummies nag too much, kids kind of 'switch off' and stop listening so getting advise from strangers might be a little more convincing.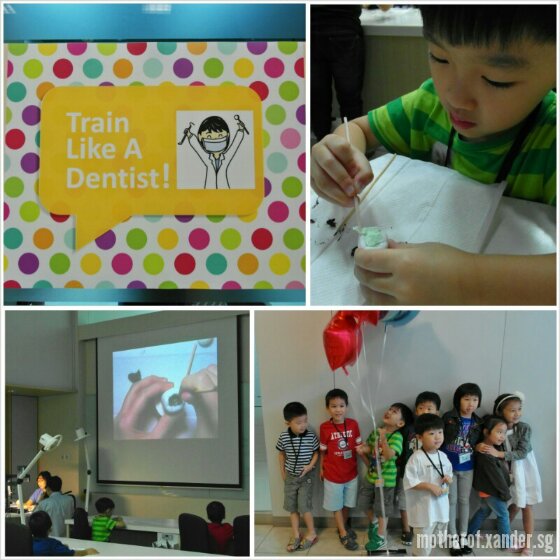 I felt a little weird out when the young lady kept referring to the cavities as "the black black thing". Why do folks like to baby-talk to kids ah? Cavities say cavities lah. It's not a dirty word what. Sorry ah, I cannot tahan when seemingly educated young people like to talk like that and undermine kids. You really think the kids are stupid or wat?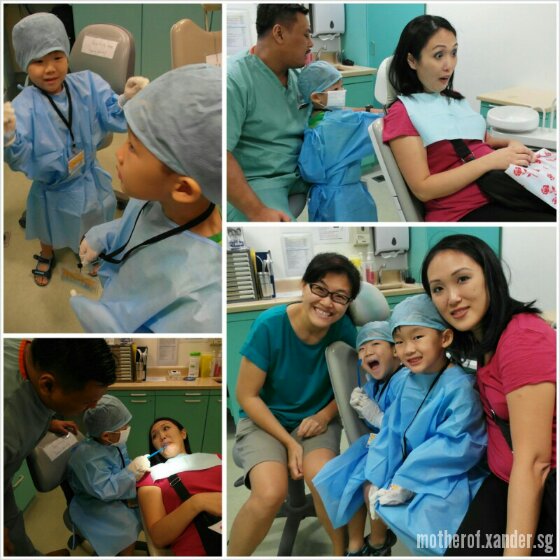 At the last station, Mary and I had to take turns to be our kids' guinea pigs. The boys had the opportunity to pretend to be dentists, played with the buttons that controlled the complicated chair and inspected our mouth very very closely with their small mirrors. It was damn fun 🙂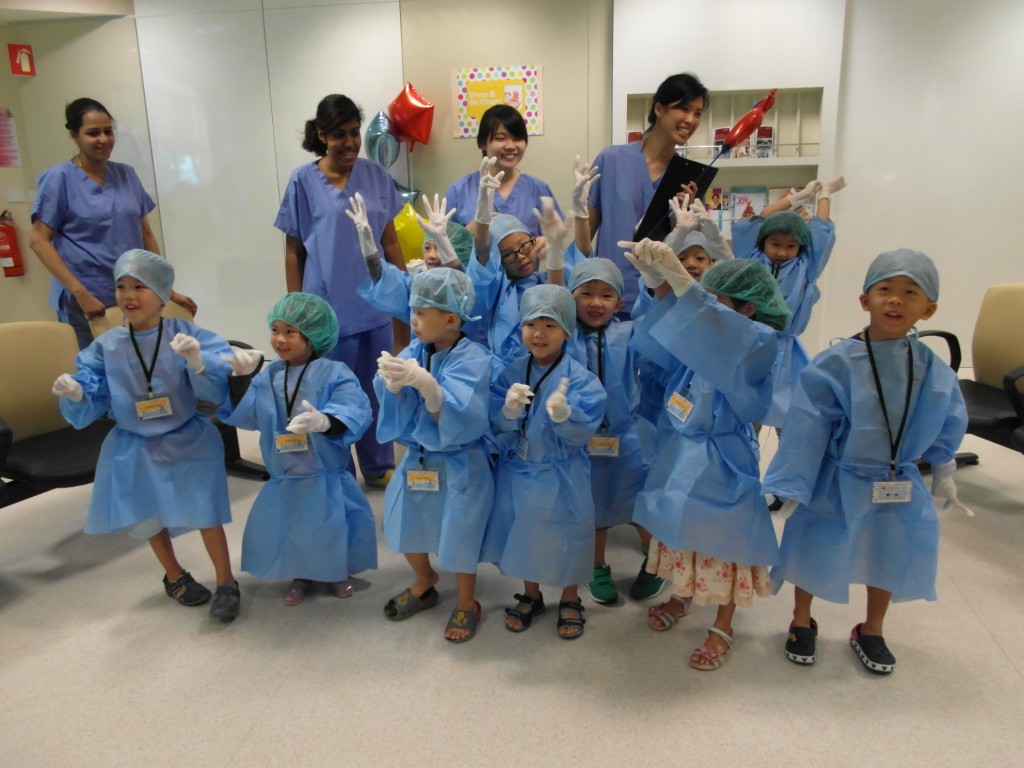 I think the experience as a whole was fun for the kids and the duration was just nice. Which kid doesn't like to role play you tell me?
Do like the Paediatric Dentistry NDC's Facebook Page for updates on future events such as this.