A little while ago, a bunch of us mums gathered our kids together for a rock climbing session (for kids between 5 to 12 years old) at Kinetics. Xan and I have never tried this before and I was skeptical how he (the boy who thinks wushu with the pole thing is a very violent sport) would respond to it. What if he chickens out at the door? What if he throws a power tantrum and refuse to get out of the car?? With kids ah, you never know when they will suddenly change their opinions about activities or even foods they originally have an aversion to so I took my chances and signed him up. Don't try won't know right?
Since the cost covers the necessary gear, all we needed to bring were socks to wear with their special climbing shoes. Please ah, no skirts for obvious reasons. Jeans are not encouraged so keep the dress code light and comfy.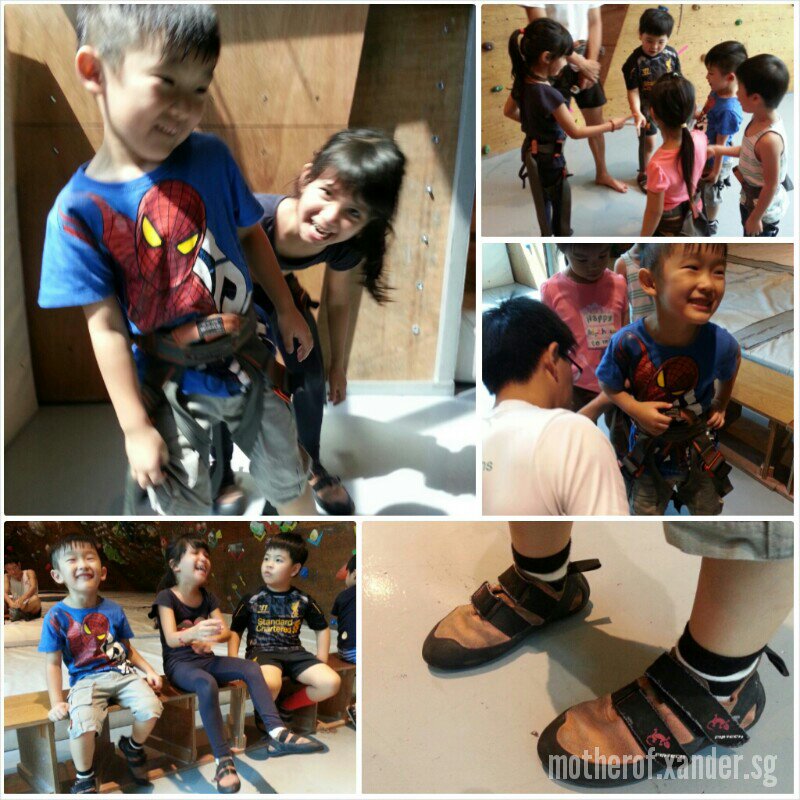 Xan was thrilled to see familiar faces and even managed to make some new friends. All the kids had a good warm up session from all the laughing and mischief kids at this age are usually up to.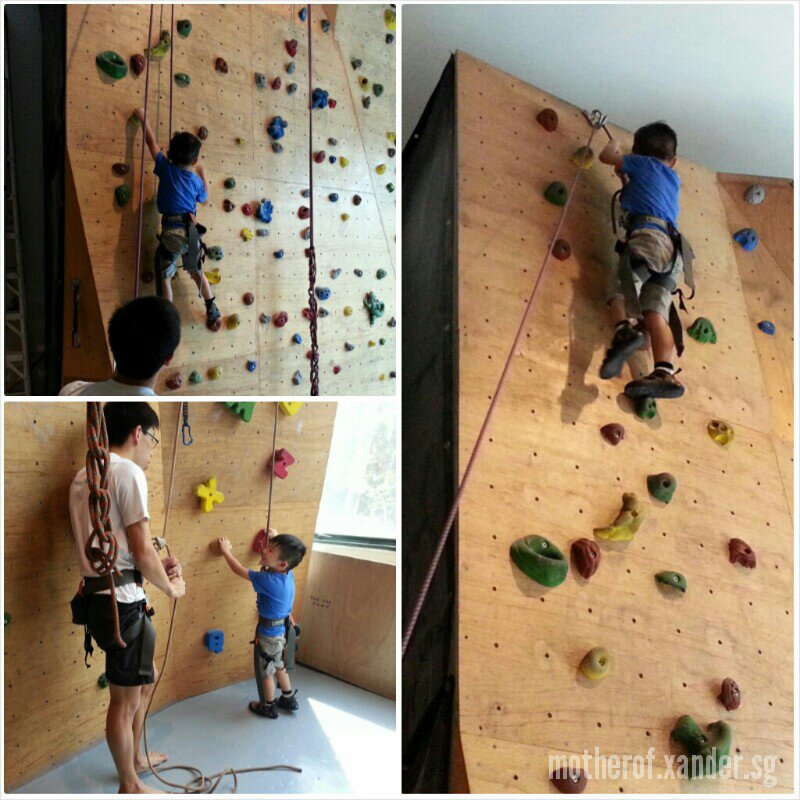 I must admit I was very proud of Xander who managed his anxiety and even succeeded to scale the wall a few times at the beginning. It also helped that the other kids and their mummies were cheering whoever was climbing and that helped boosted everybody's confidence level a fair bit. However, as the level of climbing difficulty increases, so did the amount of instructions. For newbies to sporting activities such as this, having what seemed like a hundred instructions being thrown to you by the instructor AND the parent at the same time can be very chaotic. Xan was visibly overwhelmed and felt defeated when he couldn't move according to instructions. By the time his feet touched the ground, he was ready to give up and go home.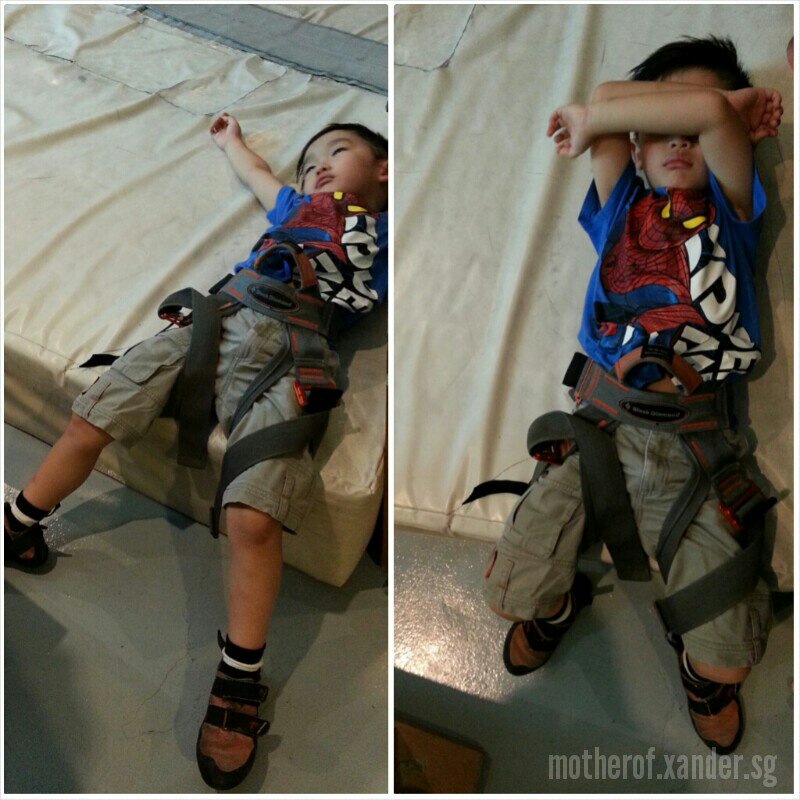 How do you encourage a child to try and continue with a difficult task when he is feeling so defeated? I resisted from comparing him with the other kids who sailed through all the levels with great ease. I had to remind myself that every child has a right to choose whether he wants to continue with it or not, just like any adult. So I let him rest and hope he might want to try and finish the rest of the course after he see how the other kids managed to.
At that moment, Xan's friend Poppy saw him sitting by himself and looked so sad. She came over to ask him what happened and even tried to cheer him up without much success. At this point I was very surprised to see a child this young trying to console a friend in need. That was a completely new experience for me. Wah! She was so sweet I should've hugged her to thank her for her kindness but I was too blur to react. * heart melts* Although he didn't immediately cheer up but he later mustered up enough courage to try climbing a few more rounds before we call it a day. Yay Xander! Mummy was super duper proud of you!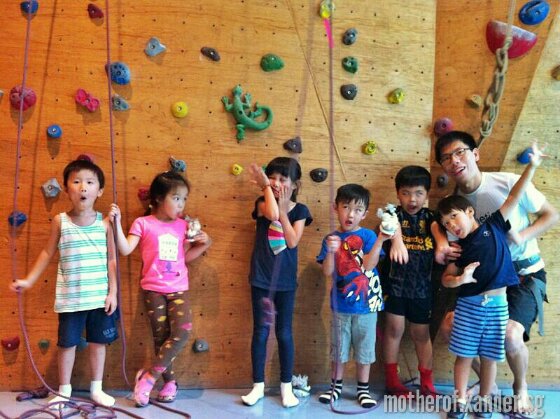 As parents, we can only provide so much guidance and tools to help our child through the various stages of their lives. We can only hope that he will learn to use these tools and perhaps even with the help of good friends, be able to scale greater heights and achieve their goals during their lifetime. Failure is inevitable but to be able to pick ourselves up after every fall takes a lot of courage and perseverance. I hope after the rock climbing experience, Xander would have learnt that every time he fails, he would have also learnt what went wrong and how he could do it differently the next time in order to overcome it better. *crossing fingers, toes and eyes*