Wordless Wednesday: Last mischief of 2013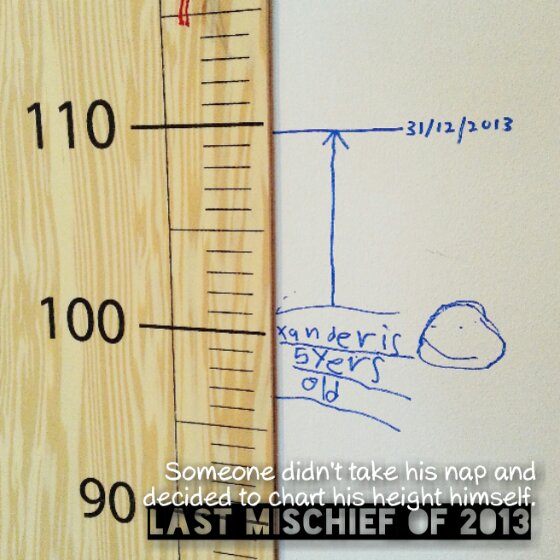 My 1st post of the new year and it's about mischief! Hahaha!
As you can see he is off by about 10 cm. Typically I would scream at him for marking the walls. With permanent marker no less. The naughty boy also drew a smiley face next to his master piece and that little smiley face reminded me the walls can always be repainted but moments like this can never be recreated. So I laughed and shooed him back to bed. "We will talk about this later."
When the 2 of them (yes, Daddy needed a nap too) woke up at the same time, I broke the news to Daddy.
I stood in front of the masterpiece and said "I show you something but you cannot get angry with him ah?" Then I moved away. Daddy laughed and I said "he is off by 10cm". Daddy used the same blue marker Xan had used earlier and re marked the correct measurement. After that, we went out for our last dinner of 2013, followed by the last car ride of 2013 then the last sleep of 2013. My goodness, so many "lasts" I should stop here hor? No end one…
What would you do if it happened to you?
Linking up with: