1st day of school: Xander is in K2!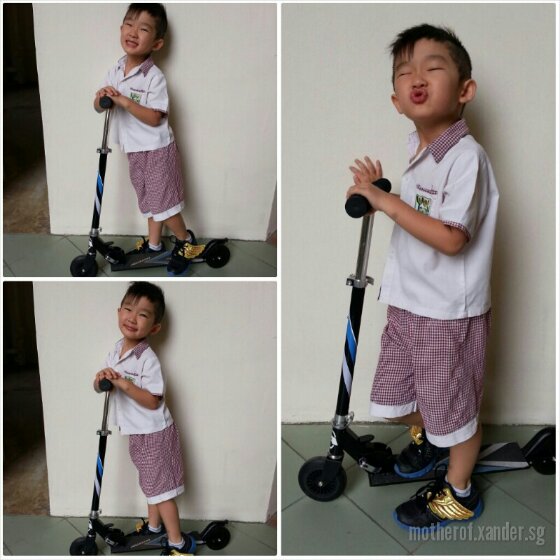 It was the first day of school for most kids in Singapore and Xander was no exception. He starts K2 this year and will be the big brother to most of the little ones in his school. He was feeling so proud and kept talking about it when I picked him up at the end of the day. This was also the last year of kindergarten and "freedom" before the crunch of Primary One formal education starts in 2015. We also decided to let him enjoy this freedom as much as possible before his little sister is born. In about 2 months, our full attention on him will have to be split between 2 kids. Gee… TWO! I never even expected to have one child and soon we will have two monkeys running around! Oh boy!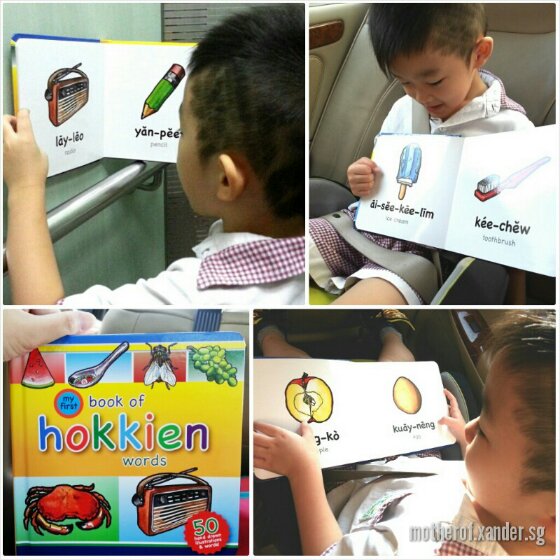 You know how big we are on exposing the kid to all things weird and wonderful right? I've been itching to buy this book for a really long time but somehow never got round nor have the excuse for it until recently. I decided Xan will learn more proper Hokkien words this year! What better way than with a picture book? You can purchase this book and other sibeh funny products online from Sibey Nostalgic. I was trying to go through some of the words with him on the way to school yesterday and I finally realized how lousy my knowledge of the dialect is. I nair seen more than half of the words before ah! So suaku! We have a good laugh trying to pronounce the words as best as we can and in our own ang moh accent. You can watch Xan try reading some of the words in the video below.
When I sent the video to our family members, they also had a good laugh at his ang moh qiang (Caucasian accent). I thought it was a brilliant effort from the kid! Funny sia!
That was our experience of Xan's first day of school yesterday. A little different from everybody else's but we had fun. Primary 1 is next year, I will sweat over it next year. This year we will just concentrate on playing hard (and maybe on the side, study a little harder of course 😛 ) and having some fun.
P.S. This is not a book review. I paid for the book with my own money and I thought I should share with you something my family enjoyed tremendously. Go get it lah. Steady? Steady!