Let's go… shopping with Privikids! (Review + Giveaway + Promo)
Review
Most of us who have little boys will agree that it is very difficult to find decent, stylish clothes for them that are also affordable in Singapore. This is especially tough for ages between 5 to 7 years old who are no longer babies but not quite big boys either. What you normally see in the market for this age group are plastered with cheesy graphics, corny text or passé comic characters. You could always order online from overseas sites but the delivery time often take so long and I don't like to wait.
Privikids is a new kids' fashionand lifestyle blogshop run by a young stylish family who takes pride not only in the simple, stylish togs they sourced from overseas but also have big hearts for underprivileged children. How many retailers do you know would take the trouble to collect preloved (in good condition please) children clothes from you and personally deliver them to the charities of their choice, The Salvation Army as well as Movement of the Intellectually Disabled of Singapore (MINDS)? Exactly, not many.
Privikids' select line of hip clothes not only look good but also very kind to your budget. When I was given the opportunity to write a review about the Privikids' fashion line, I didn't know what to choose! Had to text The Husband "Oi! Which one nice ah? That one that one and that one very nice hor??" In the end, we managed to select some and here they are!
So Fashion!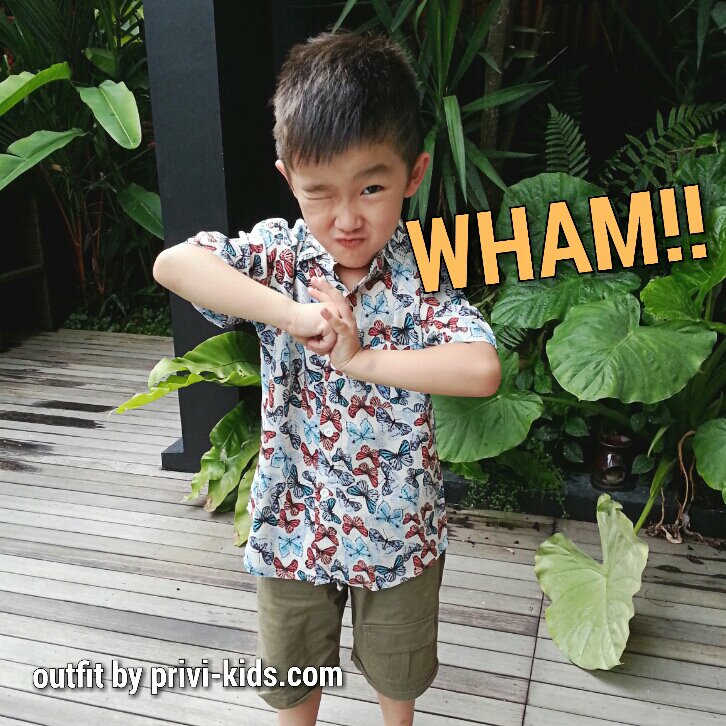 The Butterfly Print Shirt matched with Cargo Bermudas in Navy Green are part of the new collection Privikids had brought in especially for the festive season. It is so light and comfortable, it is perfect for our insane Singapore climate and our always sweaty boy.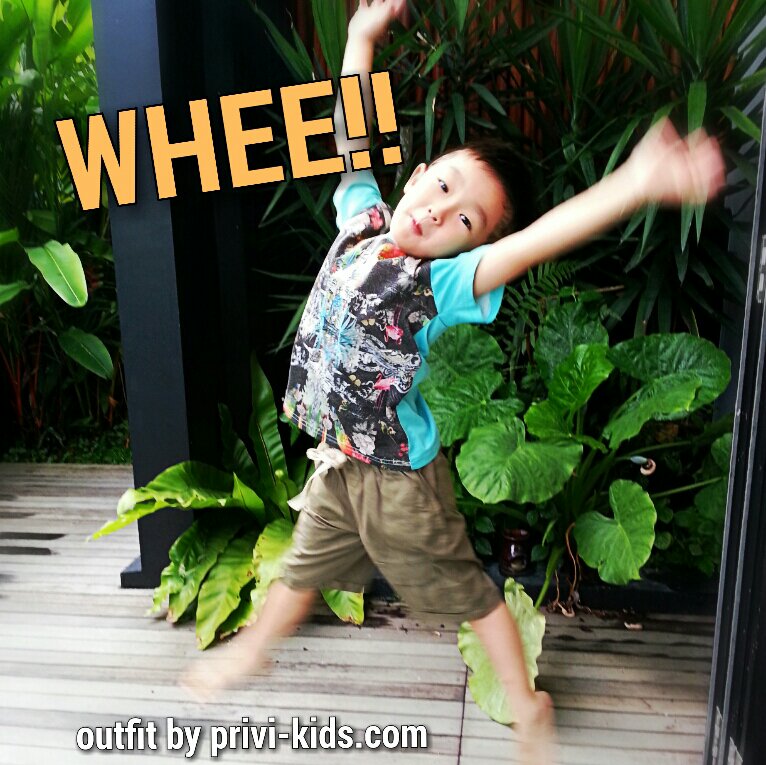 Then The Husband spotted the Parrot Print T-shirt and told me we simply MUST have the t-shirt. I was skeptical. Got birds and flowers leh, Xan will like meh? You sure he won't say "I dowan! Dis one for girl!" The Husband was very confident that Xander would love the parrot print and he was right. No need to convince the little one to try it on at all. Look at Xander! This boy ah, cannot sit still one. Lucky the t-shirt is as stretchable as the wild monkey child.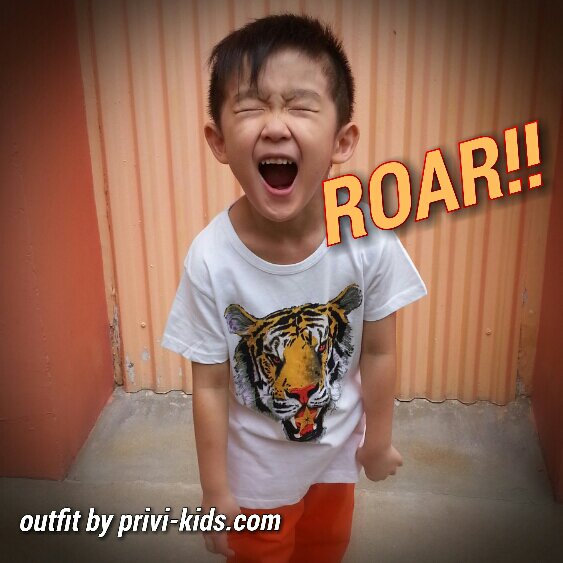 Lastly, we chose the Rwar! T-shirt and matched it with Straight Cut Pants in Orange. These were my clear favourites! I wish there were adult sizes because all of us loved it so much! Every time I see this t-shirt, I feel like singing and head bob to this song.
The Website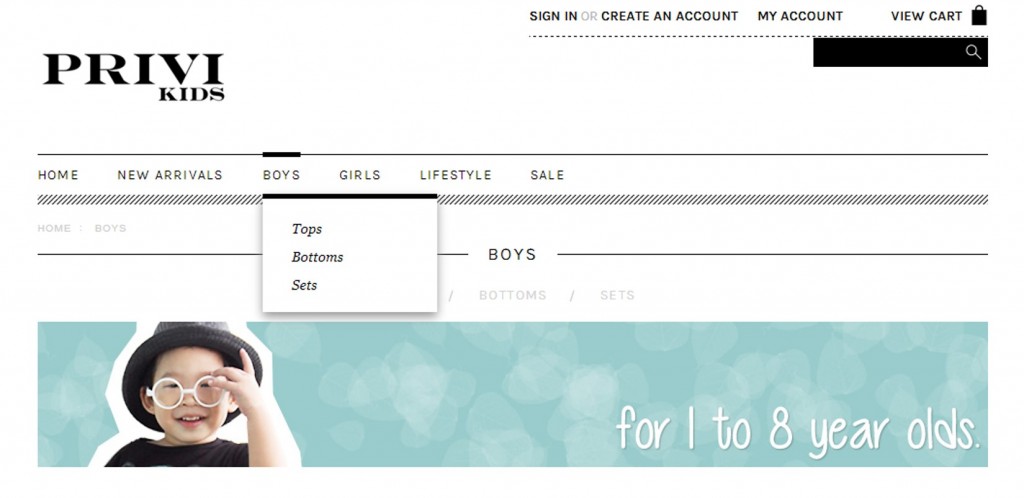 Navigation around the website cannot be any easier and the preview images are big enough for folks with 'old flower eyes' like me to see quite clearly. The only difficulty you may face while shopping on the site is which one to buy. Haha!

The sizes usually range from 1 to 8 years depending on the design and style. You just have to click on the individual thumbnails for more information on the selected styles.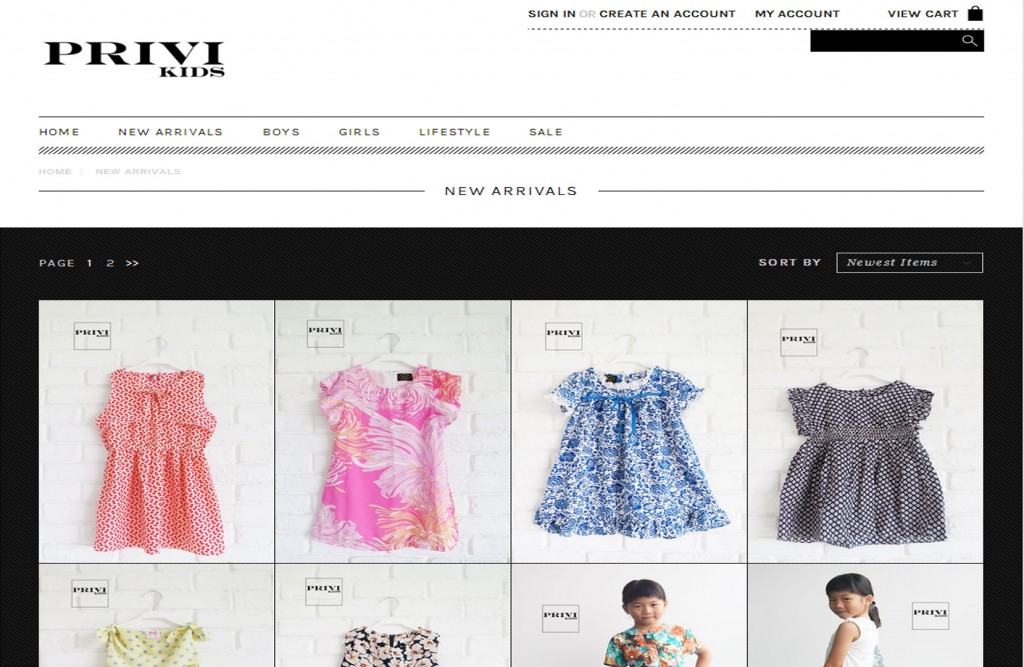 Remember to check their New Arrivals page! Aiyoh the new dresses are really very cute! Perfect for Chinese New Year yet not too ang kong kong (overwhelmingly, blindlingly red) hor?
The Kid
You would think having 5 years of working experience with kids for in-house fashion shoots (I used to work for a kids' apparel brand 5 years ago) and having a child of my own, I shouldn't have any trouble taking control of them on set. *snigger* Please lor. Telling the kid to stay in one spot and pose nicely like giving them a huge bowl of their favourite candy and then tell them "Don't Touch". Impossible. These superstars will test your patience  especially when you tell them you are on a deadline/hungry/need to pee. Mine was no exception. He just wanted to kungfu fight the leaves in the background and dig his nose. *facepalm*
Other than the 200 standard blurred shots, these are some other photos that didn't meet Mummy's standard but cute enough to want to keep. Dunno where he learnt the pouty pose but seems like it's going to be a regular thing.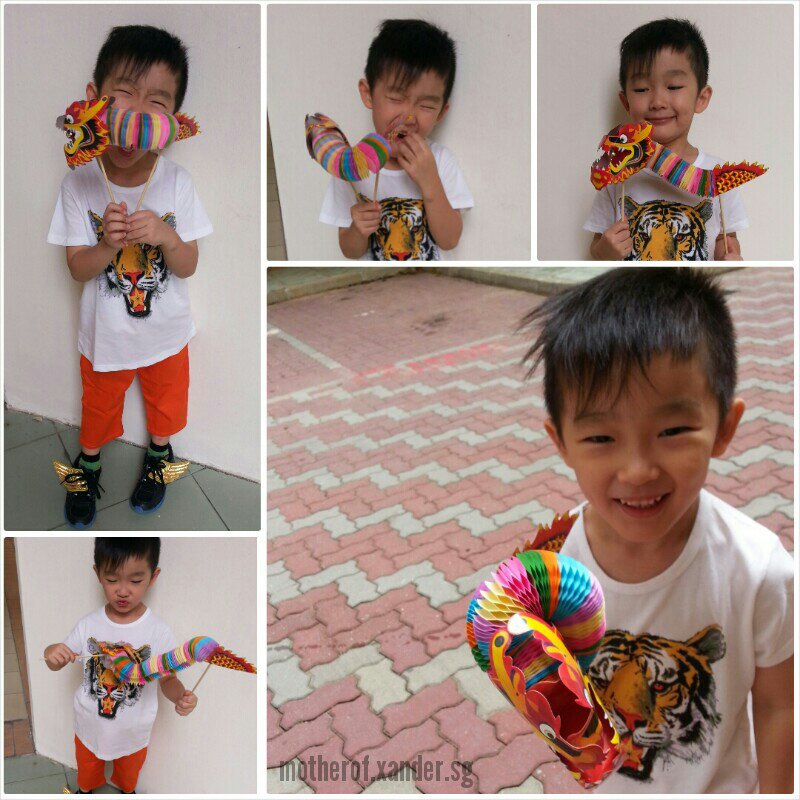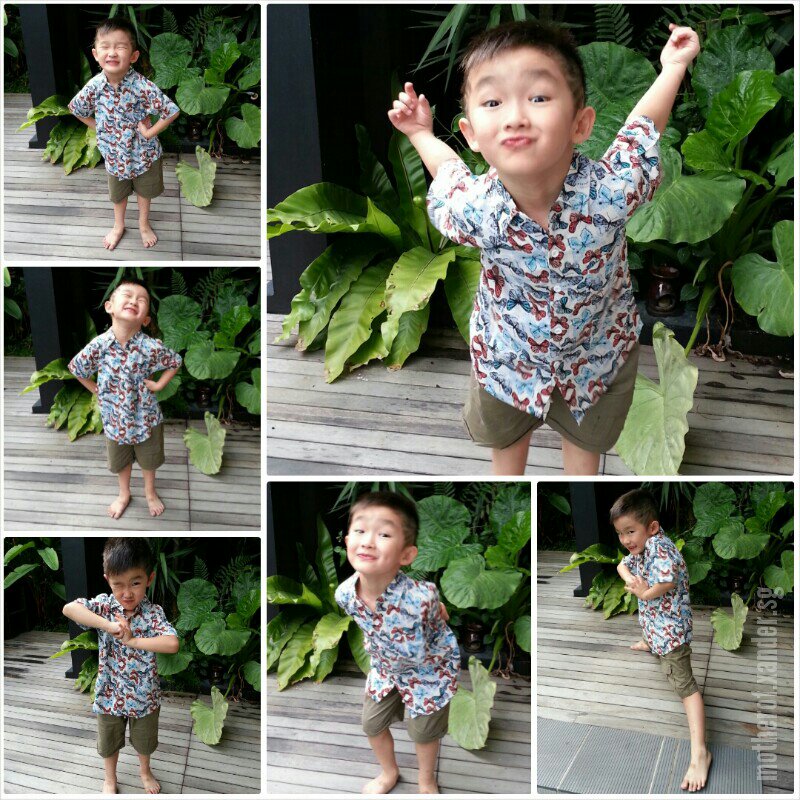 Especially
 for all readers of Mother of Xander! 
Privikids will be giving away 1 set (1 top + 1 bottom or 1 dress) to ONE LUCKY READER!
How? Just follow these 4 simple (and compulsory) steps!
1. Leave me a blog comment: Tell me which outfit would you like to win for your child.
2. Like Mother of Xander's Facebook page
3. Like Privikid's Facebook page
4. Like and Share the love on your Facebook wall.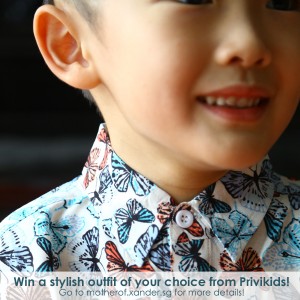 Contest ends on Sunday, 26 January 2014 at 11.00pm. Results will be announced on my Facebook page so you must to LIKE my page to know if you won ok?
We have a WINNER! Congratulations ROBERT SIM! We will be in touch with you soon. Thank you everyone for your support!
That's not all!
All readers of Mother of Xander will enjoy 10% off regular priced items until 28 February 2014! Steady boh? Just nice for Chinese New Year and Valentine's Day right!!
Just remember to key in 'MOTHEROFXANDER' before you Checkout your purchases!
_______________
Privikids website: http://www.privi-kids.com/
Privikids Facebook page: https://www.facebook.com/PriviKids