Let's go to… The Toa Payoh Dragon Playground!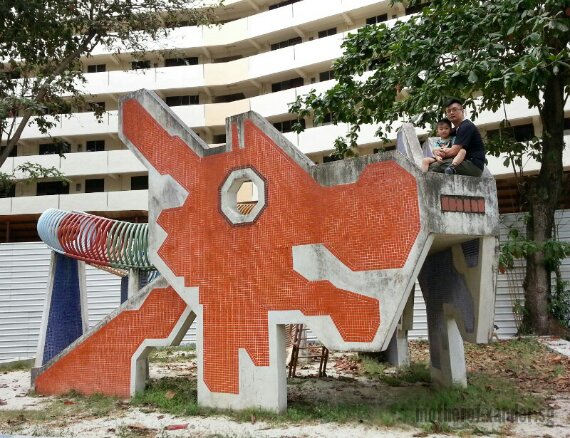 Built in 1979, the Toa Payoh Dragon Playground was one of the most iconic fixtures in the established town other than than the observation tower in Toa Payoh Town Park. The building, Block 28, behind it has been barricaded and will be torn down for redevelopment but the playground will stay because it is one of the few precious vintage playgrounds left in Singapore. Read about it here. Heng ah! Since 1993, playgrounds in Singapore were no longer constructed from scratch but purchased from overseas. They are now made from lightweight plastic and rubber, no more retro tiles and cement liao. When you fall on the ground, you probably won't even see blood. What's the fun in that right? So sterile…
Even though my secondary school was just a stone's throw away, I don't have many memories playing at this playground in particular but I definitely had fun at other sand filled playgrounds at my old 'hood. Nothing beats playing and getting your toes all dirty in the sand. I watched the boys play marbles (because they said girls cannot play with them *rolleyes*), threw sand at each other's faces, get bullied, became a bully, so fun! Even found some real money while pretend digging for treasures! HUAT AH!
Recently, there was a documentary series on TV that focused on places and things that make us Singaporean. One of the episodes was about these playgrounds and the producers also interviewed 2 daddy bloggers and their families in the show. You can watch the episode here.
We visited the dragon playground just before Chinese New Year after driving past it a few days prior. We saw some folks getting their wedding photos shot there in the middle of the night and we also noticed it looked a little different at the back. Being the big kaypohs we are, we simply had to go back to check it out ourselves.
The playground was in such a sorry state. It was taken over by big angry ants, weeds, dried leaves and litter. The rope swings were damaged, slides were very dirty, the paint on the body of the dragon was peeling, even the branches from the trees nearby were dangling precariously over our heads. This was such a far cry from our last visit there a few month before! So sad leh. None of my complains seem to bother the 2 boys and another family of 5 who were there before us, from having fun. They were climbing everywhere and going up and down the slides. I was happy to stay on the ground and away from the creepy crawlies.
Soon it was time to go. I hope the next time we visit, the redevelopment works would have completed and the playground all cleaned up. It would be such a shame to see the dragon get destroyed from neglect. I am going to hunt down the rest of the cool vintage playgrounds around Singapore with The Husband and Xander before the government change their mind and suddenly decide to tear them down.
How about you? Do you have any fond memories at a particular vintage playground? I would love to hear them!