What's in your hospital bag?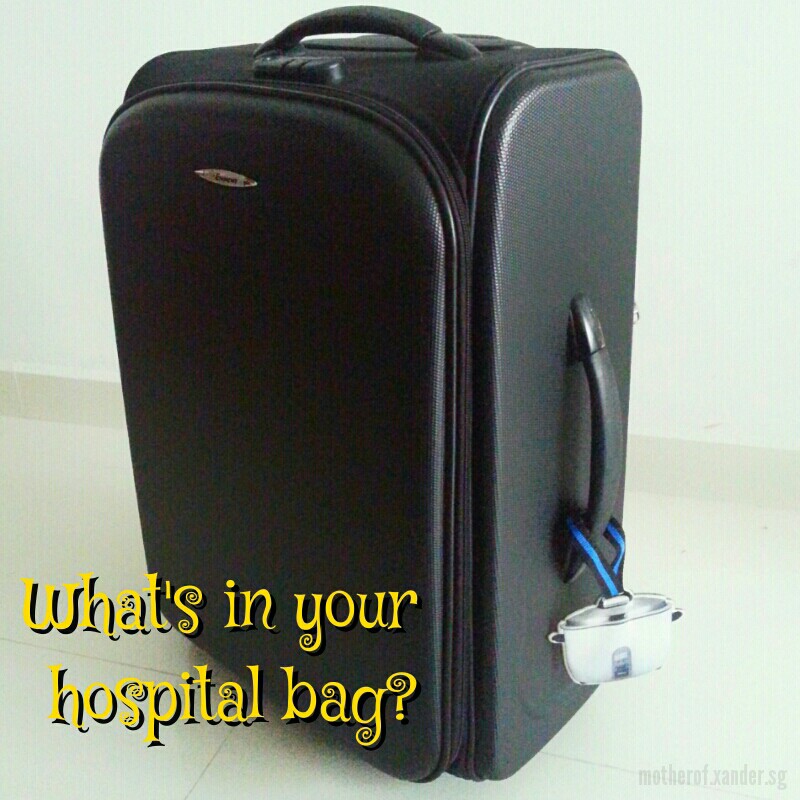 Less than 2 weeks to my EDD and my hospital bag is finally packed! Phew!
I tried to do some research online on what folks normally pack for a 2 to 3 days stay at the hospital and the lists are almost all the same. Some more detailed than others but the essential items are the same lah. There was one I really liked was from Growing With The Tans and so I adapted a lot of her ideas into my list.
Here's my list in case anyone is interested…
THE LIST
ADMINISTRATION

WHAT
WHY
1
Marriage Certificate
For baby's birth certification registration.
2
Husband & Wife's NRICs
For baby's birth certification registration and open baby's CDA account at the hospital.
3
Prenatal medical receipts
Claimable up to $450 under the Medisave Maternity Package. Can submit at the hospital. (I did not know this until I read the post from Growing With The Tans)

4
Pre-admission paperwork
Because you need to check in with proper document.
5
KKH booklet
Since it's in your bag already, just bring.
6
Latest bank statements
To open baby's CDA account at the hospital.
7
CDA application form from either OCBC Bank or Standard Chartered
To open baby's CDA account at the hospital.
8
Pens and a notebook/scrapbook
In case you feel inclined to write down the day's event and want to make a print of your baby's feet for keepsake. Or you could just Facebook everything.

FOR MUMMY

WHAT
WHY
1
Makeup pouch & lip balm
I want to look decent in the photos.
2
Face & bath towel
Confinement not supposed to shower 🙁
3
Toiletry bag:
Toothbrush, toothpaste, deodorant, comb, hair clip.
You don't want people to faint from your dragon breath or smells from your pits.
4
Long sanitary pads + disposable underwear
Get the longest adhesive pads you can find. They will work better than regular maternity pads. Easy disposal.
5
Night gowns with easy nursing access
You will want to nurse your baby as soon as you can.
6
Nursing bras
You will want to nurse your baby as soon as you can. These provide easy access.
7
Robe/sweater
Because you don't get to wear your silk robe in your non-air conditioned home so why not now.
8
Breast pads
In case of leakage.
9
Slippers/ slip-on footwear
You probaby want to just wear them to the hospital instead of bringing extra footwear. Less junk to lug around.
10
Dress for going home
1 piece outfit is easier to put on especially if you had a c-sec done. If your night gown looks good enough as a 'going out' outfit, BEST!
11
Breast pump*
For stimulating the boobs and help milk flow.
12
Socks
It might get cold in the ward.
13
Cellphone & cellphone charger
To call, send messages or pictures to your family and friends of the new baby. Facebook and Instagraming will deplete battery life very fast. Please bring charger.
14
Mints/candy
In case you forgot to brush your teeth and your guests are standing right in front of you already.
15
Stretch mark oil
I dunno. Because the smell is comforting to you?

FOR BABY

WHAT
WHY
1
Going home outfit x 2
In case the hospital does not provide any. Bring 2 sets just in case the 1st one gets dirty. I'm packing 3 sets because I can.
2
Swaddling cloth x 2
3
Baby mittens and booties x 2 sets

FOR DADDY

WHAT
WHY
1
A clean change of clothes
All the huffing and puffing around the hospital is bound to create some manly funky smell.
2
Camera
You could just use your smartphone but hey, you'll never know when you need a 15MB quality photo of the family portrait in scrubs right?
3
Coins
For the middle of the night snacks from the vending machine. For him. I'll probably eat air.
4
Watch
To time contractions. But I haven't seen his watch (the kind with hands) in years!

AFTER THE BABY GOES HOME

WHAT
WHY
1
Milk bottles and teats
For expressed breast milk.
2
Baby accessories cleaner
To wash all the baby accessories lah.
3
Breast milk bags
Easy storage.
4
Wet wipes
Wipe the baby's kar chng lah.
5
Diapers
You're asking why? You're kidding right?
* The Husband saw this and said But you've got me for that. *rolleyes*
THE BAG
Forget about using expensive totes, they are really cumbersome. I remember using a really nice Fila bag when I was in the hospital with Xan. Nice to look at but oh so troublesome to carry around when we checked out. Kept slipping off the shoulder. Use a luggage with wheels, so easy sia!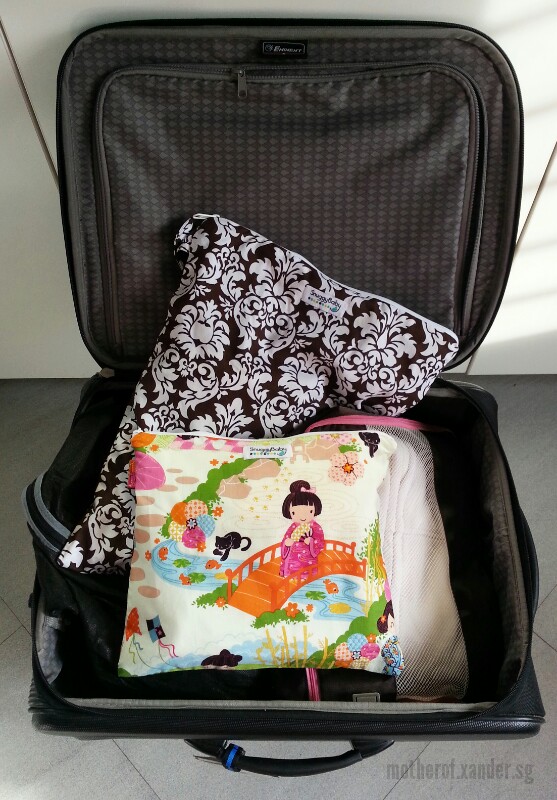 I like to organize things into small bags inside my big bag. The hospital bag is no exception. Remember my last post on shopping with Jedpacks.com and how I loved their bags? The bags finally arrived! I knew I simply had to use the wet bags for my stay at the hospital!
The Snuggybaby Espresso Damask Large Wet Bag holds The Husband's stuff and the Snuggybaby Ningyou Wet Bag holds the baby's stuff. So pretty hor the bag?

As I won't be checking into a single bed ward this time, I don't want my bras and panties to be in full display when I dig into my bag. So how? I pack them into individual bags lor! So clever right? What you see are 4 ziplock bags (A4 size from Daiso) each consisting of 1 nightgown, 1 nursing bra, 1 disposable underwear and 1 pair of disposable breast pads (just in case). I brought the sanitary pads along in case I don't like the ones provided by the hospital. These are kept separate. If I needed The Husband to help me get my stuff, he can just grab the bags without additional instructions from me.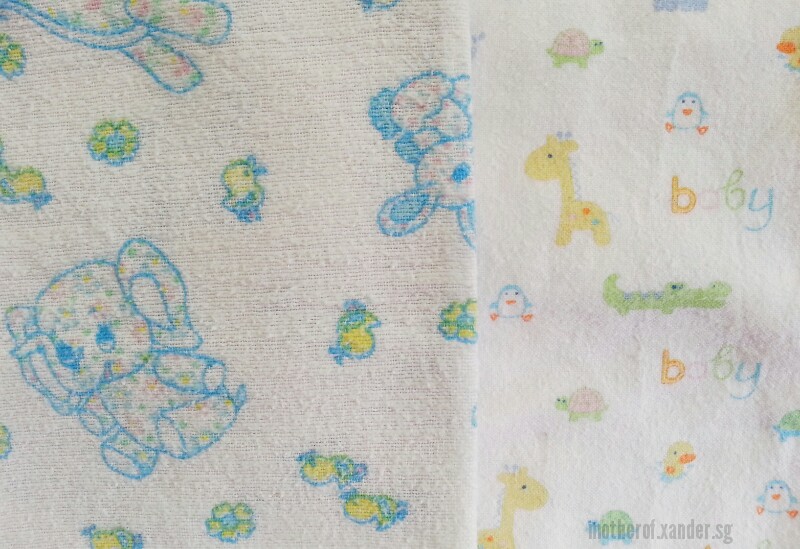 On the hospital's website, they suggested for us to bring our own baby clothes and swaddling cloths. These 2 blankies are very special to us because 1 belonged to The Husband and the other belonged to Xander. My mother-in-law kept the 36 year old blankie especially for our children so I thought it was only appropriate that I packed it into the bag for the baby 🙂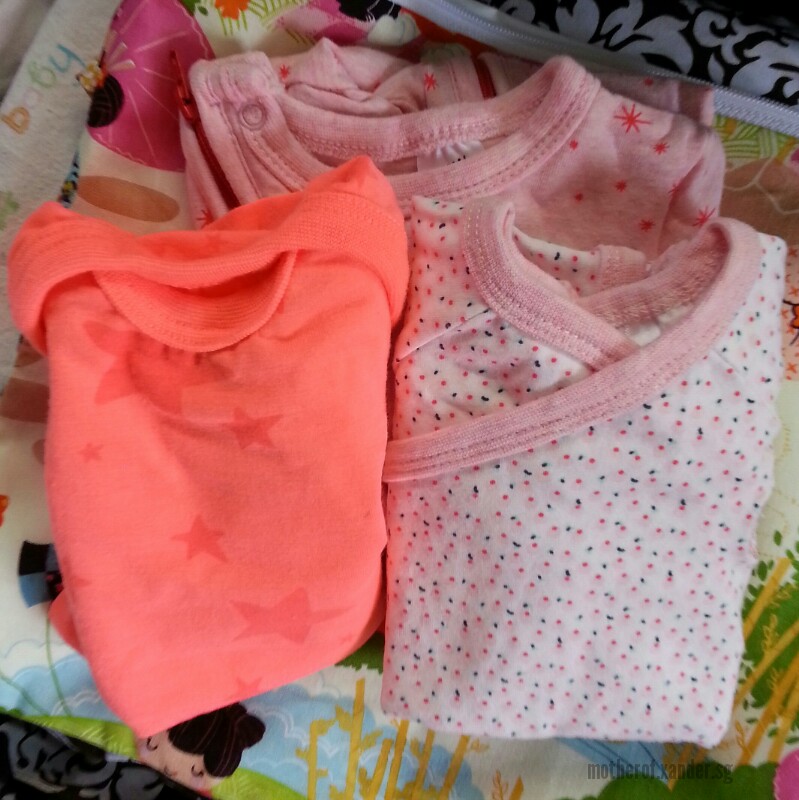 Finally, the baby's very pink clothes. No need further explanation right?
So there you go, my hospital bag checklist and a peek into what I am bringing for my (hopefully) short stay.
Did you bring a special item with you for your delivery/hospital stay too? I would love to hear about it!
P.S. Just a reminder, don't forget to join this week's Child Label giveaway!
Giveaway ends on this Sunday, 23 February 2014 at 11.59pm