A very overdue post on Xan's birthday party in school…last year
I meant for this post to be out LAST YEAR but hey, better late than never right?
____
Me: What would you like for your birthday, Xan?
Xan: Mmm… I dunno.
Me: How about the cake? You want a proper cake like your cousin's or several cupcakes laid out together?
Xan: Cupcakes! Cupcakes!
Me: Okkkk… What kind? How do you want them to look like?
Xan: I want it to be a surprise! Don't tell me ok? I want a surprise!! *excited giggles*
And so the birthday party prep began.
Have I told you this little fella doesn't like cakes? He likes to taste them, buy them, distribute them but he'll never finish eating them. If for some strange reason he does finish the cake, it must have been damn nice. Since he's not going to care how they taste like, it made my life a whole lot easier.
We figured he is probably not going to be able to celebrate with this group of kids in K2 (his birthday is in December and most parents would've withdrawn their kids from the school from November onwards), I decided to go the extra mile and tried to plan something extra special. He was a big fan of the movie Despicable Me and especially love the silly minions so I went along with this theme for the party.
You see, I don't plan parties, I go to parties. I had no clue whatsoever what to do other than ordering cakes. In times like this, the Internet is the best place to source for ideas and I found this! How cute are these cupcakes?? Incidentally, these were made by an old secondary school mate so I quickly made my order with her and breathed a huge sigh of relief. 
The Goodie Bags and Balloons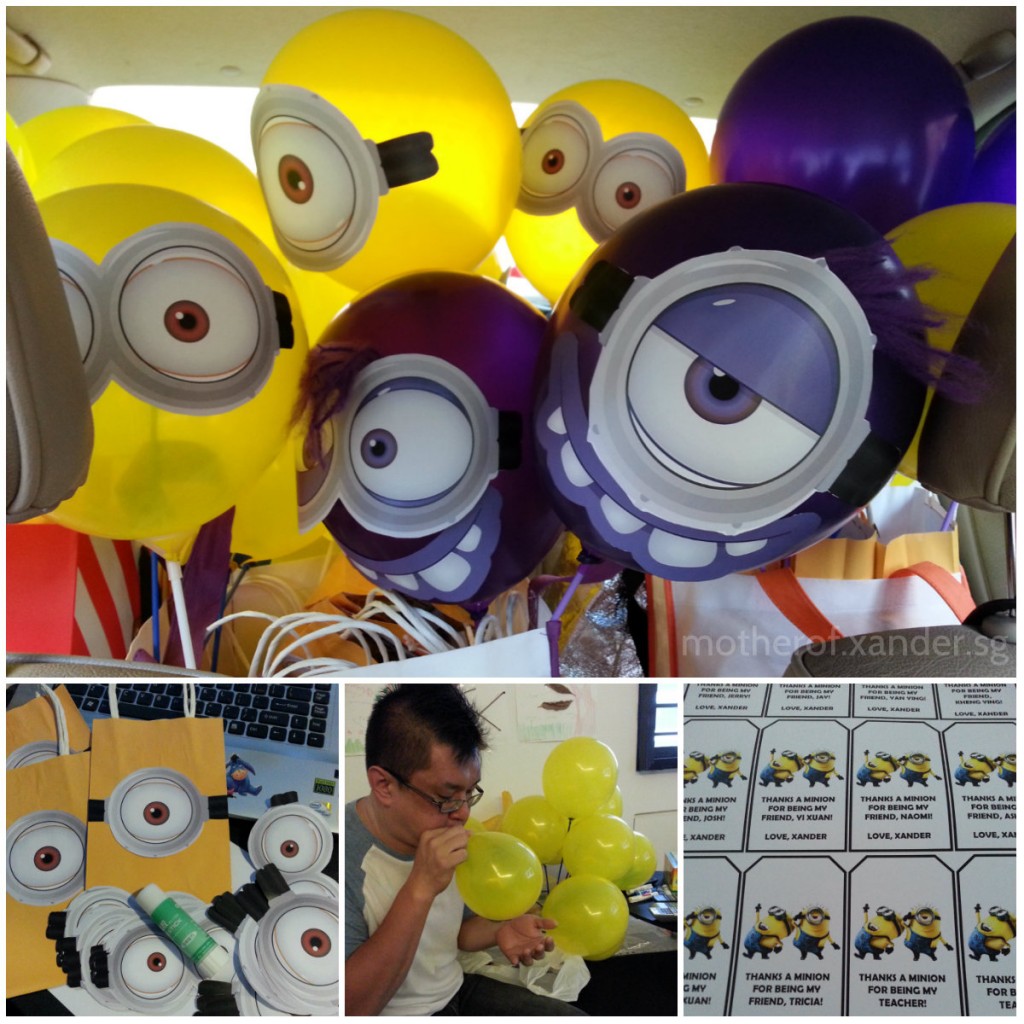 I DIYed the goodie bags and balloons for his friends and boy did I bit off more than I could chew! I forgot to take into consideration I couldn't prepare everything in advance without spoiling the surprise for the little boy. That meant we only had the night before the party to get everything together. That meant blowing up the balloons, cutting the eyes, tags and whatnots. Very chuan ah! *hyperventilates* I found the templates for the Minion goggles here and the Evil Minion goggles and mouth here. For the goodie bags and I enlarged some of the goggles a little bit use on the yellow and purple balloons. Nice right? I even made "hair" for the evil minions but they were very troublesome to make. Have to use steel brush to brush out some purple wool. Wah biang! Brushed until hand numb only managed to get a small handful of usable fluff. I cursed and swore and wanted to give up. In the end I had enough for 4 purple head. The rest of the evil fellas had no hair and the kids didn't even care because none of them wanted to take the evil minions home! Wah lau! So cute why dowan?? *heart crushed*
We also forgot that to fit 30 balloons in the car + big box of cupcakes + goodie bags will require some space planning which I obviously didn't do. The balloons almost got crushed by the car door, nearly flew away at the void deck and they blocked my rear view mirror thus making driving a little tricky and scary because of they were staring back at me in the mirror. That was not the worst. Midway through while I was on the way to pick up the cupcakes, it started to rain. WAH LAU EH! *cries to the sky* WHY YOU BULLY PREGNANT ME???
Luckily The Husband met me at the cupcake pick up point and we managed to get everything into the school building with minimal damage; some of the balloons flew out of our hands and landed in the rain 🙁 After some screaming, running, shoving, huffing and puffing (referring to the very large and pregnant me lah), we got the table, goodie bags and balloons set up before Xander's class arrived. Phew!
Yay! We are finally here!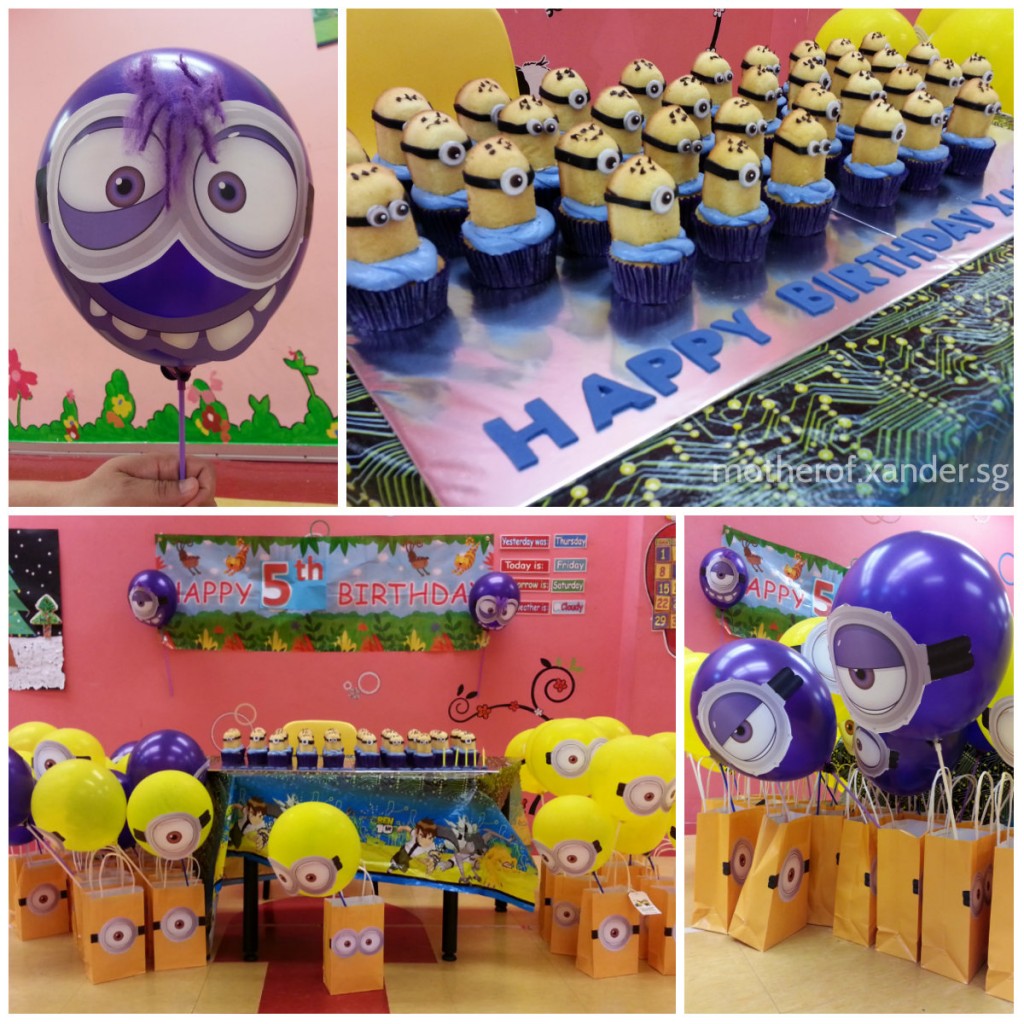 Xander's face immediately lit up when he saw us and the balloons. He was beaming from ear to ear. His classmates squealed with excitement. The surprise was a success! Yay!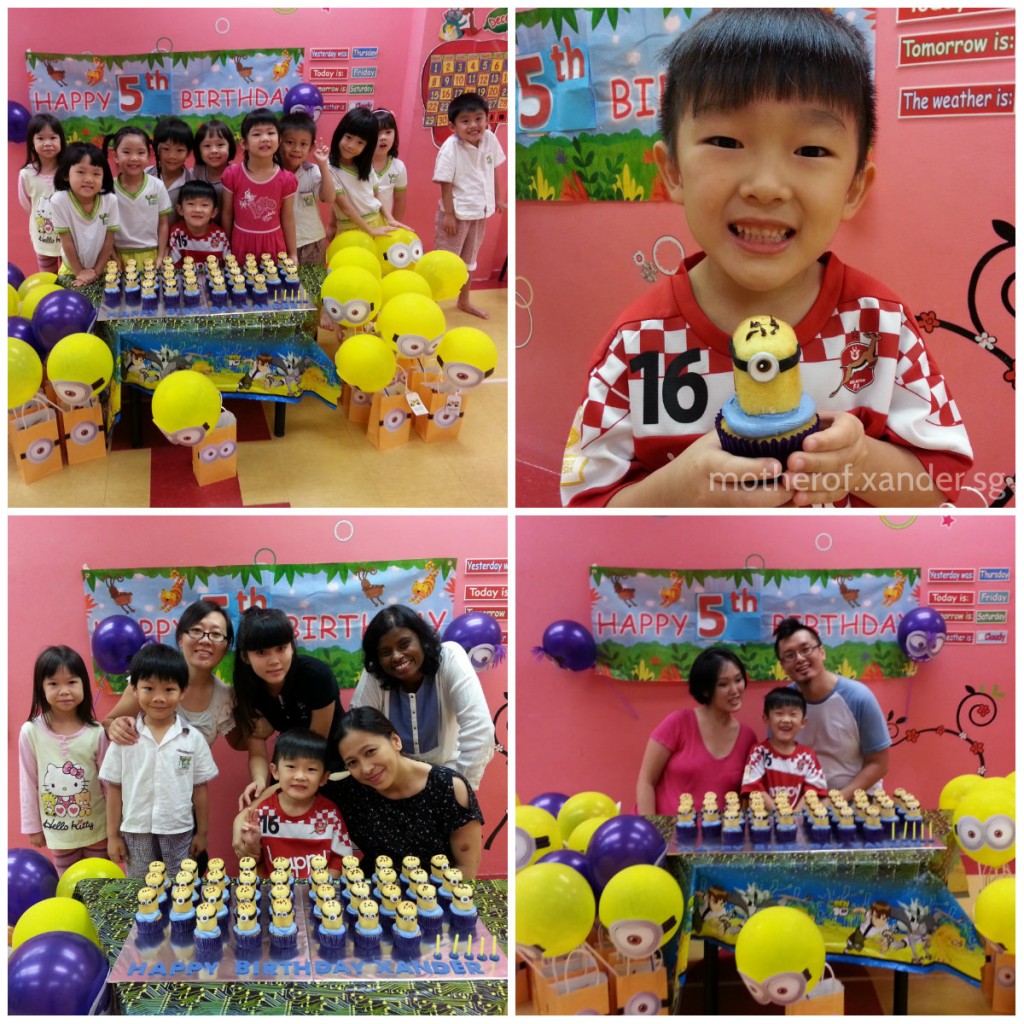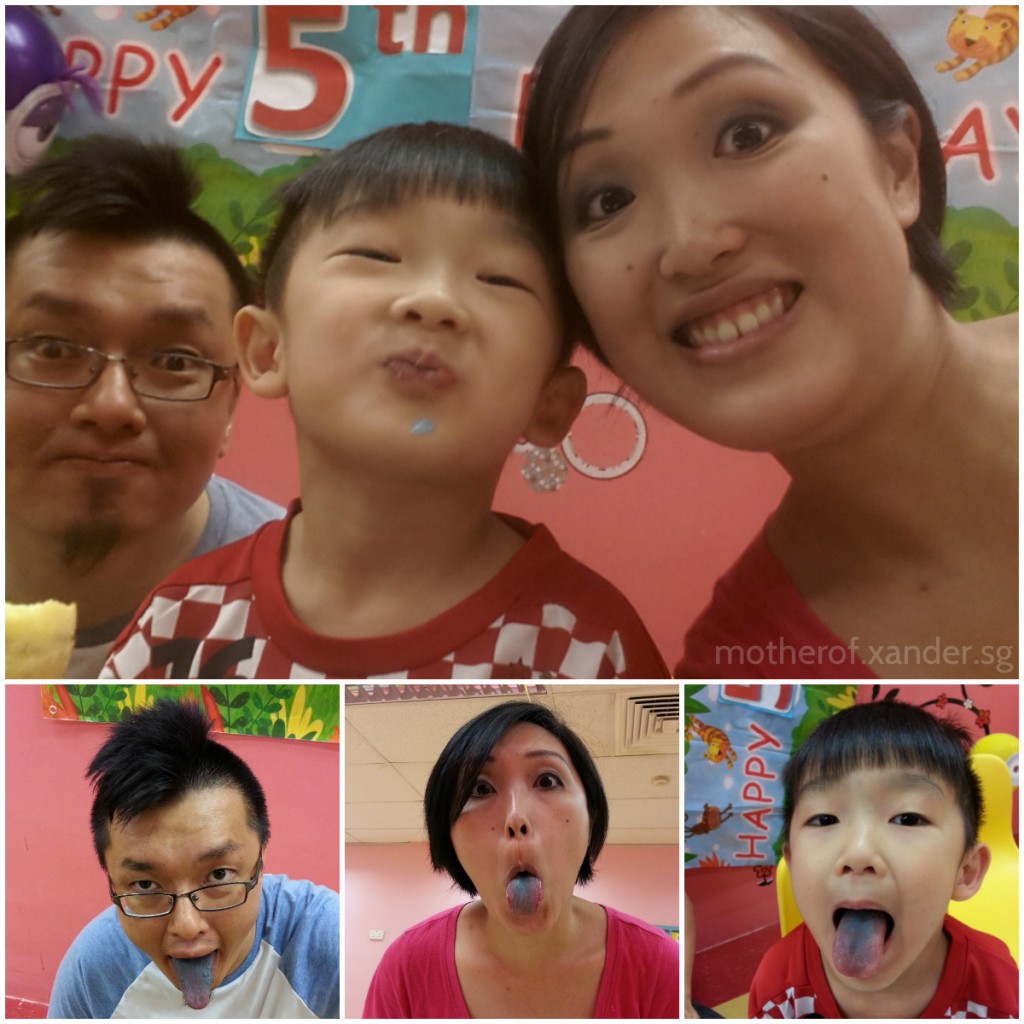 I was so glad he loved his surprise party. I wonder if he will remember it 20 years down the road? Oh well, doesn't matter lah. As long as he enjoyed himself and we have these photos as mementoes can already lah 🙂
P.S. Minion cupcakes were created by Flourish. Do give them at least 1 week advance notice for customized design.
Linking with: