Let's go to… Gu Ma Jia (姑妈家)
Review
Just so we are clear, I am not a foodie. I make disastrous food. I don't enjoy seeking new food experiences as a hobby simply because as a parent of 2 young children, I don't have the time or energy to hunt down obscure places with food that may or may not be to my kid's liking. This kind of gamble I don't dare take because a hungry child = angry mum. We often stick to tried and tested places and only occasionally venture elsewhere. In fact, I depend on my friends to tell me what is good and new in town because I am also a mountain turtle 🙁
Among the places they have mentioned, one name kept popping up. Gu Ma Jia (姑妈家). Who? It's a homey Chinese restaurant situated along Tai Thong Crescent which was voted one of the top 10 favourite restaurant by SPH CATS Classified Food Fest Award 2013.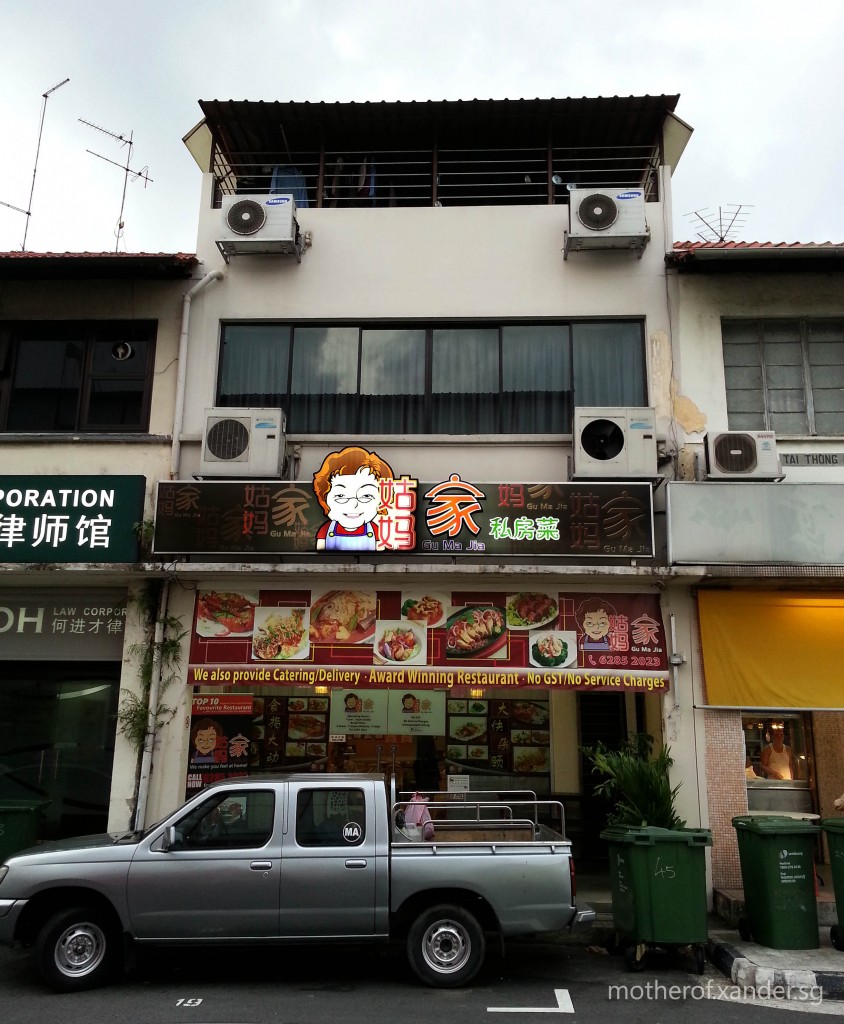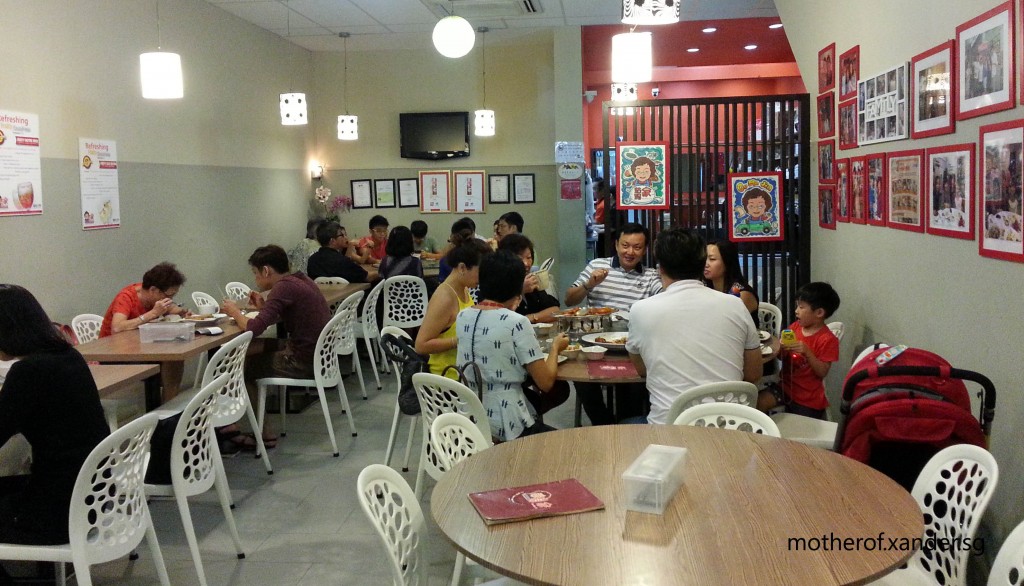 Do not let the restaurant's simple layout fool you. The food is fresh, scrumptious and sincere. Gu Ma, the founder, is very much like my mother because they both prefer to buy their ingredients and seafood from the market daily. This is to guarantee freshness and taste. My mother used to say better to buy today, cook today. Why buy fresh, then put into the fridge and wait until not fresh already then serve your family leh? It simply did not make any sense to my mother. Gu Ma agrees too.
Nah, nah! This is the famous Assam Fish Head! Sorry my photo does not do it justice. It had the right amount of tanginess. Not so sour until your toe can curl kind. This is a really appetizing dish but I still prefer the one from a kopitiam near where we stay. The little stall has since closed and my dream assam fish head is nowhere to be found. Sigh…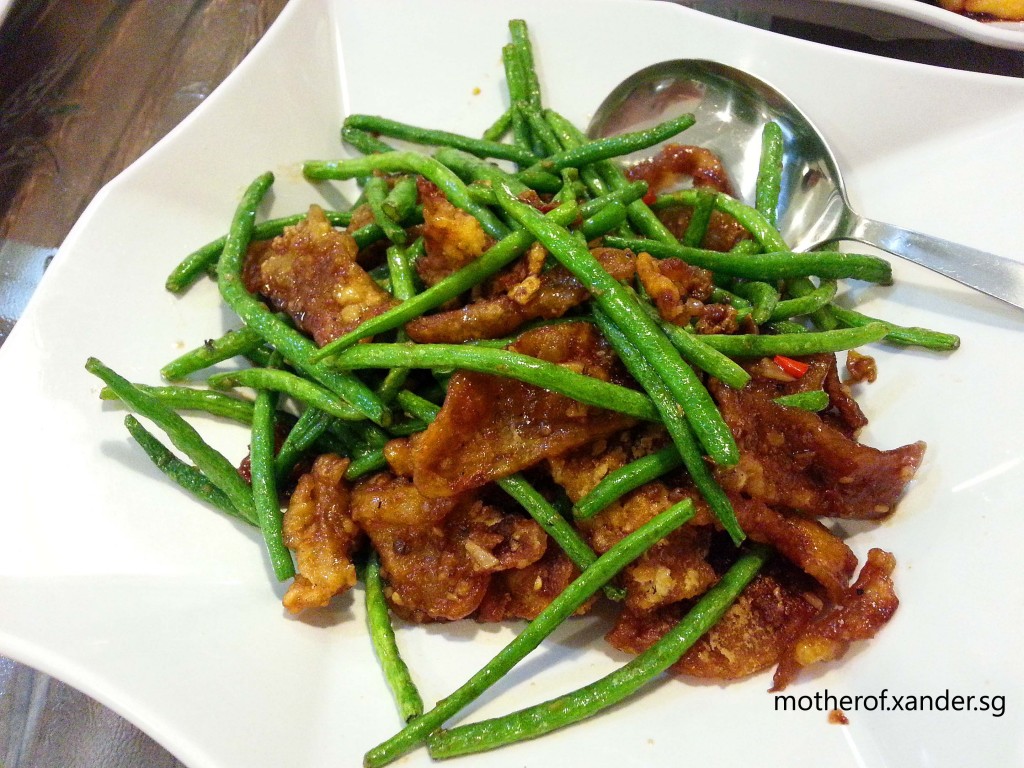 I don't know how anyone can look at the spongy brinjal and think "HA! This one can make crispy!" Apparently Gu Ma can and she did it beautifully. This is a weird and wonderful dish I will definitely order again in future.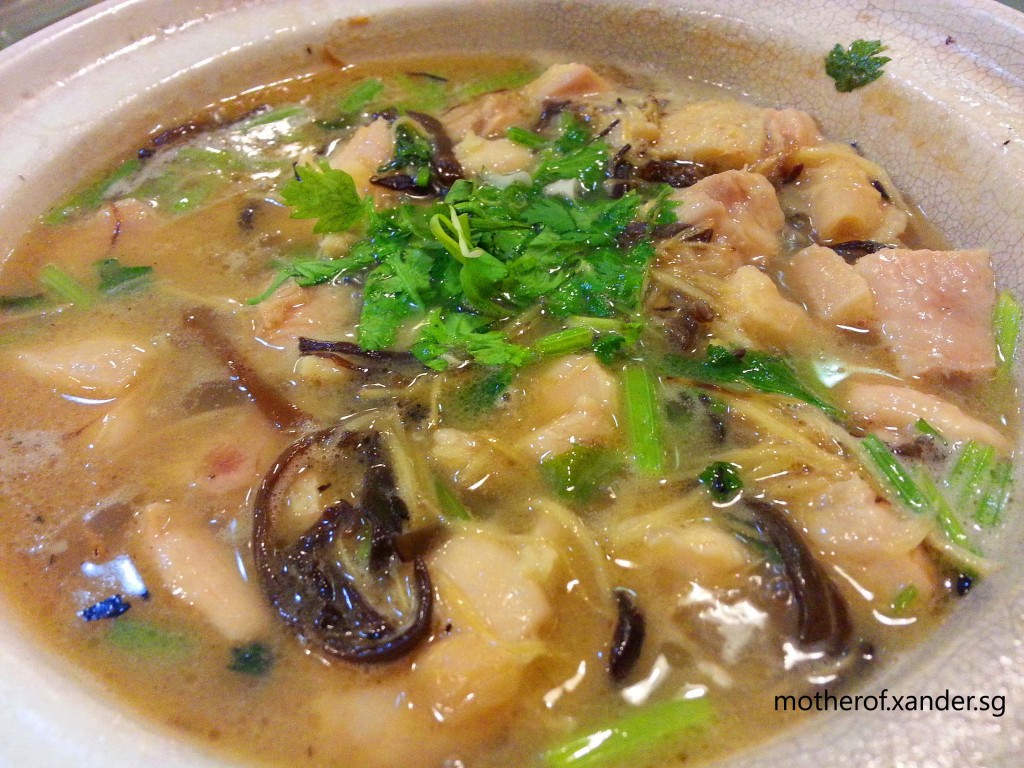 The Claypot Chicken with Ginger and Sesame Oil reminded me of my confinement food. In a good way of course. Perfect dish for a cold rainy day.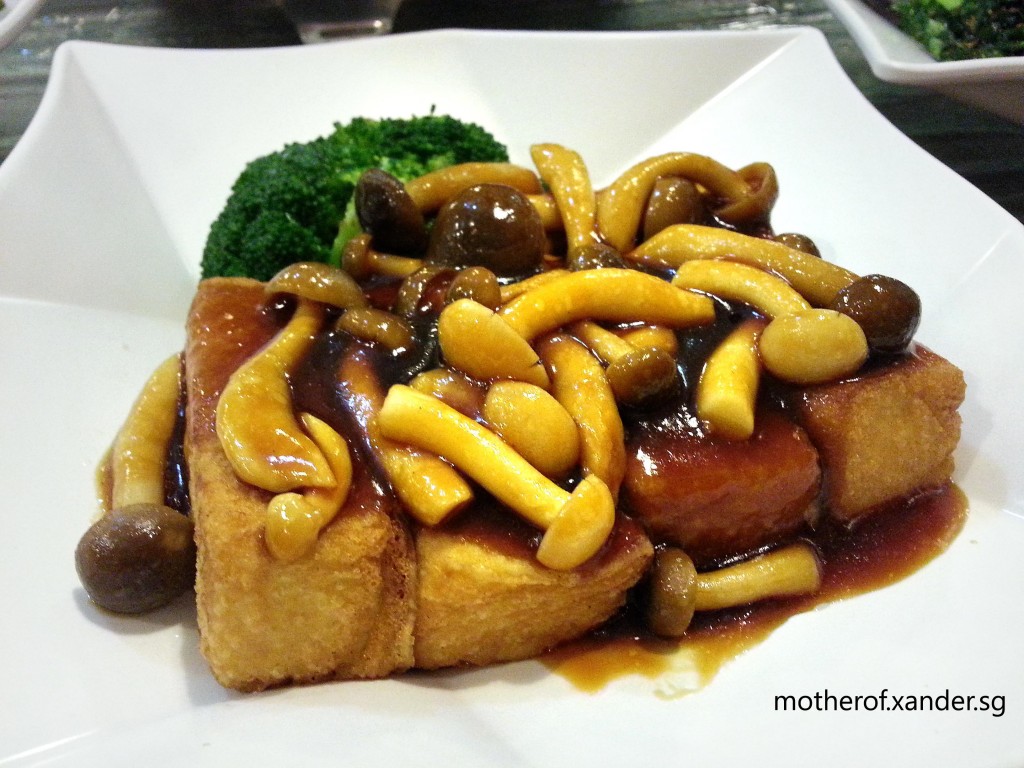 This ain't no ordinary tofu. This bean curd was made by the restaurant, not the store bought variety. Somehow even Xander who normally runs away from any kind of bean curd, gobbled it all up with the mushrooms. If the kid eats it without any protest, it is a winner in my books.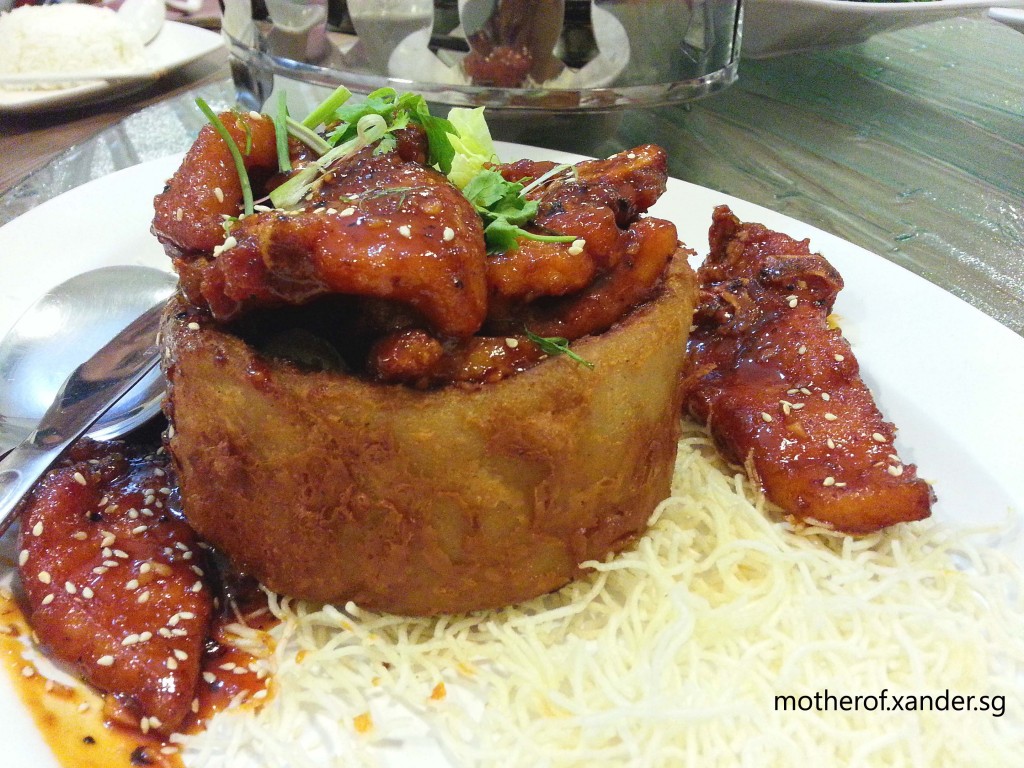 Oh the Kyoto Pork Ribs! It was so tender and juicy! Unlike the typical Ku Lo Yuk, these pork ribs were not drowned in batter and smothered in sickeningly sweet ketchup and pineapple sauce. What's a Chinese restaurant without a yam ring right? Everything goes well with yam ring me thinks 🙂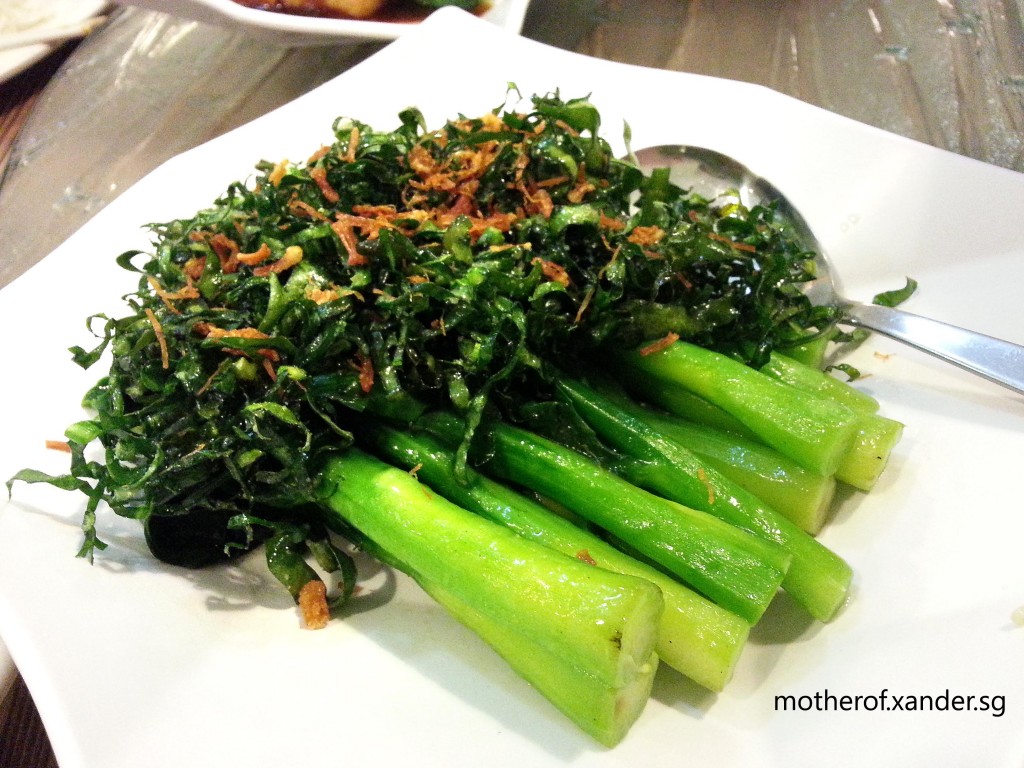 I called this The Veg with the 'Fro. The Husband said the mark of a good restaurant lies with how they cook kailan. Gu Ma took it to another level altogether. The Yuan Yang Kailan is cooked in two styles, blanched and fried. You can't recreate this with your normal stove because the heat is not high enough. Forget it. Just go eat it at Gu Ma Jia lah. I wanted to ask Gu Ma what inspired her to invent this dish but Yvie was fussing and I left The Husband in charge of helping me do the asking. Sekali when I turned around, I heard him say "Auntie ah, you designed this dish to look like your hair izit?" OMG! Never. Ever. Compare a woman's hair to vegetables, ok folks? Luckily Gu Ma was too stunned to realize what was happening so I fasterly changed the question. Phew.
Gu Ma said, the stems are usually stringy and to solve that, she just had to peel it and to jazz it up, she tried to fry the leaves just to see how it ends up. Voila! Yuan Yang Kailan was born! So clever ah this auntie?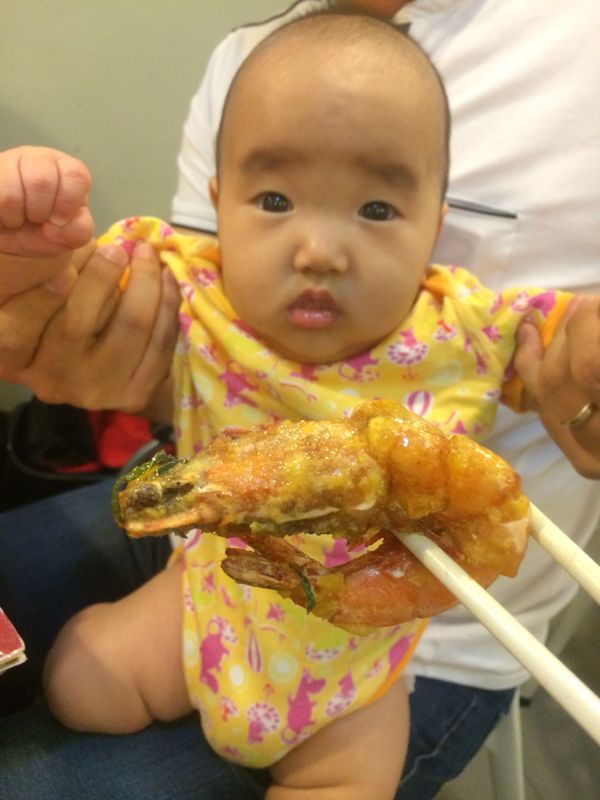 The inevitable happened. I forgot to take a picture of a dish and boy was it a good dish! I strongly believe that anything fried with salted egg yolk is oh so delicious. Forget about cereal prawns! Prawns with Salted Egg Yolk is to die for! Even Yvie couldn't take her eyes of them. Of course lah! The prawns were enormous!
Don't forget to try the Fruity Jelly Enzyme with longans and wolfberries. *whispers* Good for losing weight!
Overall, this is the place I will bring my parents because I know they will enjoy the fresh home cooked food and the non pretentious setting.
Oh yes! They have
catering service
and bento box delivery too! Do pay them a visit the next time you are in the area.
Tip: Parking spaces are very limited so be prepared to make a few rounds in the neighbourhood or just take the public transport. A little bit of walking exercise after dinner is also good!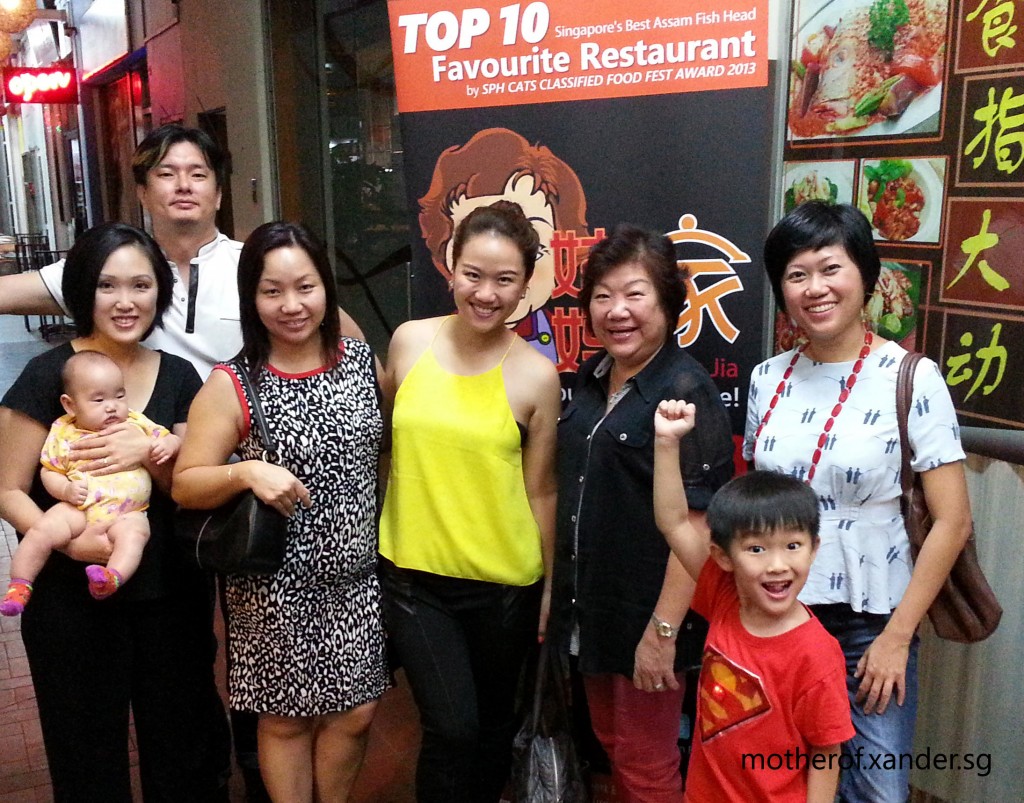 ___________________________
Address: Gu Ma Jia 45 Tai Thong Crescent Sennett Estate Singapore 347866
Telephone: 6285 2023
Fax: 6285 2023
Facebook: https://www.facebook.com/sg.gumajia
Website: http://gumajia.com.sg/index.php?route=common/home
Disclaimer: The fine people of Gu Ma Jia invited us hungry folks for this review but all opinions are my own.