Yoomi Feeding System: Review and Giveaway
REVIEW
I was recently given the opportunity by AT Marketing & PR Consultancy to review the award winning Yoomi Feeding System. It is the first self-warming baby bottle that gently warms baby's feed to the natural temperature of breast milk in just 60 seconds. Say what? 60 seconds?? No, don't bluff! Really lah, 60 seconds only!
Any parent (or grandparents or nanny or… you get the idea lah) would have experienced at least once trying to warm a bottle of EBM (expressed breast milk) or premixed FM (formula milk) with a bowl of warm water (takes about 6 or so minutes) or with a microwave (takes about 3 or so minutes) AND trying to pacify your little wriggly bundle of screaming joy at the same time. You would also muttered to yourself in the middle of the dark, in the room while bouncing the little screaming fella or in the car on the road somewhere "faster heat up leh, I'm going deaf from the screaming!" So not funny man. 🙁 Mother of Xander also had nights like that until we were introduced to yoomi.
What is Yoomi? The technical details…

*no-fuss latch on: thanks to its natural breast-shaped and super-soft silicone teat which allows for a breast-from-breast experience
*transition sorted: thanks to the consistent breast-milk temperature feed provided by yoomi, babies have a familiarity they need to support weaning from breast to bottle
*reduced likelihood of colic: with its 6 anti-colic vents (most bottles have 1-4) yoomi is one of the best vented bottles on the market
*easy pouring and mixing: yoomi's unique, wide-necked bottle makes pouring and mixing simple – as well as clean and tidy!
* convenience, always: being suitable for both expressed breast-milk and formula, and ideal for combination or bottle feeding… yoomi supports all baby's feeding needs
*comfy grip: the ergonomically designed bottle makes yoomi easy to grip and more comfortable to hold during longer feeds
*safe: the yoomi range is 100% BPA free and meets the highest safety standards feeding
*beautifully simple: using patented technology, the yoomi pod enables warmers to be recharged in the microwave in just 2 mins using a 'heat-shake, heat-shake' method
* all you need:  the yoomi bottle can be used on its own or with a yoomi warmer and all yoomi bottles, teats and warmers are interchangeable across the range
How to use the yoomi warmer?
There are 3 ways to charge the warmer.
Charge warmer in the yoomi pod for about 2 minutes in the microwave (750-1200 watts) using the "heat shake, heat shake" method.
Place the warmer in a pan of boiling water (or steam steriliser) and boil for no more than 30 minutes.
Place your warmer in an electric steam steriliser (no pod required) for 25 minutes continuously.
After charging, the warmers will be ready for use at any time. You can also put it in the bottle filled with milk into the fridge for the next feed. As with all things rechargeable, the yoomi can be recharged for up to 150 times but this is just a conservative estimate.
How do you know the warmers are charged? There should be a rattling noise when you shake it.
Important to note: Once the warmers are charged, set them aside for 60 to 75 minutes to cool down before you push the button to activate it.
What happens when you don't wait? If you press the button too soon you could permanently damage your yoomi warmer. We got excited and forgot to wait before activation so the warmer warped 🙁 Fortunately for us, the kind folks at yoomi Singapore very quickly replaced it for us so that we can try the entire process again properly for the purpose of this review. So malu… I blame The Husband for not reading the instructions properly! *points finger at him*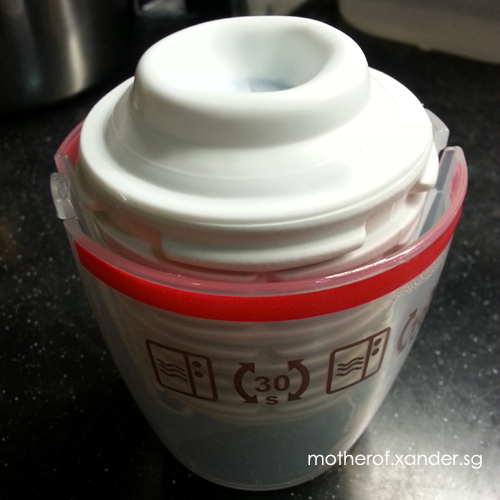 How to activate the warmer?
To activate the warmer, just press the button and within 2 or 3 seconds, you will feel it warming up.
Fill the yoomi bottle with the milk, assemble, turn it upside down and wait for 60 seconds before you feed the baby. Perfect temperature of 32-34ºC everytime!
Why so magical?
"yoomi's clever integrated warmer is activated by simply pressing the button which causes the solution inside to generate heat. When the bottle is tipped and the baby starts feeding, the feed flows around the channels on the outside of the warmer which are cleverly designed so that the feed reaches breast milk temperature (32-34 degrees)." – Information taken off their press kit.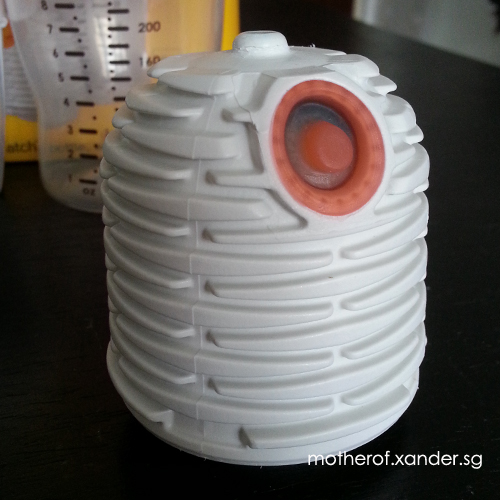 Phuwah! So clever leh! – says Mother of Xander and The Husband.
Verdict of the review
60 seconds to warm the milk at the right temperature every time is a definite winner in my books! However, I'm not a fan of the microwave method although it is the fastest of the 3 recommended charging methods. Boiling it was the easiest for me. After 25 minutes, take it out of the water and let it cool. So simple. No need to heat shake heat shake so troublesome. Boiling it not only charges the warmer, it also sterilizes it. One stone 2 birds!
Yvie loves to hold her milk bottles during feeding time and would often do it until the bottle was done. The yoomi bottle however was a little heavier than normal so after a while she got tired of holding it and it landed on her face a few times. I guess the weight can't be helped since the warmer has to be inside.
I would definitely recommend the Yoomi Feeding System to all new parents! Buy at least 2 warmers for your night feeds please because each warmer is only meant for one time use and will need to be recharged before the next feed. Your babies and your ears will thank you.
Who will find this useful? (updated)
I was asked since this is only a one time use warmer, who will find it useful? Despite that, I think this will be a great (starter) gift for new mums doing confinement. Since they will be at home the entire month, it will be easy to clean and charge after every use. You might not want to use the yoomi for regular 2 hour feeds but for the odd occasions like night feeds when the nanny or the daddy can help mummy out.
ESPECIALLY FOR ALL READERS OF MOTHER OF XANDER!
The Yoomi Feeding System will be officially launched at the Baby Market Fair on the 2nd of October and Yoomi SG would like to share some good news for all readers of Mother of Xander!
(1) SPECIAL 5% DISCOUNT ON YOOMI FEEDING SYSTEM
(Redeem this promotion ONLY AT BABY MARKET BOOTH A26 by presenting the blog of the blogger)
Usual Price: $59.90
Launch Promotion: $49.90 + FREE 5oz bottle (worth $18.90)
Blogger Promotion: additional 5% on top of launch promotion. (Valid for purchase during Baby Market 2-5 Oct only)
Price after additional 5% discount is $47.40
(2) GIVEAWAY 1 (ONE)  FREE YOOMI FEEDING SYSTEM 8OZ (UP $59.90)*
*Ends 10 October 2014 and Yoomi SG will annouce the winner on 11 October 2014
3 Easy Steps:
Step 1) LIKE & SHARE  Yoomi SG page
(www.facebook.com/yoomisingapore)
Please set your post as Public so that we can verify the share.
Step 2) Comment on YOOMI SG PAGE wall with " I Love yoomi / blogger code"
Example: I Love yoomi / motherofxander
Step 3) Tag 5 friends in comment box
Do note that Yoomi SG will have the final decision of the selected winner. GOOD LUCK!
_________________________________________________________
Disclaimer: We received a set of the Yoomi Feeding System and was compensated for the purpose of this review however all opinions are my own.