My 1st Parent Volunteering Experience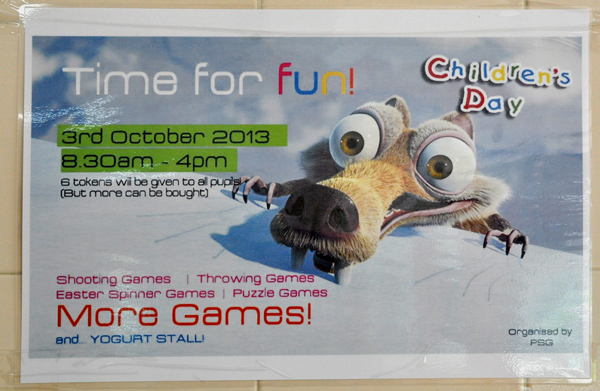 So, The Husband had been working as a parent volunteer for a primary school near our home for the last few months. One of the biggest event on the school calendar would be the Children's Day funfair which is typically headed by the Parent Support Group (PSG) and backed up by parent volunteers like The Husband.
Since he had just started his new job the week before, he was not going to be able to help out with the funfair on site as planned. Then how right? Lucky this fella is quite clever and is very nifty with graphics so he volunteered to design all the game stall signage and approach a sponsor for the prizes. We both agreed that I would go and take shots of the event since both our names were registered as parent volunteers and I was able to take time off work that day. I have to confess I am no Annie Leibovitz but I'll do my best to take as many decent, in focus, photos as I can lah.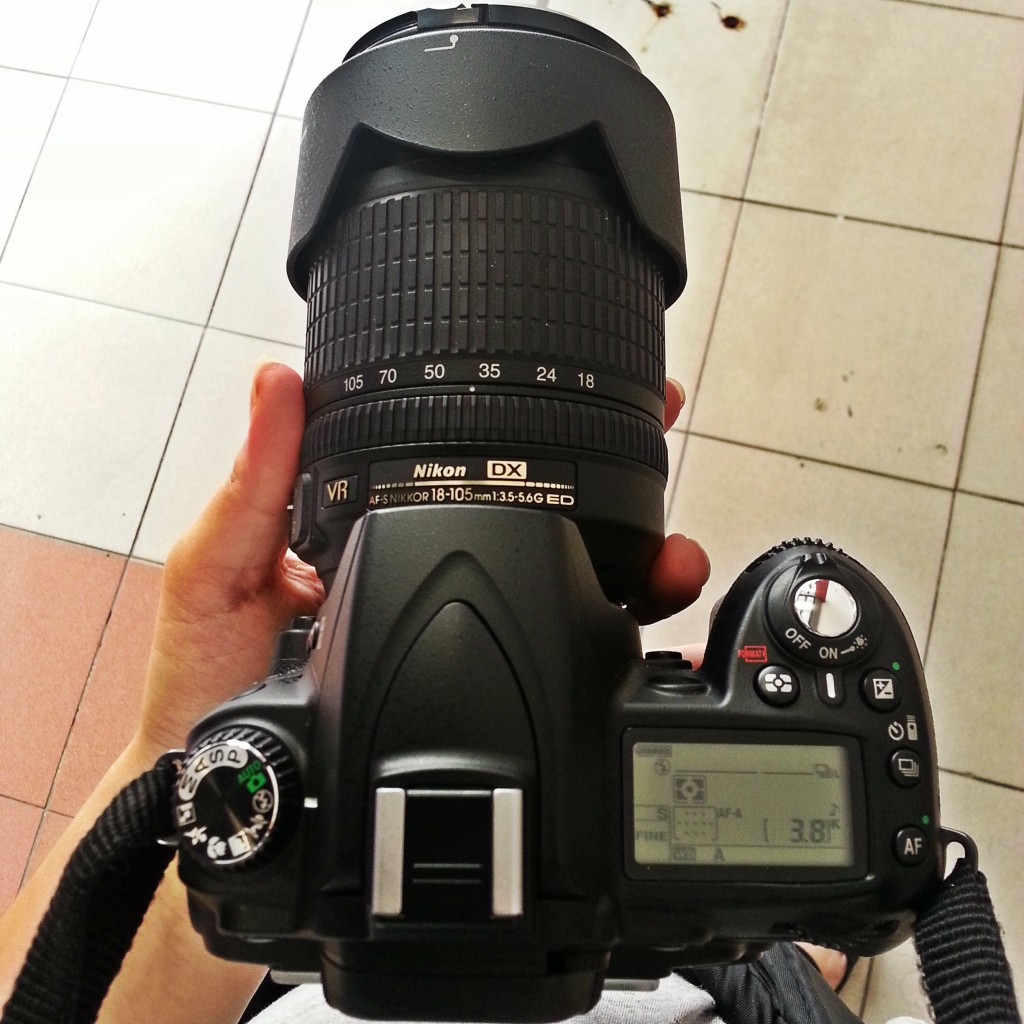 I had the opportunity to see both the upper and lower primary students in action that day even though I wasn't expected to stick around so long because the kids are split into 2 sessions: morning and afternoon. This means I had to stick around from 10 am to 4 pm just to see everybody. The PSG members were really really sweet to make sure I was properly hydrated and not overly exerting myself. "Later Winston will kill me if anything happens to you ah!" they joked.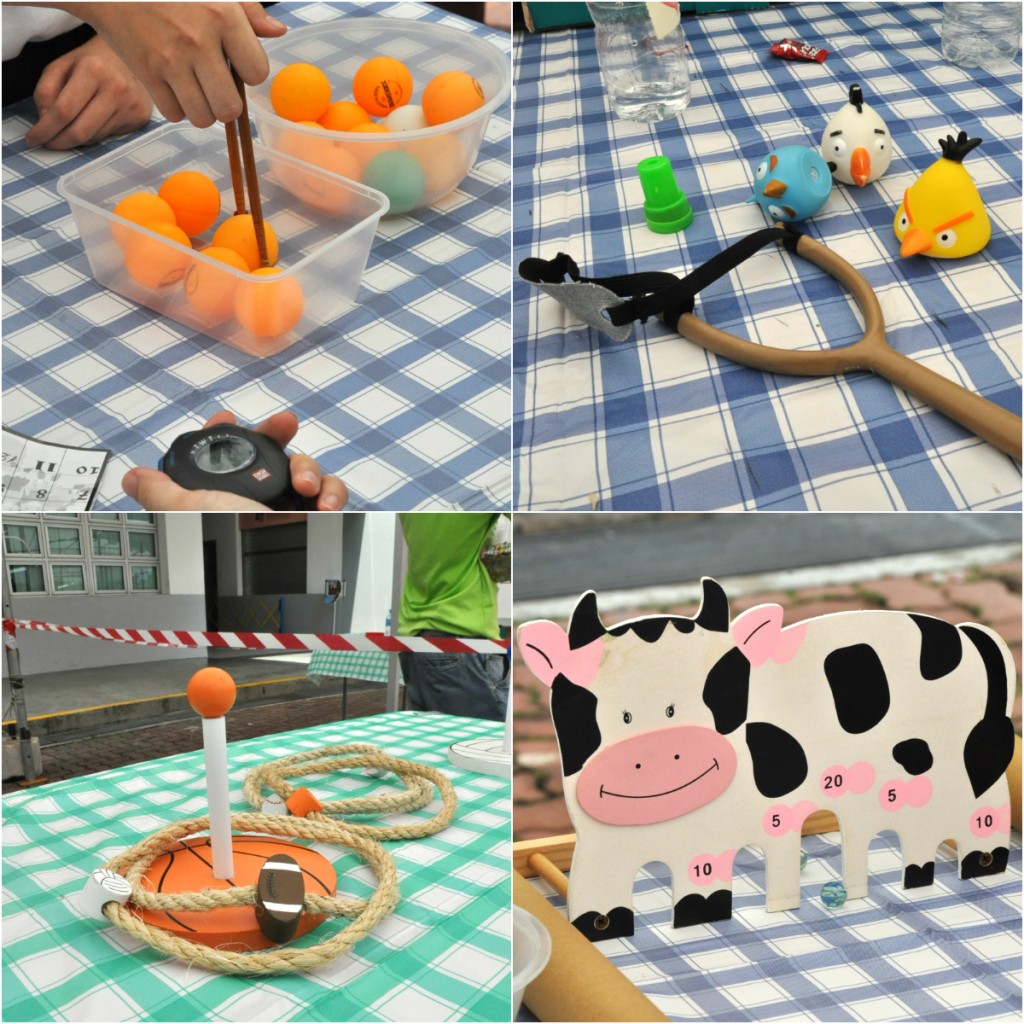 The concept was really simple. The students were given some coupons to start and if they need more, they can purchase them at the ticket counter. The students will earn stamps from every station they complete and when they accumulate enough stamps, they will be able to redeem prizes from the Redemption Counter.
Around 12pm, the buses transporting the afternoon session to school arrived. As soon as they opened their doors, herds of excited kids came running with their humongous bags on their backs to buy tickets and to check out the game stalls. You would think it their excitement, there will be chaos but there was none! They knew where to line up, how much to pay. I heard some of the students lamenting "I didn't bring money to buy more tickets today leh" and also saw clusters of kids planning and pooling their coupons together to play certain games during their break time.
My favourite part of the whole experience that day was to watch the kids play the pew pew games. The poses they do ah, you know they learnt from tv. Most chose the safest "2 hands on the gun" whereas there are the hero/gangster style 1 hand stretched out to the max pose. Funny sia!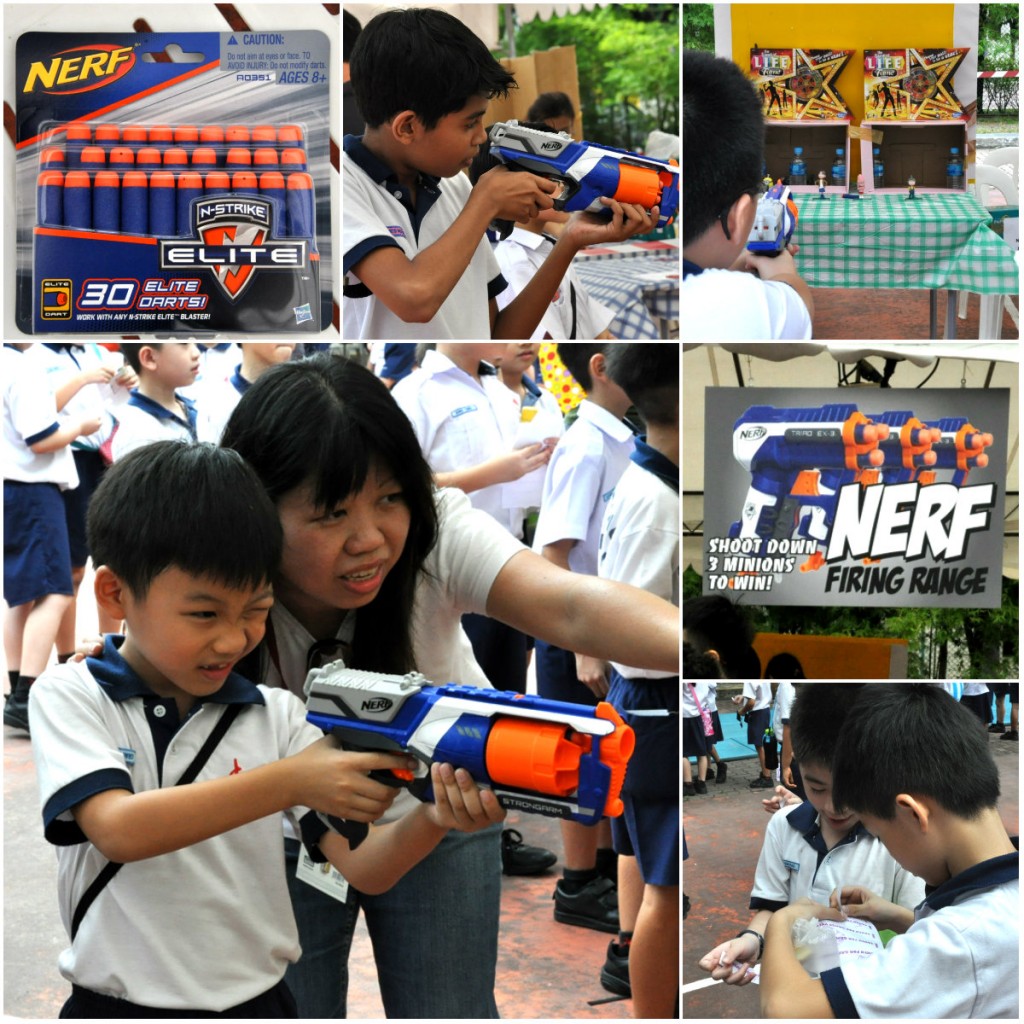 By the end of 5 hours, I was completely exhausted and slightly sunburnt but very glad I had the opportunity to see for myself that there ARE normal, happy kids in this particular primary school despite the horror stories I had been reading online about the local education and the pressure it has on the kids. I'm sure there are the classic monkeys and class clowns lah just that I didn't see them that day nia. Nong nong ago I was one of the naughty ones too and mostly kept under close supervision at the principal's office lor. Which school don't have right? I kept sending The Husband excited text messages throughout the day talking about running kids, chubby kids, bowing kids (yes, one little Eurasian looking boy BOWED to me before running back to his classroom), etc. Even though this was my 1st parent volunteer experience and I only spent 5 hours in the school, I'm really excited to have Xan possibly study in this school because I think he will be in very good hands.