Let's play… Kinetic Sand! (Review + Giveaway + Promo)
Product Review
You must have seen this video floating around the internet quite a lot last year. The Husband and I were so amazed with it but wondered if it will ever be available in Singapore. This has to be the coolest toy we have seen. Like EVER!
You know what? IT IS AVAILABLE IN SINGAPORE NOW! Pardon my excitement but yeah, I'm excited!! The Kinetic Sand is available in Singapore through the good folks of Pupsik Studio who also specializes in awesome baby and parenting products.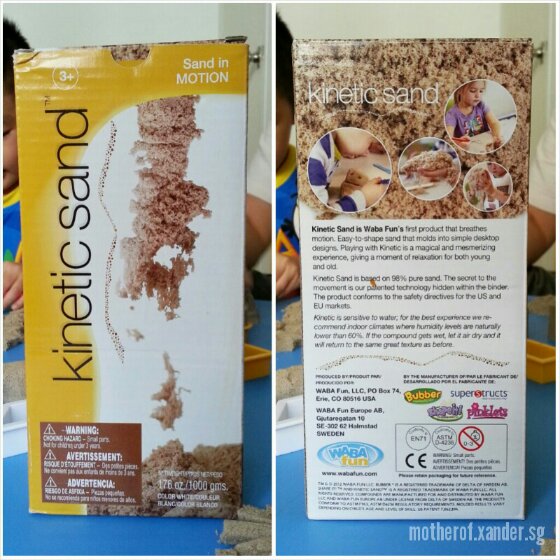 Pupsik Studio was very kind to provide us with the 1kg pack to review and we (namely Mummy and Daddy) couldn't wait to rip off the packaging to play with the cool sand. Yes, Mummy and Daddy were way more excited than our child. Hahaha!
According to Pupsik Studio's website,
"Sand play stimulates and develops children's fine motor and creative playing skills. Kinetic Sand is the perfect material for open-ended, non-directed play. It leaves no sand or residue on your hands and is great for sensory therapy. Kinetic Sand is also great for kids with allergies – it is wheat, gluten and casein free and 100% safe and non-toxic."
According to Mother of Xander,
If your kid loves the beach and you hate the sun, this might be a good compromise. He gets to play his sand, you get to lounge around in cool air-condition comfort in your house and with minimum cleanup afterwards. Win-win situation!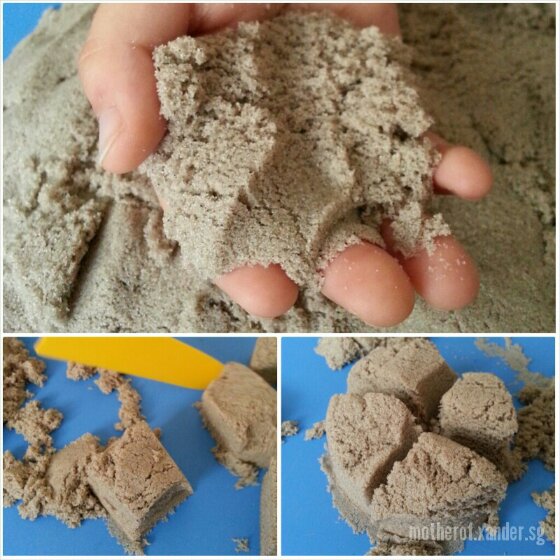 At first glance, the Kinetic Sand looks like any regular fine grained sand you might find on the beach or in stores. Even though clean-up is relatively easy, the sand can still get everywhere if your kiddo is the fidgety or active sort. We found a bit of sand in his hair, on the floor and under his feet but nothing a quick vacuum couldn't solve.
Xander loves to play at the beach and with sand. but we haven't been able to hang out at the beach very much last year because… I don't know why actually. We just never got round to it for some reason. When I showed him the box, he thought "Oh how nice, sand in a box! Gimmegimmegimme! Open now!" We then showed him what the Kinetic Sand could REALLY do and that got Xander even more excited. He wasted no time and immediately attacked the sand completely ignoring us for a good hour and a half. I need to mention that Xander has sensitive skin and whenever he plays with regular play-dough or sand, he will always end up with some rashes somewhere on his face or hands. I am pleased to say he had none of those at the end of the day. Phew! If your little tike accidentally gets some in their eyes or even swallowed some, don't panic. Just grab water to flush their eyes or drink some water. Easy peasy!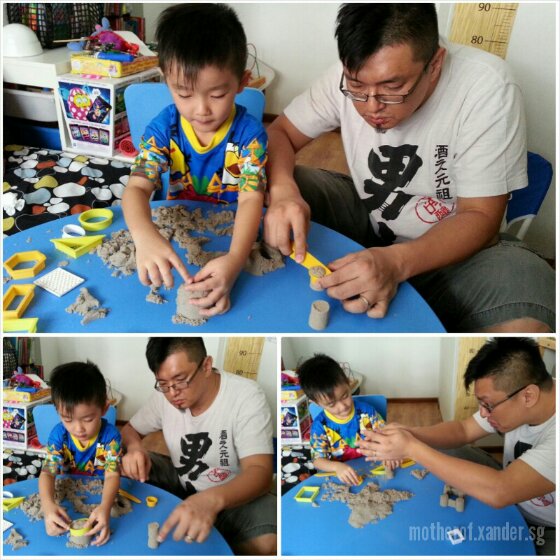 Naturally, Daddy got into the action with the little one and made some masterpieces of his own as well.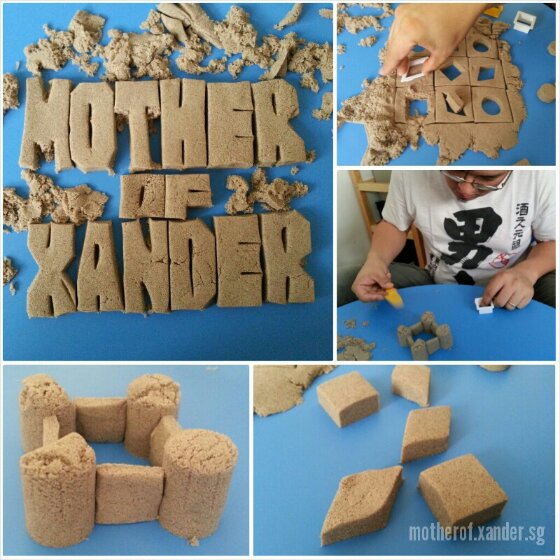 My verdict of Kinetic Sand is an honest and completely unbias BUY IT! Not only was it great for my 5 year old, even my 30 something year old was thoroughly entertained by it.
______________________________________________________________
Exclusively for Mother of Xander readers! Pupsik Studio is giving away a 1kg pack of Kinetic Sand to ONE lucky winner!
a Rafflecopter giveaway
Come back to this page on Monday 20 Jan 2014 to see if you are the lucky winner.
Congratulations Pavalamani! We will be in touch with you via email soon!
Thank you everybody for your support!
If you can't wait to get your hands on the Kinetic Sand, Pupsik Studio is offering all readers of Mother of Xander a 15% discount on the Kinetic Sand as well as the Bubber Smart Shape set in the month of January! Just key in the discount promo code of "MOTHEROFXANDER" before you Checkout.
The Kinetic Sand is available from Pupsik Studio and it is suitable for ages 3 and above.
For pricing and other product information, please visit their website or Facebook page.
Website: http://www.pupsikstudio.com/
Facebook: https://www.facebook.com/pupsikstudio

Check out the other fun products from Wabafun at http://www.pupsikstudio.com/shop-by-brands/bubber-moon-sand/