Pie on the Fly or as I like to call it my See Suah Lai Pie
I have what a lot of people will call the "eyes bigger than stomach" problem. I will see wonderful recipes/craft projects online or on tv and almost immediately I will go buy the ingredients/materials required in hopes I would jump into it that very day or at least the day after. Of course I never got to the projects that day or that week or even that month. Now almost every nook and cranny of almost every room in the house is filled with all sorts of materials and supplies. My kitchen is also not spared. Buy until lao hong (become soft) or fah mou (turn moldy) because I forgot I had them in the first place. Waste money sia.
So one day, I had a huge craving for a shepherd's pie. Largely because a few weeks prior, I bought one but had left it in the office over the weekend. I knew by the time I get to it on Monday it would probably have turned bad so I told my sister (I'm working for her at her office lah) to eat it, don't waste it. I never got the chance to taste it.
Lucky for me, we had some potatoes lying around and I started to gather whatever  I could find in the house for my pie. I tried to look for some easy recipes online but most required special sauce which I didn't have so I thought, let's just wing it.  Shepherd's pie very easy one right? Just assemble, fry and bake mah. Ok set!
Ingredients I used (serves 2)*
Concentrated chicken stock (almost expiring)

Frozen vegetables (they last forever)
Frozen minced pork (500g)
Potatoes
Light soy sauce
A little corn starch powder
A little pepper
Butter for frying the meat and the mashed potatoes. You can used healthier alternatives if you wish but I prefer butter.
Some water
*I'm not indicating any measurements because I didn't measure them. All by feeling one.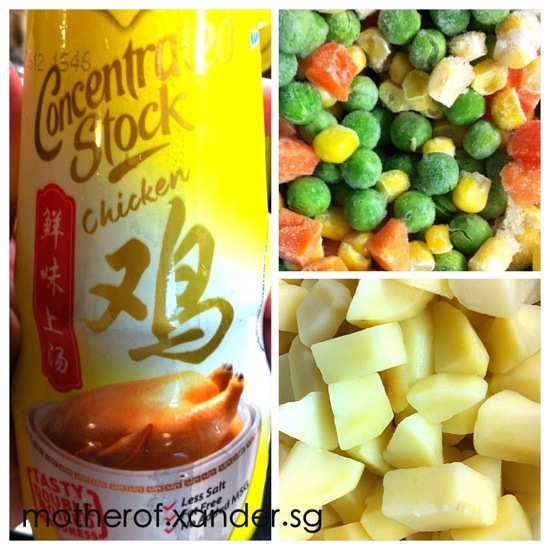 Directions:
Defrost minced meat (duh)

Mix a bit of soy sauce, corn starch powder and pepper with the minced meat in a bowl and put aside.
Peel the potatoes and cut into quarters.
Boil potatoes until soft, not mushy. This should take about 15-20mins depending on how many potatoes you use. I used 7 small ones.
When the potatoes are boiling, start frying the minced meat.
Add frozen vegetables when the meat is nearly done. Please don't add it when the meat is still raw. You don't want to cook the veggies until they are dead.
Add some water if it gets too dry.
Put the cooked mixture into a bake-proof dish and set aside
By this time, your potatoes should be done so remove from heat. Add butter and bash mash 'em up. No need to be super smooth, slightly chunky also can.
Top the meat mixture with the mashed potato.
Use a fork to score/scratch the surface. The tips will brown very nicely in the oven. I was too gentle with mine so it turned out quite pale with very little browning.
Pop into the oven to bake for about 15mins. Then broil for about 10 mins. Just don't bake until chao da (burnt) can already.
Take out from oven.
Take picture of it until pie turns cold or until your family faints from hunger or whichever comes first.
Serve to the hungry folks.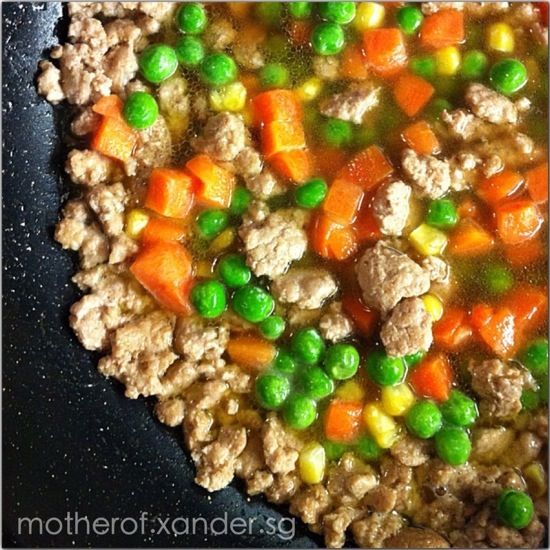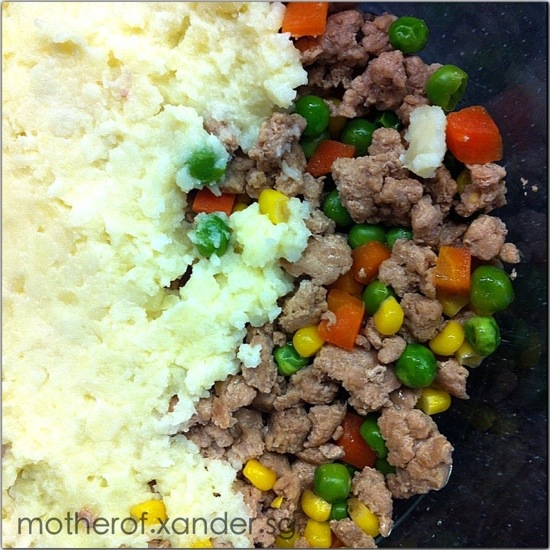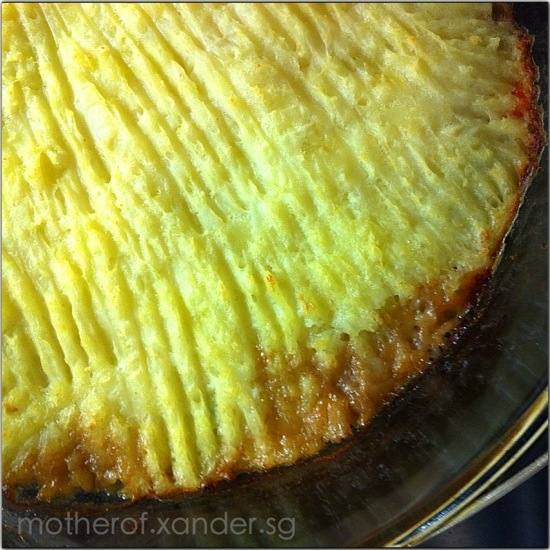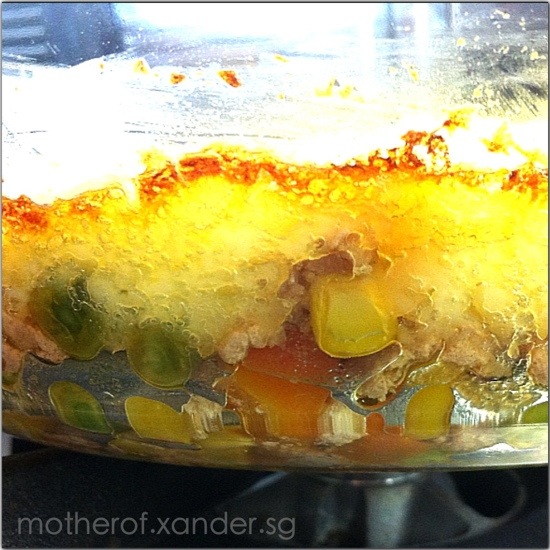 So how? What do you think of my Si Suah Lai Pie? The Husband said it tasted very Asian, like the mushroom puff from Old Chang Kee that Xander loves. I don't know if that's a compliment or not but Xander asked for second helping because he said "This is the best pie in the whole world Marmee!" WAH! *head swells* Ok boy, I give you all! Never mind Daddy is starving, I give you as much as you want.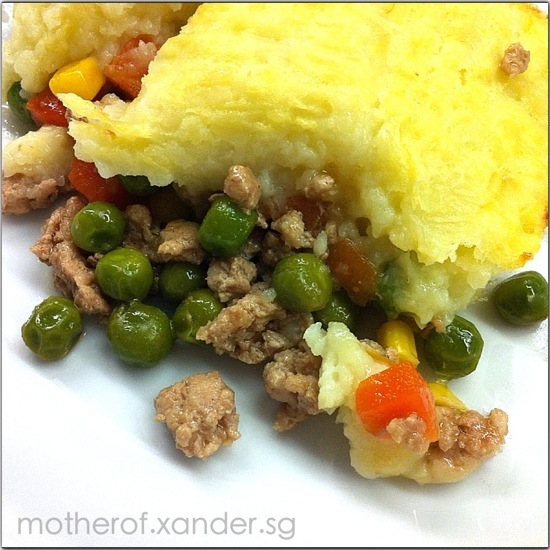 Linking with: